The Biggest Celebrity Fitness Deals of 2021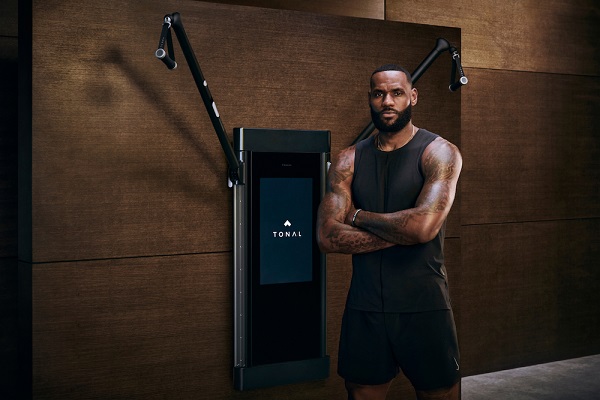 Candace Cordelia Smith
Candace Cordelia is a Pennsylvania-based journalist and on-camera broadcaster/host, with…
2022 is around the corner and that means it's time to take a look back at the biggest celebrity fitness deals of 2021. From Kevin Hart's partnership with Hydrow to Beyoncé's #PelotonPark, here are the most significant collaborations between some of your favorite on-screen personalities and fitness brands.
Fitness brands such as Peloton and Tonal have done pretty well on their own to boost their profiles, whether through innovative offerings or headline-making incidents. But as you may know, it doesn't hurt to bring a famous face into the mix for more leverage. This year, celebrities including Kevin Hart and LeBron James used their influence to link up with some of the world's fastest rising stars in the fitness world. As 2022 approaches, let's take a look at the buzziest celebrity fitness deals that may very well extend into the new year.
Chris Noth & Peloton
Actor Chris Noth and Peloton struck a deal, albeit short-lived, in a social media ad during the holiday season. The commercial was a nod to his character Mr. Big, whose shocking death occurred after working out on his Peloton bike in the first episode of And Just Like That… . At the time the ad was unveiled, the move appeared to be a brilliant one, especially for Peloton after a year of unparalleled controversy. Still, not long after it aired, Noth made headlines due to allegations of sexual misconduct he's since denied. As a result, the Peloton ad was pulled from all of the exercise equipment and media company's platforms.
Kevin Hart & Hydrow
Comedian and What The Fit star Kevin Hart continued to prove his dedication to keeping healthy with a new role as Hydrow's creative director. As an advocate of the Live Outdoor Reality rowing machine, Hart was brought onboard to help expand Hydrow's brand via content, advertising, social media, and personal engagement with users.
LeBron James & Tonal
LeBron James was so impressed by "the world's smartest home gym and personal trainer" Tonal, that the NBA superstar decided to both invest in and become a brand partner of the company. "For me, Tonal and the technology it uses to maximize efficiency while still doing a complete workout is a perfect fit," said James. The Olympic gold medalist also noted that Tonal's efficiency "is second to none" in regards to strength training.
Maria Sharapova & Tonal
Retired pro tennis player Maria Sharapova also jumped on the Tonal train in 2021 and became an investor in the home fitness startup. After meeting a Tonal board member at a business conference in 2020, Sharapova was all in. She explained, "The world of fitness is so personal and individual. That's what Tonal is catered to do. It does this through the technology that's made for you, not just made for all your friends. I think that's what is so impressive."
Beyoncé & Peloton
Queen Bey saw the potential in joining forces with Peloton throughout 2021. First came their Peloton x Beyoncé Artist Series with 72 hours of workouts streamed to a Beyoncé-inspired soundtrack. Then the duo's #PELOTONPARK activewear collection was born. Bey's passion for fashion and fitness reached new heights with the vibrant range made available in November on the Adidas website. The Peloton x Beyoncé Artist Series as Peloton Park came into fruition after Peloton added Beyoncé-themed workouts and music to their digital library, along with a team effort to recruit students from HBCUs and offer fitness content.
Jay-Z & LIT Method
Beyoncé wasn't the only Carter family member making a splash in the fitness world this year. Jay-Z added LIT Method to his business portfolio as an investor in the fitness company which boasts an all-in-one water-powered Strength Machine. Jay-Z made the business deal with LIT Method through his Marcy Venture Partners venture capitalist firm.
Julianne Hough & Therabody
Julianne Hough, who ascended into the hearts of fans with her various creative talents, increased her stock in the health and wellness landscape as an investor and ambassador for Therabody. She described the brand's pursuits, formerly known as Theragun, as "inspiring." "I've followed along with the brand as they've grown, which eventually led to my investment in Therabody this year," said Hough.
David Beckham & F45
David Beckham took his soccer smarts and stellar reputation to global fitness franchise F45 this year. The international soccer superstar became an ambassador of the brand, which tapped him for their latest brand marketing initiative. Actor Mark Wahlberg, who is one of F45's investors, was the one to introduce the franchise to Beckham.
Mark Wahlberg & Power Plate
Aside from investing in F45, Mark Wahlberg also put a stake in body vibration therapy machine Power Plate as a brand ambassador and invested in Power Plate's parent company, Performance Health Systems. Power Plate is credited to helping users tighten skin, burn fat quicker, increase strength, and improve flexibility among other benefits. Wahlberg is one of many celebrity customers (Morgan Freeman, Serena Williams, Clint Eastwood, Hilary Swank) who have used Power Plate and vouch for its fitness results.
Ciara, Russell Wilson & The House of LR&C
Power couple Ciara and Russell Wilson in cahoots with former Lululemon CEO Christine Day came together for The House of LR&C. With Ciara and Russell as the faces of the multi-brand fashion house, the trio embarked on fusing retail with philanthropy. Three percent of every House of LR&C purchase went, and will continue to go towards, the Wilson's Why Not You Foundation. "We continually look for opportunities to not only donate to worthy causes but to amplify voices, support individuals, communities and positive initiatives focused on inclusivity, environmental responsibility and social justice," read the clothing line's mission statement.
Pitbull & Echelon Fitness
Pitbull went from fan to investor, brand ambassador and content creator with Echelon Fitness. It was announced that the Grammy winner's new partnership with Echelon would involve his very own "Ride with Pitbull" channel featuring his music and an anthem song for Echelon riders and Pitbull fans to enjoy. "Learning Pitbull was a fan of our product and our community was humbling… We are so excited to welcome Mr. Worldwide to the team!," said Echelon Fitness President and CEO Lou Lentine in a statement.
Halle Berry & Sweaty Betty
Bruised star Halle Berry got into the fitness apparel game with known fitness and lifestyle retailer Sweaty Betty and released a 22-piece collection named rē•spin edit, inspired by boxing and Japanese jiu-jitsu. "Sweaty Betty is a brand that I have so much respect for. I love the philosophy and I love all the female energy," said Berry in an interview. "It's very aligned with who we are over at rē•spin. For me, I like my activewear to be a cross between fit and fashion."
Simone Biles & Athleta
Time's Athlete of the Year Simone Biles left her partnership with Nike to represent Athleta in a long-term agreement. Biles spoke on the special opportunity to not only work with the Gap-owned brand in crafting her own line, but to use her voice and influence via Athleta Girl. In a statement the decorated gymnast said, "Using my voice has been very empowering for me and I am grateful to embark on this new journey with Athleta to inspire young girls and women to do the same. The opportunity to encourage young girls to reach their full potential and be a force for change is incredibly powerful."
Aly Raisman & Club Pilates
Like Simone Biles, another gold medal gymnast by the name of Aly Raisman entered into a multi-year agreement with Club Pilates as a Core Ambassador. The boutique Pilates brand called on the two-time Olympian to "raise awareness around Pilates' benefits." In a statement, Raisman declared her high level of appreciation for the company and Pilates in general. "When I am struggling with low energy or anxiety, Pilates helps me feel more calm and relaxed, and other times, I choose sessions that help me push myself. Everyone has different goals for their workouts, and it's great that Club Pilates provides options for a variety of fitness purposes," she explained.
Everyone & CLMBR Climbing was one of the hottest workouts of 2021 and as at-home workouts became popular, so did CLMBR. Many celebrities such as Pitbull, Ryan Seacrest, Jay-Z invested in the Denver-based fitness startup once dubbed "the next Peloton." Thanks to their celebrity investors, the fitness equipment maker raised $13.5 million in 2021.
Candace Cordelia Smith
Candace Cordelia is a Pennsylvania-based journalist and on-camera broadcaster/host, with a reporting background in wrestling, entertainment, and lifestyle. Her reporting work has been featured on websites and in publications such as Bustle, Pro Wrestling Illustrated, New York Daily News, am New York, ABC News, Yahoo!, Good Morning America, Madame Noire, Sister 2 Sister, etonline.com, Diva Dirt and The Everyday Fan. Her favorite workout influencers include Chloe Ting, Cassey Ho, Pamela Reif and Mary Braun. She still can't stand burpees and Rebbl Dark Chocolate Immunity Elixir is one of her favorite post-workout protein sips. You can follow Candace on Twitter @CandaceCordelia and on Instagram @thatgirlcandace16.