LeBron James Joins Tonal as Investor & Brand Partner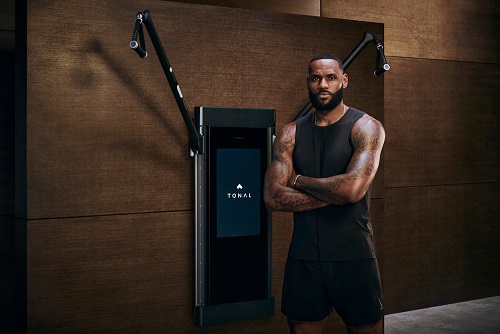 With the partnership, Tonal gets a substantial edge over its competitor.
LeBron James has further bet on the at-home fitness craze by teaming up with Tonal. The smart at-home gym that features adaptive digital weight for a fully personalized fitness experience, has announced the NBA pro and all-time great as an investor and brand partner. The announcement came with Tonal's latest campaign launch and brings a sizeable advantage over competitor Mirror.
​​With at-home fitness at an all-time high, James touted the benefits and technology of Tonal and noted that efficiency is at the core of the Tonal platform.
"Every person striving for greatness must prioritize efficiency. Whether you are an athlete, CEO, artist or anyone who is trying to be great, it's important to maximize your time and get the most out of every minute. So for me, Tonal and the technology it uses to maximize efficiency while still doing a complete workout is a perfect fit," said James.
The Tonal system uses a digital weight system instead of metal weights and can generate 200 pounds of resistance. It also uses AI to adjust weights and offers 17 sensors to provide guidance. The most distinctive force of Tonal is that it easily replaces traditional gym equipment in one no-fuss platform with a compact size, giving it a modernized edge.
In Tonal's new campaign, James noted, "The efficiency of Tonal is second to none when it comes to strength training. It's easy in a sense that everything is literally right there. You don't have to move all across the room to different machines or racking weights—everything is literally right in front of you at an arm's length."
Aly Orady, Founder and CEO of Tonal and a supercomputer engineer, says that having James on board further validates the brand and calls it a pinnacle moment for the company.
"To have LeBron James – one of the greatest athletes in the world – invest in Tonal is a pinnacle moment for us," says Orady. "The technology, guidance, and personalization of the Tonal experience has helped set us apart with those looking to take their fitness to the next level, and it's incredibly validating to have LeBron recognize the versatility that Tonal brings to his performance training."
Tonal is found across more than 40 leagues and teams, and James is in good company. Over 30 athlete investors and ambassadors back Tonal, including notable athletes such as Serena Williams, Stephen Curry, Drew Brees, Maria Sharapova, and Michele Wie, among others.
With LeBron James newly on board, some speculate that Tonal may head to Wall Street with an IPO.
Orady, as reported by TechCrunch back in March, said that Tonal views an IPO as a significant decision that would be strategically timed.
"We're going to IPO at a time when it's best for the business because being a public company can be incredibly distracting," Orady told TechCrunch. "While an IPO is a great milestone for the business and gives us access to a certain class of capital and liquidity, we also know that you've got to do it at the right time."
This past spring, Tonal recently partnered with retail giant Nordstrom, launching in women's activewear departments in 40 locations, where shoppers can try a demo of the smart gym.
Courtney Rehfeldt
Courtney Rehfeldt has worked in the broadcasting media industry since 2007 and has freelanced since 2012. Her work has been featured in Age of Awareness, Times Beacon Record, The New York Times, and she has an upcoming piece in Slate. She studied yoga & meditation under Beryl Bender Birch at The Hard & The Soft Yoga Institute. She enjoys hiking, being outdoors, and is an avid reader. Courtney has a BA in Media & Communications studies.