Whoop Becomes First Fitness Wearable To Measure Strength Training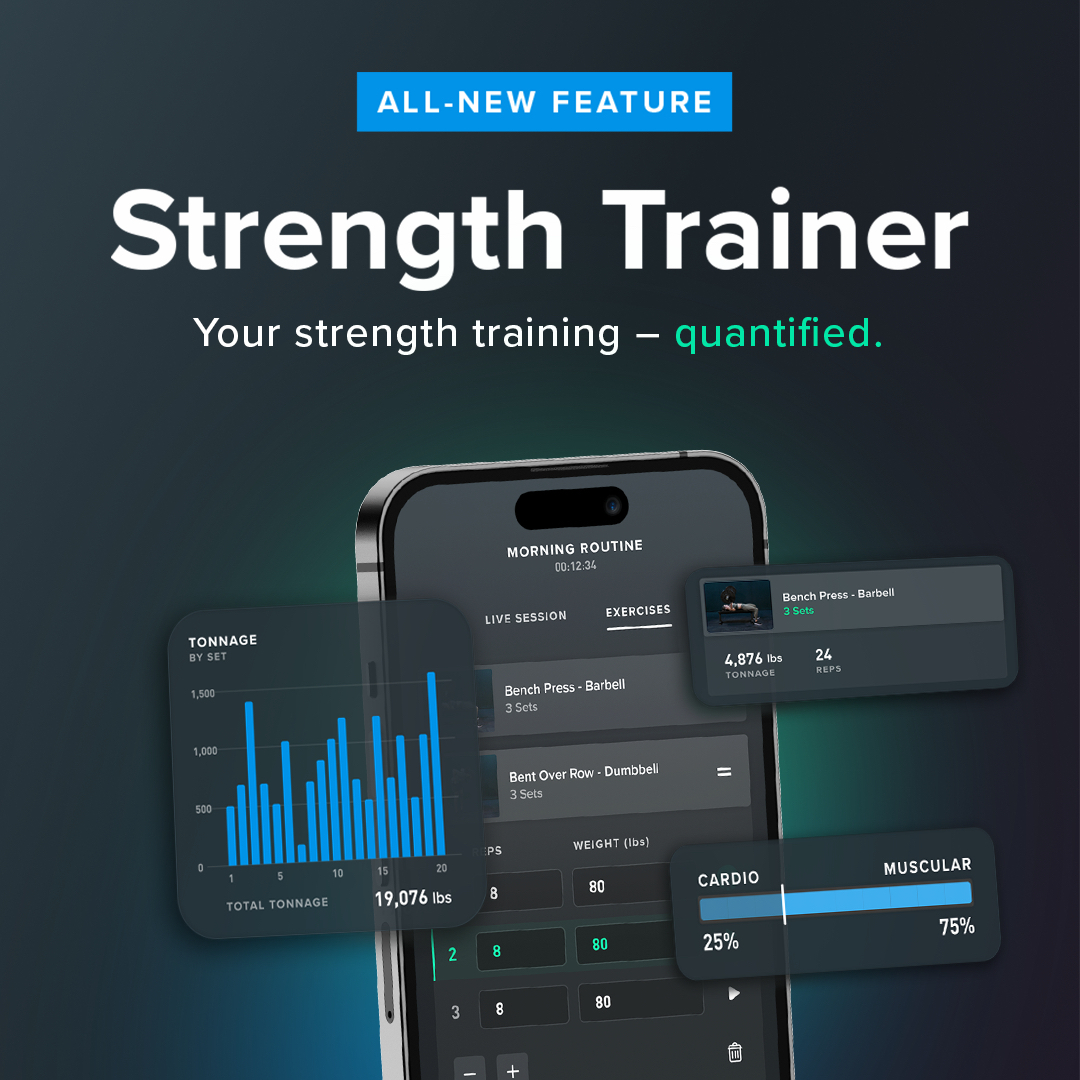 The human performance company has developed the first wearable that measures muscular load right as strength training surges in popularity
Whoop has released Strength Trainer, an innovative feature that allows users to measure strain during strength training exercises by tracking weights, reps and sets for a personalized and comprehensive view of their training.
The latest offering from Whoop hits two targets in the ever-evolving health and fitness industry: wearable devices have been declared the top trend for 2023 and fitness enthusiasts are more interested in strength training than ever before. 
It's a considerable feat for the human performance company, which acknowledges that while most wearables track cardiovascular load via heart rate, the impact of intense heavy strength training on the body hasn't been quantified until now. 
"For years, Whoop has researched and developed technology that can quantify the impact of weightlifting on the human body," Will Ahmed, founder and CEO of Whoop, said in a statement. "Strength Trainer represents a new frontier for Whoop to measure muscular load. We are proud to be first to market and release a feature that helps coach our members while strength training."
Whoop's algorithm calculates the amount of stress placed on the body (specifically the muscles, bones, joints and tissues). The Strength Trainer tracks the effect of weight training exercises on the body using biomechanics while recognizing a variety of movements to determine the percentage of strain on the musculoskeletal system. A squat, for example, has a different load profile than a biceps curl because it uses more muscles and joints, resulting in a higher muscular load. 
As Strength Trainer calculates reps, intensity and max volume, the wearable will provide a strain score and recommendations based on training activity, such as the need for more sleep or recovery, allowing Whoop members to appropriately plan their next training session.
On a recent Whoop podcast episode, Ahmed shared that it took vigorous research and data collection to create the Strength Trainer. In an interview with Athletech News last year, Ahmed stressed that Whoop, which he founded during his senior year at Harvard, was based on physiology and research.
The Strength Trainer is a feature that many Whoop members have been asking for, added Whoop chief technology officer Jaime Waydo.
Members can now create customized routines from a content library of 200+ exercises or opt for prebuilt workouts from Whoop athletes including Michael Phelps, Patrick Mahomes, Rory McIlroy, Colleen Quigley and Sloane Stephens. 
The Whoop Strength Trainer also provides exercise demonstrations, superset capabilities and drag-and-drop features. After a workout, members can access a detailed view of their performance.
The human performance company has been churning out new features this year, such as a stress monitoring system, and a collaboration with Hyperice where users of the devices can log recovery activities into the Whoop and Hyperice apps using a two-way integration with Apple Health. 
Whoop has also made great strides in becoming more accessible to consumers, announcing earlier this year that it was lowering its subscription prices.
"We want as many people as possible to be able to improve their health. This will make Whoop more accessible than ever before," Ahmed said of the pricing adjustment.
Fitness consumers can now get a free Whoop 4.0 for $30 a month for a year, or pay an upfront annual membership of $239. A third option, a two-year subscription, is $399 upfront.
Courtney Rehfeldt
Courtney Rehfeldt has worked in the broadcasting media industry since 2007 and has freelanced since 2012. Her work has been featured in Age of Awareness, Times Beacon Record, The New York Times, and she has an upcoming piece in Slate. She studied yoga & meditation under Beryl Bender Birch at The Hard & The Soft Yoga Institute. She enjoys hiking, being outdoors, and is an avid reader. Courtney has a BA in Media & Communications studies.