Strength Training, Sculpt and Massages Top ClassPass & Mindbody End of Year Report
Candace Cordelia Smith
Candace Cordelia is a Pennsylvania-based journalist and on-camera broadcaster/host, with…
ClassPass and Mindbody's annual Look Back Report for 2022 has arrived with lists revealing the most popular health, fitness, and wellness trends for this year
Another year is coming to a close, and with it, too, comes a look back at the health, fitness, and wellness trends we loved and discovered throughout the year. ClassPass and Mindbody's Look Back Report for 2022 reveals fitness and wellness trends, fastest growing fitness workouts, popular workouts, most popular wellness reservations, and more as we head into a new year.
To start, the fastest growing fitness class of 2022 was Sculpt, with a reported 471 percent jump in class bookings from January to October. Body sculpting classes are known for their muscle toning benefits and focus on core strength. In the Fitness & Wellness Trends of 2022 list, the most popular time to workout clocked in at 5:30 pm. The most popular day and month were also revealed as Tuesday and August. The most popular "first" class was Cycle. Also, more people also became interested in acro yoga, with class reservations being at a 200 percent increase in 2022.
Moving on to the Top 10 Workouts of 2022, according to ClassPass and Mindbody, the number one workout was strength training, followed by yoga at number two, and pilates at number three. Recognized studios such as SoulCycle and Physique 57 would love to know that cycling has the fourth place and barre is at number five. Interestingly enough, just some standard gym time was good enough for many people in 2022, as it landed a spot at number 7, and rounding out the list at number 10 is the more relaxing, yet just as beneficial, practice of stretching.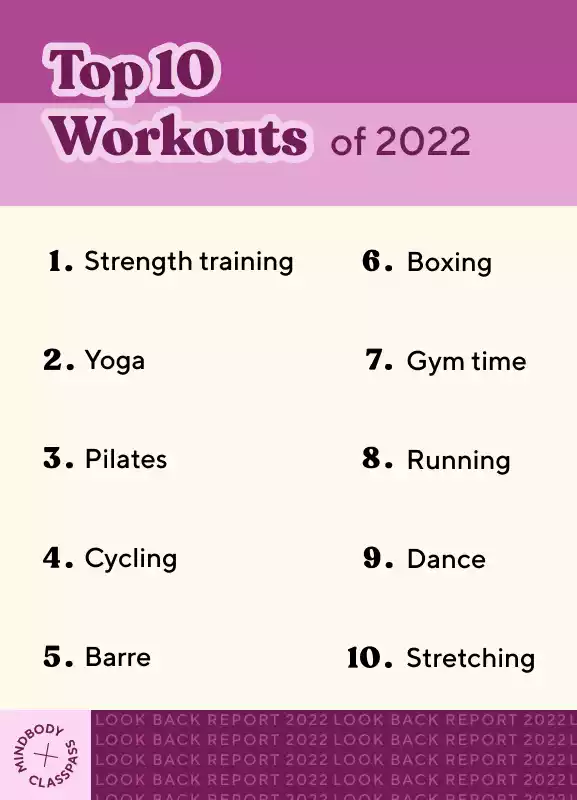 Strength training's placement at the top of this list may look familiar, and that's because the well-liked form of exercise was also number one on this list for 2021. ClassPass and Mindbody also disclose it appears more people attended strength training classes this year than in the previous year, with a 94 percent growth from 2021 to 2022.
While crowds flock to gyms and fitness boutiques usually at the start of year to get a head start on their New Year's fitness resolutions, the ClassPass & Mindbody 2022 Look Back Report shows more people worked out in the fall months. August and September were the "most popular months to workout."
Of course, wellness includes taking time away from weights, Bosu balls, and exercise mats to more relaxing methods of self-care. In the top ten spa and & salon services list for this year, we see that the art of massage is at the top spot, followed by nails at number two. Meditation (number 5), sports recovery (number 8), and cryotherapy (number 9) are also found in the list. Just in case you're wondering what the fastest growing wellness service of 2022 was, that distinction goes to the lash lift.
See Also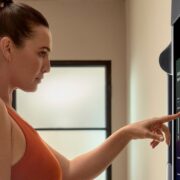 As you're looking over these lists and checking them twice this holiday season to see where your health, fitness, and wellness interests fit in, keep watch of the trends sure to make a splash in 2023.
Featured image credit: ClassPass
Candace Cordelia Smith
Candace Cordelia is a Pennsylvania-based journalist and on-camera broadcaster/host, with a reporting background in wrestling, entertainment, and lifestyle. Her reporting work has been featured on websites and in publications such as Bustle, Pro Wrestling Illustrated, New York Daily News, am New York, ABC News, Yahoo!, Good Morning America, Madame Noire, Sister 2 Sister, etonline.com, Diva Dirt and The Everyday Fan. Her favorite workout influencers include Chloe Ting, Cassey Ho, Pamela Reif and Mary Braun. She still can't stand burpees and Rebbl Dark Chocolate Immunity Elixir is one of her favorite post-workout protein sips. You can follow Candace on Twitter @CandaceCordelia and on Instagram @thatgirlcandace16.