Stress Less: WHOOP Combats Stress with New Wearable Monitoring Feature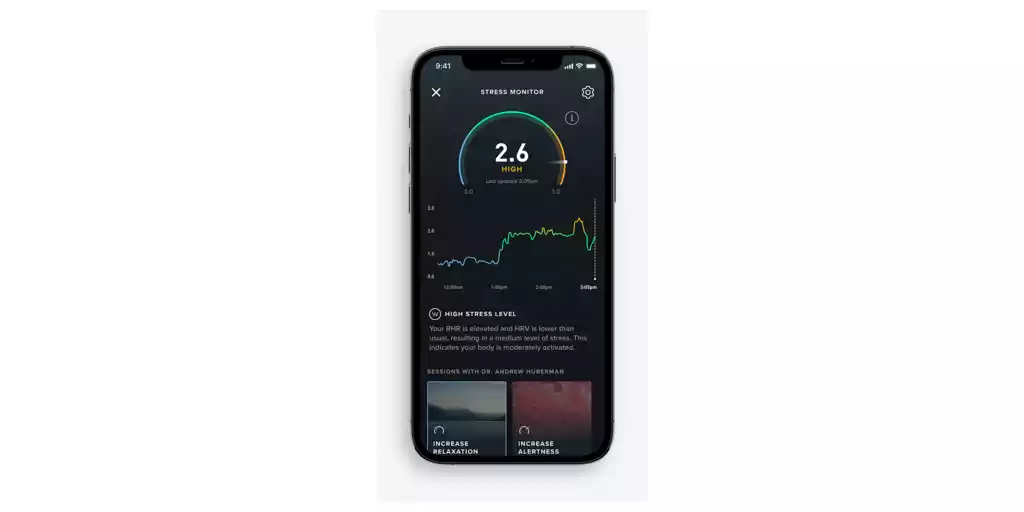 The Human Performance Company Partners with Dr. Andrew Huberman to Coach Members Through Scientifically-Validated Breathwork Protocols (Graphic: Business Wire)
WHOOP's latest feature lets users measure daily stress levels and implement stress reduction interventions in real time
Human performance company WHOOP has introduced science-backed breathwork interventions with its new stress monitoring feature, which its CEO says is one of the most innovative features the company has released.
Stress is indeed a significant issue, even on a global level. A recent study by PureGym revealed that 1 in 4 in the U.K. feel mentally, physically and socially unwell.
To combat stress and provide teachable opportunities, the wearable company partnered with Dr. Andrew Huberman to measure daily stress levels and help users unwind in real time.
Dr. Huberman, professor of neurobiology and ophthalmology and host of the health and fitness podcast Huberman Lab, also sits on WHOOP's Scientific Advisory Council.
WHOOP's new stress monitor tracks stress levels using continuous heart rate variability and resting heart measurements, coaching WHOOP users to manage the uncomfortable physical symptoms of stress.
After a WHOOP member receives a reading, it's converted into a personalized stress score and compared to their heart rate variability baseline from the last two weeks and their average resting heart rate.
With the customized stress score, WHOOP says it's able to define the moments between physiological stress and physical strain.
The calming interventions in WHOOP's app can help boost alertness and increase relaxation, which can be customized for length and intensity. When stress scores increase, WHOOP members will be alerted so they can manage their stress using the app's breathwork protocols.
"Stress Monitor is one of the most innovative features we've ever released," said Will Ahmed, Founder and CEO of WHOOP. "Our WHOOP members are inherently motivated and ambitious. Stress is a normal part of their lives. This tool will help members understand and manage stress for the first time. In partnership with Dr. Andrew Huberman, we are also launching breathwork interventions to either decrease stress or increase alertness."
The new stress monitoring feature was inspired by the findings of a study conducted by DR. Huberman and his collaborators on the effects of breathwork on mood. The researchers used WHOOP in their study and discovered that daily five-minute breathwork exercises could improve mood and anxiety while lowering "physiological arousal" markers like respiratory rate, heart rate and heart rate variability.
WHOOP has been steadily focused on mental health, releasing a feature last year that consisted of users receiving an analysis at the close of each month outlining the relationship between mental health, recovery and behaviors logged in WHOOP's journal.
The human performance company recently unveiled a new pricing structure to attract more wearable consumers.
Ahmed took to social media to announce the new pricing that impacts WHOOP's 12 and 24-month membership platforms – the lowest it's ever been.
"We want as many people as possible to be able to improve their health. This will make WHOOP more accessible than ever before," Ahmed said of the news, pointing out that the lowered pricing comes when other fitness companies are going in the other direction.
The human performance company recently partnered with recovery and wellness brand Hyperice to better educate fitness enthusiasts about the value of recovery to their health and performance.
To expand its reach further, WHOOP's wearable is now available for purchase on Amazon.com, as well as Best Buy, Dick's Sporting Goods, and whoop.com.
Courtney Rehfeldt
Courtney Rehfeldt has worked in the broadcasting media industry since 2007 and has freelanced since 2012. Her work has been featured in Age of Awareness, Times Beacon Record, The New York Times, and she has an upcoming piece in Slate. She studied yoga & meditation under Beryl Bender Birch at The Hard & The Soft Yoga Institute. She enjoys hiking, being outdoors, and is an avid reader. Courtney has a BA in Media & Communications studies.