Lululemon's New Deal With Xponential Signals Move Away From Mirror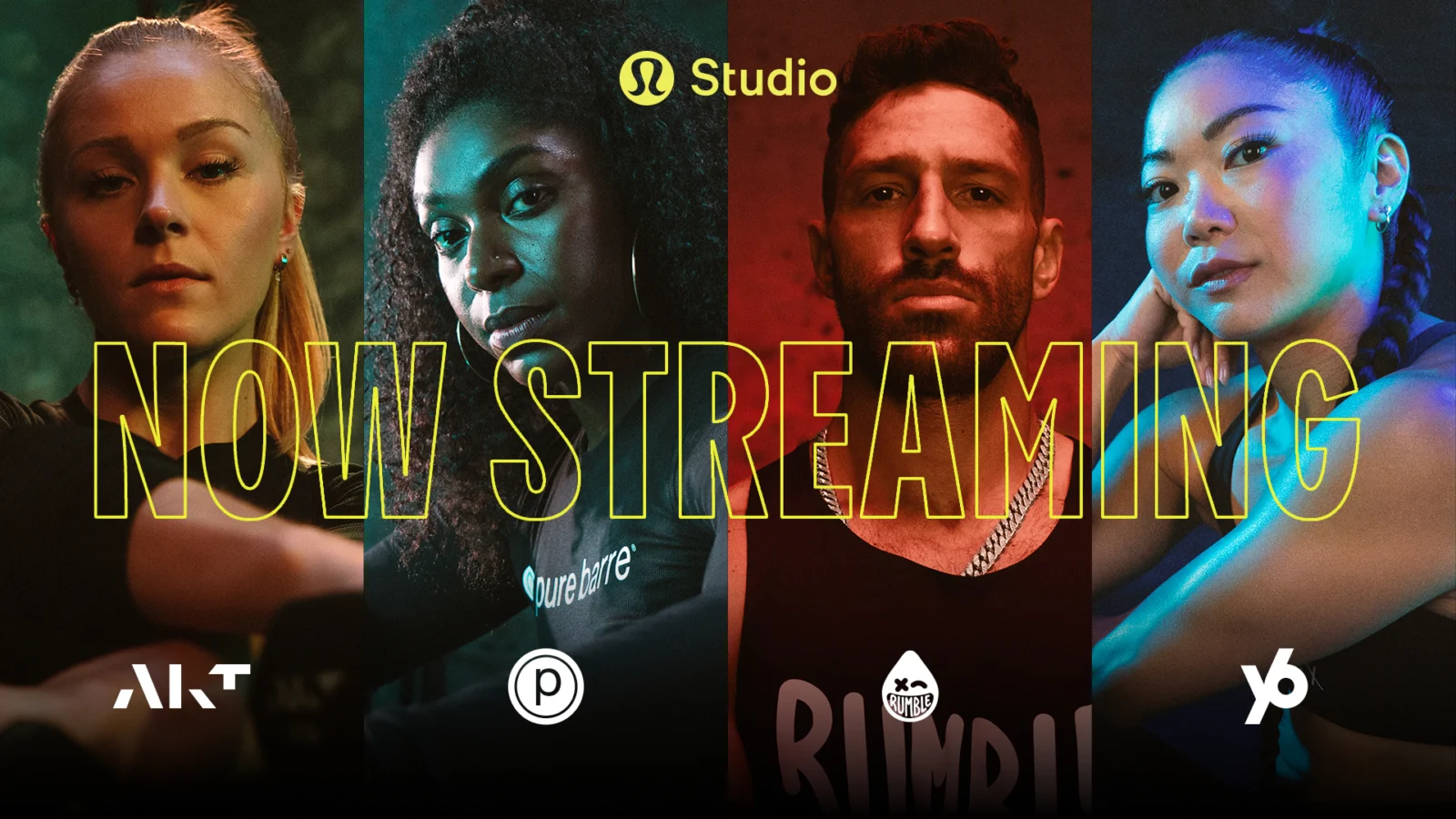 credit: Lululemon/Xponential
Lululemon has been upfront about its intentions to pivot from Mirror, the hardware-centric business it acquired in 2020 amid the pandemic
In a move that pushes Lululemon's Mirror deeper into a closet of forgotten fitness hardware, the athleisure company and boutique fitness franchisor Xponential Fitness have renewed their partnership, ushering in an expanded selection of digital workouts to Lululemon Studio.
The renewed and expanded partnership will see an increased number of Xponential-branded workouts from Pure Barre, Rumble Boxing, AKT and YogaSix on the Lululemon Studio platform, which users can access without Mirror.
Lululemon all but buries its Mirror experiment
Lululemon has been upfront about its intentions to pivot from the hardware-centric business it acquired in 2020, having hopped on the at-home fitness craze during the pandemic with its purchase of Mirror, a connected fitness device, for $500 million.
Now, Lululemon sees its future much like Peloton: streamlined, app-based and more about quality content than bulky fitness hardware.
"Our guests are looking for hybrid fitness options, and this extension of our partnership will enable them to continue to access workouts from Pure Barre, Rumble, AKT, and YogaSix both digitally and through in-person fitness experiences," said Celeste Burgoyne, president, Americas and global guest innovation at Lululemon.
The new Studio App
Lululemon recently debuted Studio, a new $12.99-a-month digital app, allowing members to experience its fitness content without needing to purchase hardware, which Lululemon leadership says will expand its TAM.
The future of Mirror
While Mirror didn't have the sales Lululemon had hoped, CEO Calvin McDonald said earlier this year that the company was in a better position to understand its community as a result of the acquisition.
It was a costly lesson by all measures, as the interactive Mirror cost Lululemon $500 million.
The athleisure company took $443 million in "impairment charges" related to the Mirror in Q4 of 2022.
There still hasn't been a clear determination as to the ultimate fate of Mirror.
McDonald assured investors earlier this spring that Lululemon wouldn't completely eliminate the hardware but would allow access to content without purchasing the connected fitness device.
Still, the athleisure brand has been reportedly looking to sell Mirror, with one report from Bloomberg detailing that Lululemon was working with an advisor to solicit interest in the smart fitness hardware.
Xponential continues content partnerships
For Xponential, its expanded partnership with Lululemon continues the boutique fitness franchisor's recent momentum.
Last month, the boutique fitness franchisor reported over 140,000 subscribers on its on-demand platform Xponential+ and a revenue increase of $20 million in Q1 compared to the same quarter last year.
Xponential+ credits much of its ongoing success to its B2B partnerships, such as LG and Aktiv Solutions, as well as Lululemon.
"Xponential acknowledges the evolving landscape of the modern fitness consumer, who seeks a seamless blend of digital and in-person workouts that cater to their diverse needs," said Garrett Marshall, president of Xponential+, which launched last year. "In line with Lululemon's vision, Xponential is dedicated to bridging the gap between digital and in-person fitness experiences. We recognize the dynamic expectations of today's hybrid fitness consumer and are very pleased to continue our partnership with Lululemon."
Courtney Rehfeldt
Courtney Rehfeldt has worked in the broadcasting media industry since 2007 and has freelanced since 2012. Her work has been featured in Age of Awareness, Times Beacon Record, The New York Times, and she has an upcoming piece in Slate. She studied yoga & meditation under Beryl Bender Birch at The Hard & The Soft Yoga Institute. She enjoys hiking, being outdoors, and is an avid reader. Courtney has a BA in Media & Communications studies.