Rumble Boxing Debuts Knockout Burger w/ Cheese, Free Class Pass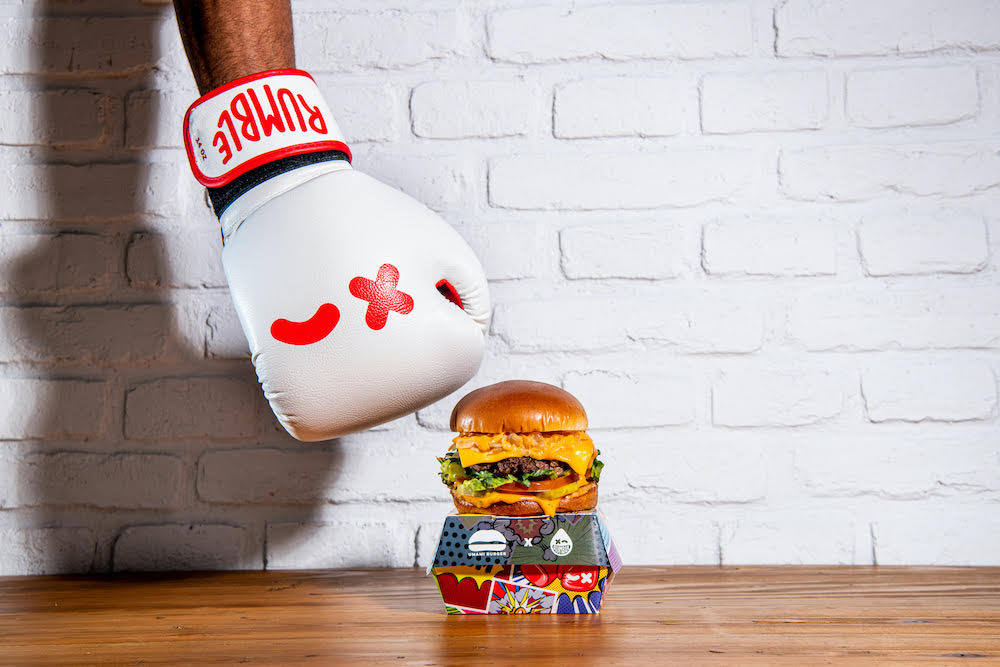 Rumble Boxing & Umami Burgers team up for a yummy bite.
Rumble Boxing, a group fitness company, teamed up with gourmet burger purveyor Umami Burgers to create a Rumble Knockout Burger. Instead of fries, the tasty partnership will include a free Rumble Boxing class card that can be used through the end of 2021. 
The American restaurant chain and Rumble Boxing worked together to craft a limited edition 4 oz Smash Patty with cheese, lettuce, pickles, tomato, caramelized onions, and classic sauce. Each burger will be presented in a custom-designed Rumble x Umami box with a colorful, pop art comic-book aesthetic. Rumble says the packaging embodies the brand with a nod to the past and eyes on the future.
Noah Neiman, co-founder of Rumble Boxing and tattoo enthusiast, loves the colorfully-designed box and said it's perfectly on-brand for Rumble.
"The box!!! I might have to get it as my next tattoo. It's just so on-brand for Rumble. It's like our brand bible, and Umami's had a perfect health baby – and the burger – just wait till you taste it! Lives up to the hype that the box for it, and the two brands behind it, creates."
The limited-edition Rumble Knockout Burger is available for purchase in-store in NYC and LA at the following locations:
NYC: Citizens Culinary Market (398 10th Ave)
LA: Umami Burger Locations — The Grove, Beverly Hills, Hollywood, + Santa Monica
The burger will also be available for delivery on Postmates, UberEats, Doordash, GrubHub, and GO by Citizens.
Founded in 2017 as a boxing-inspired group fitness concept in NYC, Rumble has grown to multiple locations in New York City, Los Angeles, Washington DC, Philadelphia, Palo Alto, San Francisco, and Chicago. The fitness company has become a beloved brand with fans like Justin Bieber, Selena Gomez, Kendall Jenner, Hailey Baldwin, Jason Derulo, David Beckham, and Kevin Hart. Rumble will be expanding with additional studios opening later this year and in early 2022.  
Neiman says that the partnership for the Knockout Burger may seem like a funny match, but both companies have a shared interest in providing quality experiences for their guests.
"This collaboration came together very organically. While a fitness brand partnering with a fast-food brand might seem ironic at first glance, we are both very aligned in our approach to quality and creating experiences that keep you coming back," says Neiman.
Neiman says that Rumble Boxing prefers an innovative approach and prefers not to follow the status quo.
"Pushing boundaries of the 'industry standard' and doing the unexpected is where we are always striving to be," he says.
Earlier this fall, Rumble announced that it had signed a Master Franchise Agreement in Australia, providing the Master Franchisee the ability to license 100 Rumble studios over the next five years. This year, the premier boxing company also launched Rumble TV, a live and on-demand workout platform for at-home fitness enthusiasts. 
Courtney Rehfeldt
Courtney Rehfeldt has worked in the broadcasting media industry since 2007 and has freelanced since 2012. Her work has been featured in Age of Awareness, Times Beacon Record, The New York Times, and she has an upcoming piece in Slate. She studied yoga & meditation under Beryl Bender Birch at The Hard & The Soft Yoga Institute. She enjoys hiking, being outdoors, and is an avid reader. Courtney has a BA in Media & Communications studies.