Xponential Sees Revenue Jump 40% as CEO Touts 'Compelling' Q1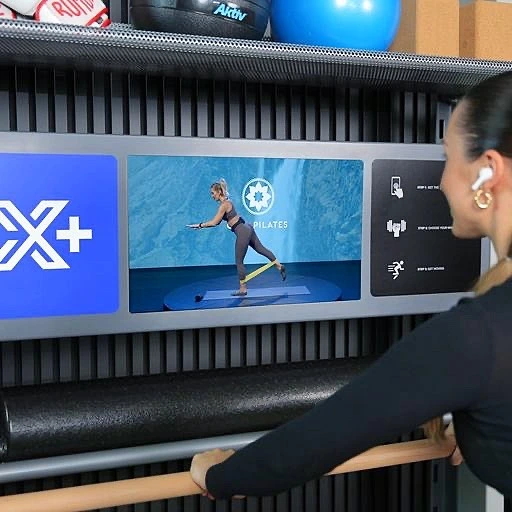 The global boutique fitness franchisor also saw strong growth in same-store sales, membership and new studios
Global boutique fitness franchisor Xponential Fitness reported strong financial results for Q1 of 2023, with revenue increasing $20 million compared to the same quarter last year.
For Q1 of 2023, which ended March 31, 2023, total revenue for Xponential increased $20.3 million, or 40%, to $70.7 million, up from $50.4 million in the prior year period. This increase included a corresponding North America same store sales increase of 20%.
Net loss totaled $15.0 million compared to a loss of $15.2 million in the prior year period.  
Anthony Geisler, founder and CEO of Xponential Fitness, referred to it as another strong quarter for the boutique fitness operator, calling the growth in Xponential's North American AUVs and same-store sales during the quarter 'compelling.'
"The results speak to the strength of our brands, the quality of our franchisees and the support they are receiving," Geisler said in a statement. "We are seeing momentum continue through the first part of the second quarter. With this growth, we are raising our annual guidance expectations."
The majority of Xponential's boutique fitness brands have been recently ranked on Entrepreneur Magazine's New & Emerging Franchises list, the Fastest-Growing Franchises list and the Top Global Franchises List.
Here are some key takeaways from Xponential's recent earnings call:
Membership & studio growth
Geisler revealed that Xponential franchisees now operate over 2,750 studios globally, an increase of 24% year-over-year, with more than 5,600 licenses sold across its ten fitness brands.
"We now have franchise, master franchise and international expansion agreements in 18 countries," Geisler on the earnings call.
Total members across North America increased by approximately 31% year-over-year to 665,000 at the end of the first quarter.
"Over 90% of these customers are actively paying members," Geisler said.
Additionally, North American studio visits for the three months ending in March increased by 38% year-over-year, reaching $12.6 million.
"The increasing foot traffic and utilization of the studios drove record North American system-wide sales, which increased 42% year-over-year in the first quarter," he said, adding that freezes on memberships are at their lowest level since before the pandemic.
Geisler also reported that Xponential saw same-store sales growth of 20% in the first quarter, up from 17% in the previous 2 quarters, which he said bodes well for Xponential's studio growth prospects for the remainder of the year and into the future.
Strength of franchisees & consumer spending
Despite higher interest rates, Geisler said the boutique fitness operator has a healthy pipeline of franchisees with pre-sold licenses seeking and receiving funding.
"The resiliency of Xponential's business is best demonstrated by our franchisees opening new studios while driving additional business to their existing locations," said Geisler.
Xponential ended Q1 with 2,756 global open studios, opening 115 net new studios in the first quarter. 
"We sold 188 licenses globally in Q1, bringing the total sold licenses to 5,638," he said. "Our pipeline of over 2,000 licenses sold and contractually obligated to open on a global basis offers us multiyear visibility into our growth."
In addition to franchisees continuing to open studios, fitness members are continuing to demonstrate that they are spending on experiences, according to Geisler. 
"Many view their fitness memberships as part of their overall entertainment budgets," he pointed out.
Sarah Luna, Xponential Fitness president, added to that sentiment, sharing that consumers are shifting their spending and that Xponential is benefiting from the spending on experiences, as evidenced by the increase in visitation rates and membership count.
See Also
International growth
In Q1, Xponential opened its first Club Pilates in Frankfurt, Germany.
"On the international front, we have over 1,000 studios obligated to be opened under master franchise agreements, and we continue to gain traction," Geisler shared. "Just last week, we announced a master franchise agreement in Japan to franchise up to 40 StretchLab studios over the next 10 years."
Xponential has five brands with deals signed in Japan, including Club Pilates, Rumble, CycleBar, AKT and StretchLab. Club Pilates recently signed master franchise agreements in Ireland and Switzerland. 
XPlus & other successful partnerships
The boutique fitness franchisor reports that at the end of the first quarter, it had over  140,000 subscribers on its on-demand platform Xponential+, many of whom also hold in-studio memberships.
"XPlus is also a key driver of our B2B partnerships," remarked Luna. "Recently, we announced the launch of XPlus on LG Electronics Smart TVs, which will provide on-demand access to Xponential's family of brands to millions of LG Smart TV owners in over 250 countries."
The fitness company's partnership with Aktiv Solutions is also "progressing well," according to Luna.
"Aktiv is leveraging our world-class digital content for our XPlus platform in one-of-a-kind immersive exercise experiences tailored specifically for amenities located within leading hotels and resorts, corporate campuses, universities and high-end multifamily housing properties," Luna said. "We've installed about 90 active bases so far and expect that these will all be activated at the end of June."
2023 Outlook
Based on Xponential's performance in the first quarter and the beginning of the second quarter, the boutique fitness franchisor said it's increasing its full-year 2023 guidance for system-wide sales, revenue and Adjusted EBITDA, as well as re-affirming guidance for net new studio openings as follows:
Net new studio openings in the range of 540 to 560, an increase of 8% at the midpoint as compared to full year 2022
North America system-wide sales in the range of $1.37 billion to $1.38 billion, an increase of 33% at the midpoint as compared to full year 2022; this compares to previous guidance of $1.34 billion to $1.35 billion
Revenue in the range of $290.0 million to $300.0 million, an increase of 20% at the midpoint as compared to full year 2022; this compares to previous guidance of $285.0 million to $295.0 million
Adjusted EBITDA in the range of $102.0 million to $106.0 million, an increase of 40% at the midpoint as compared to full year 2022; this compares to previous guidance of $101.0 million to $105.0 million
Courtney Rehfeldt
Courtney Rehfeldt has worked in the broadcasting media industry since 2007 and has freelanced since 2012. Her work has been featured in Age of Awareness, Times Beacon Record, The New York Times, and she has an upcoming piece in Slate. She studied yoga & meditation under Beryl Bender Birch at The Hard & The Soft Yoga Institute. She enjoys hiking, being outdoors, and is an avid reader. Courtney has a BA in Media & Communications studies.