Peloton Announces Rebrand, Wants To Be More Than a 'Bike Company'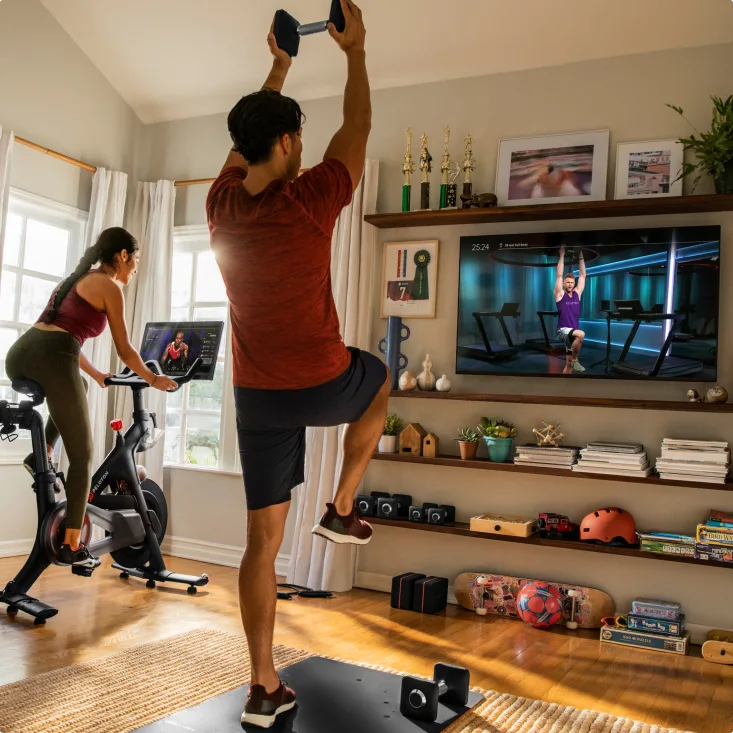 credit: Peloton
Peloton wants to become the fitness company for "anyone, anywhere." Its new app features a tiered membership structure that includes a free option
Right before fitness consumers look towards a weekend at the beach and barbecues, Peloton has signaled its next chapter, rebranding to offer its connected fitness services to everyone, not just those with its at-home fitness hardware products.
Peloton has swung the doors open to its app, offering its fitness classes for free for the first time since launching in June 2018. Focusing on the app is a move that CEO Barry McCarthy had once speculated would lead to "the promised land." Earlier this year, McCarthy noted that he thinks of Peloton's app as its own end game, sharing that the company set a goal to attract at least one million prospective members to trial the app.
The relaunch, which was teased during Peloton's recent earnings call, is meant to reignite the connected fitness company's magic by introducing new membership tiers and Peloton Gym, a new content feature that welcomes those who work out at the gym. Peloton says the rebrand is designed to help it shed the "perception of an in-home bike company."
"With this brand relaunch we're reflecting the vibrancy and fullness of everything Peloton has to offer to everyone," said Leslie Berland, Peloton's chief marketing officer. "We're shifting perceptions from in-home to everywhere, fitness enthusiasts to people at all levels, exclusivity to inclusivity across all Peloton Members present and future."
As Peloton shared in its recent financial report, over half of its workouts were not cycling-related, a significant shift from the indoor cycling craze during the pandemic.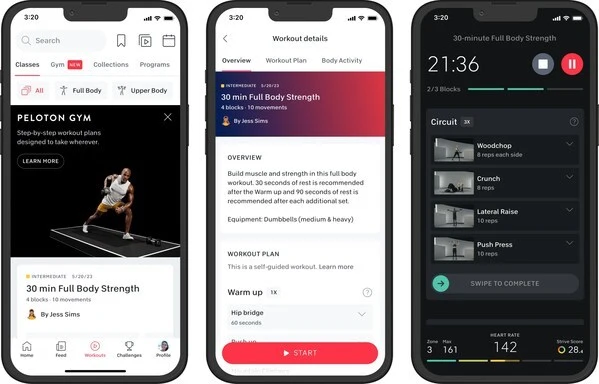 The new Peloton app tiers allow fitness enthusiasts to workout with or without equipment, anytime, anywhere, either independently or with instruction.
Consumers can now select from three app tiers, as described by Peloton:
Peloton App Free – Designed to supplement a user's current workout routine or as a taste-test of all Peloton has to offer for a newbie. This tier currently provides more than 50 classes curated across 12 of Peloton's modalities to enable the user to pair workouts to meet their individual interests, even as those goals change over time. It will also include a rotating set of featured classes that will be refreshed on an ongoing basis.
Peloton App One – $12.99 per month, $129 per year. Designed for the member who wants unlimited access to thousands of classes across 9 of Peloton's 16 modalities, including strength, meditation, outdoor walking, yoga and more as well as all the classes included in the free tier. App One members can also take up to three equipment-based cardio classes per month (Cycling/Tread/Row). New on-demand and live classes will be offered almost daily as well as access to Peloton's Challenges, Programs, and Collections.
Peloton App+ – $24 per month, $240 per year. Designed for the user who wants frictionless, unlimited access to Peloton's vast library (not including Lanebreak or Scenic classes). This tier includes all of App One's offerings and unlocks access to thousands of equipment-based cardio classes to take on any indoor bike, treadmill, or rower. This tier also offers exclusive access to classes, featuring the latest specialty content.
With the brand refresh, Peloton Row will finally have content available on the app. Additionally, all Peloton members will have access to instruction and the ability to track workouts with the Just Work Out feature as well as the music library.
Peloton leans into strength training
Peloton Gym, another new offering, is available across all membership tiers and concentrates on the growing strength-building trend. Workouts are written out and demonstrated in a supporting video, designed to be completed at a user's pace. The latest content feature allows members to access a series of floor-based routines and the ability to choose between various strength-based class types.
As for Peloton's new brand identity, it comes with a bold color palette to reflect the energy and post-glow of a workout. The fitness company partnered with Mother Design and Uncommon Creative Studio for its refresh. The creative campaign is also inclusive, designed to show Peloton's fitness offerings for consumers of all ages and levels. The global creative endeavor was a collaboration between Stink Studios and Peloton's internal creative studio and will launch globally along with a campaign in the U.S. and Canada.
Peloton confirmed local market campaigns would roll out later this year.
This story will be updated with more information.
Courtney Rehfeldt
Courtney Rehfeldt has worked in the broadcasting media industry since 2007 and has freelanced since 2012. Her work has been featured in Age of Awareness, Times Beacon Record, The New York Times, and she has an upcoming piece in Slate. She studied yoga & meditation under Beryl Bender Birch at The Hard & The Soft Yoga Institute. She enjoys hiking, being outdoors, and is an avid reader. Courtney has a BA in Media & Communications studies.