CEO Corner: YogaSix President Lindsay Junk Talks Working Her Way Up in the Fitness Industry
Candace Cordelia Smith
Candace Cordelia is a Pennsylvania-based journalist and on-camera broadcaster/host, with…
YogaSix has become one of the fastest-growing franchises in the country while continuing to inspire yoga lovers, both new and longstanding. Company President Lindsay Junk speaks to Athletech News for our CEO Corner series about working her way up to becoming an influential leader in the fitness world, her strengths, love of charity and where she sees the future of fitness going
Another season of summer fun is upon us, which for a number of people means springing back into a workout regimen for the beach. For others, like YogaSix President Lindsay Junk, providing outlets for those interested in a leaner body or getting healthier overall is a full-time job. The multi-talented businesswoman, whose journey in fitness started early, is now helming a franchise with a multitude of studios, classes and praise.
YogaSix is an Xponential Fitness-backed company and was recognized by Entrepreneur magazine in 2021 on their Fastest-Growing Franchises list. Junk has led the company to monumental heights since becoming president of the organization, but experienced significant headway in 2021 once YogaSix also turned heads for opening its 100th studio and green lighting more than 500 signed franchise agreements during the early part of the year.
Besides welcoming more franchise owners, Junk's primary modus operandi is helping to make yoga, meditation and fitness accessible to both newcomers and loyal yogists. For Athletech News's CEO Corner, the fitness visionary explains more about her career journey, honing in on holistic wellness, charity work and more.
Athletech News (ATN): Tell us about your background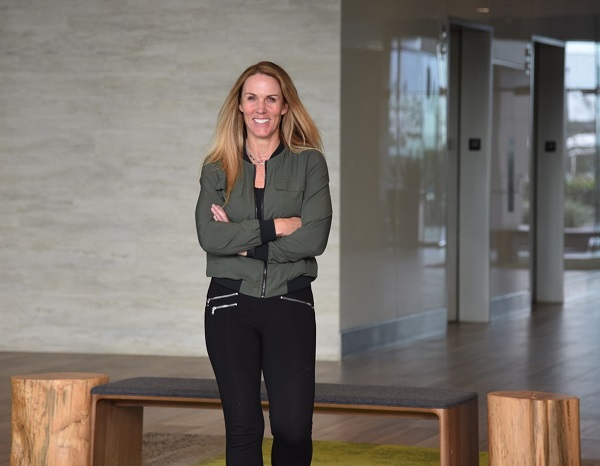 Lindsay Junk: I have grown up in the fitness industry. My first real job out of college was as a personal trainer. From there, I held many different positions in the fitness industry, ultimately leading to where I am today. Also I grew up in athletics and sports, doing multiple sports in high school. I ended up running Division 1 Cross Country in college, and this led to a post-college career competing at a high level in Ironman Triathlons.
ATN: Please tell us about your current company and how either your role or the company (if you are a founder) came to fruition
Lindsay Junk: I am currently the President of YogaSix. Founded in 2012, YogaSix is a boutique yoga brand that offers a broad range of heated and non-heated yoga classes, boot camp style fitness classes and meditation accessible to all. Class formats include Y6 101, Y6 Restore, Y6 Slow Flow, Y6 Hot, Y6 Power and Y6 Sculpt Flow. Classes at YogaSix eliminate the intimidation factor that many people feel when trying yoga for the first time, offering a fresh perspective on one of the world's oldest fitness practices. We have been ranked on Entrepreneur Magazine's Fastest-Growing Franchises and Top New Franchises two years running.
ATN: What was your journey like to get to this point?
Lindsay Junk: I worked my way up through a variety of roles in the fitness industry, and eventually landed at YogaWorks. After eight years there, I moved on to start my own fitness consulting company and was introduced to TruFusion, where I later signed on as Chief Development Officer and dove into the world of franchising. From there, I was introduced to Xponential Fitness. I immediately connected with the company's concept, the environment, and its core values, so when I heard that Xponential was acquiring a yoga brand, I jumped on the opportunity to become the President of YogaSix. It has been the perfect role to combine everything I love and have worked for up to this point.
ATN: What is your greatest strength?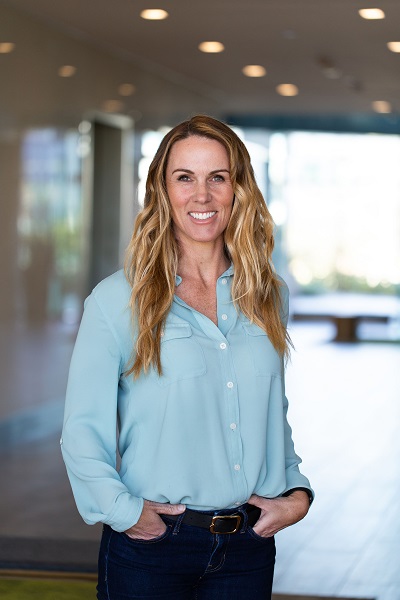 Lindsay Junk: I am a very curious person and tend to ask a lot of questions. I have always seen the good in people and tend to believe in them. I tend to find the positive in a situation, and my confidence in my team and franchisees has helped them feel comfortable taking risks. I think that if people feel their leader believes in them, they will believe in themselves, act confidently, and ultimately succeed.
ATN: What is your greatest accomplishment? Where do you accomplish your best work?
Lindsay Junk: I do well in a busy chaotic atmosphere where my calm demeanor is helpful. I also gain energy from energy and enjoy working with large groups of different types of people.
ATN: When did you know you had something of substantial value?
Lindsay Junk: Before I started with YogaSix I worked as a consultant with owners of fitness businesses helping them with sales and operations. I was genuinely surprised at the lack of sales acumen and operational processes most of the entrepreneurs I worked with had. It made me realize that my skills and experience in the fitness industry were unique and I could really help studio owners drive their profit.
ATN: What charities are important to you? What does philanthropy mean to you?
Lindsay Junk: With so many great causes out there, it is hard to support one so we created a flow for a cause program which allows our franchisees to give back to the charity that they are close to and want to support in their community. For me, I have run the New York Marathon twice in support of Team for Kids, which is an organization that provides running programs to underprivileged communities. Running has been a big part of my life and a big way that I manage stress!
ATN: Where do you see the future of fitness going?
Lindsay Junk: I think we are going to continue to see a focus on holistic wellness. By that, I mean people want to get in shape not just to look good but to feel good and be well. This means focusing on cardiovascular health, muscular strength, flexibility, mental health and overall balance. We have also seen many people coming back into our studios craving the community aspect of group fitness, which is definitely here to stay.
Candace Cordelia Smith
Candace Cordelia is a Pennsylvania-based journalist and on-camera broadcaster/host, with a reporting background in wrestling, entertainment, and lifestyle. Her reporting work has been featured on websites and in publications such as Bustle, Pro Wrestling Illustrated, New York Daily News, am New York, ABC News, Yahoo!, Good Morning America, Madame Noire, Sister 2 Sister, etonline.com, Diva Dirt and The Everyday Fan. Her favorite workout influencers include Chloe Ting, Cassey Ho, Pamela Reif and Mary Braun. She still can't stand burpees and Rebbl Dark Chocolate Immunity Elixir is one of her favorite post-workout protein sips. You can follow Candace on Twitter @CandaceCordelia and on Instagram @thatgirlcandace16.