Therabody Partners With Barry's for In-Studio Recovery
credit: Barry's
Therabody will provide recovery stations that include its Theragun PRO and WaveRoller devices in all of Barry's U.S. fitness facilities
Barry's has named Therabody its official recovery partner, solidifying both companies' commitment to providing fitness consumers with recovery solutions.
The partnership will see Barry's signature HIIT workout combined with Therabody's health and wellness technology, giving Barry's members the opportunity to enjoy a wellness experience before working out or a recovery treatment afterward.
Therabody will provide recovery stations that include its Theragun PRO and WaveRoller devices in all of Barry's U.S. fitness facilities. The wellness tech company will also provide training for Barry's instructors and staff while developing custom routines for Barry's members.
The move presents an almost spa-like offering, designed to make in-person fitness more attractive to consumers who may have become too comfortable with an at-home routine. It also highlights the importance of recovery in the fitness journey.
The recovery stations will allow members to use Therabody products to warm up before a workout and to ease muscle soreness after training in Barry's Red Room.
Therabody founder and chief wellness officer Dr. Jason Wersland expressed his excitement about the partnership.
"As we dive back into the gym at Barry's, remember that recovery is your secret weapon," Wersland told Athletech News via email. "You can't be a gym warrior without some serious recovery game. Therabody is here to save the day with our percussive therapy devices, ensuring that your muscles bounce back for the next class. So, remember friends, no pain, no gain… but also no gain without some Therabody recovery magic!"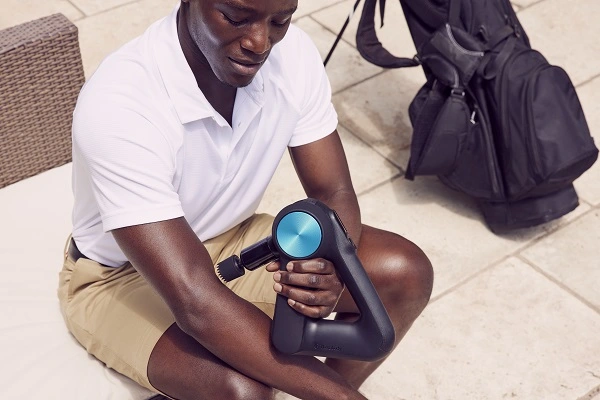 Last fall, Therabody closed a $165 million growth equity round, launching eight new wellness and recovery products. At the time, the wellness tech company said the capital would be used for continued investment in technology, the creation of digital content and Reset, its whole-body wellness centers.
The company has also moved into garments technology for recovery on the go, adding vibration to compression to speed up recovery through a germanium-infused wearable sleeve.
Therabody recently welcomed Jim Allwein as its chief financial officer.
Courtney Rehfeldt
Courtney Rehfeldt has worked in the broadcasting media industry since 2007 and has freelanced since 2012. Her work has been featured in Age of Awareness, Times Beacon Record, The New York Times, and she has an upcoming piece in Slate. She studied yoga & meditation under Beryl Bender Birch at The Hard & The Soft Yoga Institute. She enjoys hiking, being outdoors, and is an avid reader. Courtney has a BA in Media & Communications studies.