Therabody Launches New Innovations and Closes its $165 Million Growth Equity Round
On Tuesday, Therabody® announced the close of its growth equity round with financial backing of $165 million, along with the launch of eight new products in the performance, pain, stress, and sleep spaces
Therabody showed no signs of slowing down today as the leader in performance and recovery innovation announced the close of its growth equity round with a total financial backing of $165 million, along with the launch of eight new products, including the Theragun PRO®: Gen 5, the Theragun mini® 2.0, and SmartGoggles™.
The Therabody growth equity round was led by private equity firm North Castle Partners, LLC, which also included existing investors like Aaron Rodgers' Rx3 Ventures and Kevin Hart's HartBeat Ventures, LLC. The company will use the capital to continue to invest in its cutting-edge technology, build its whole-body wellness centers called Reset, and create digital content.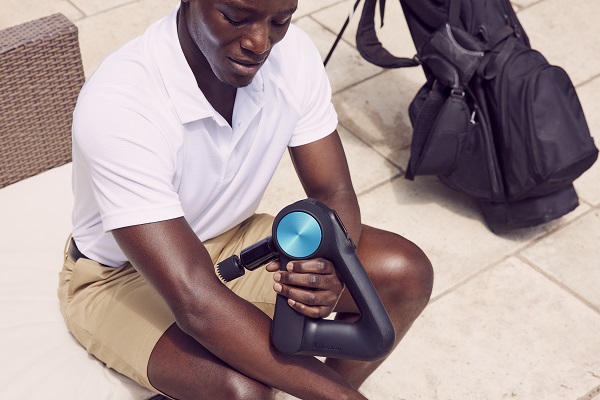 The Theragun PRO: Gen 5 is smarter and quieter than previous iterations. Its new EQ150 motor has been built from the ground up to be 20% quieter without sacrificing frequency power. The built-in OLED screen also displays routines, so it's easier than ever to follow along. With routines like Sleep, Warm Up, Recovery, and Theragun Break, the PRO: Gen 5 can enhance any stage of the day. In addition, the PRO: Gen 5 includes more attachments, including the new Micro-Point attachment, which is made of medical-grade silicone and increases treatment stimulation.
The Theragun mini 2.0 is more portable and powerful than ever. Its patented triangle design is now 20% smaller and 30% lighter than its first generation. The Theragun mini 2.0 has new Bluetooth connectivity and three attachments included: the standard ball, the dampener, and the thumb. Its proprietary brushless motor is quieter than ever, while its new ergonomic design is easy to hold while reducing hand and wrist strain.
Therabody's SmartGoggles are the company's first wearables. Designed to help its user relax and sleep better, it can ease facial tension, relieve eye strain, and decrease headache pain in preparation for sleep. The technology behind the SmartGoggles—SmartRelax—is scientifically proven to slow your heart rate. Its SmartSense Technology™ is an integrated sensor that measures one's heart rate to deliver a personalized experience to increase relaxation. In addition to SmartRelax, the SmartGoggles have the Focus and Sleep modes, which use a combination of heat, vibration, and massage to get a user to their ideal state. The product can be paired with TheraMind®, a multi-sensory sound therapy that promotes focus and relaxation.
Other products released include the RecoveryTherm™ Hot & Cold Vibration Knee and RecoveryTherm Hot & Cold Vibration Back & Core: advanced cold, heat, and vibration therapy tools for the knees and back/core, respectively. TheraCup™ is an advanced cupping tool paired with heat and vibration for relief and recovery. Lastly, the Therabody Lounger is a zero-gravity lounger that uses TheraSound™ technology to transmit sound waves through the body that are felt as vibration, like a musical massage.
Benjamin Nazarian, the Chief Executive Officer of Therabody, spoke of the new product releases, "We believe that wellness should be accessible to everybody with innovative, personalized products that are backed by science. Consumers are focusing on their wellness more than ever. The new additions to our ecosystem not only bring the future of well-being to life but also represent Therabody's own evolution as we broaden our product portfolio from hardware to biometrics and content to support both the body and the mind." 
The product launches and growth equity round are the latest in what has been an impressive and innovative 2022 for Therabody. In February, the company launched the RecoveryAir pneumatic compression boots, and in April, introduced TheraFace PRO, a portable device for facial relaxation. As self-care and recovery become increasing holistic, Therabody is on the cutting edge of innovation in the world of wellness technology.