Exclusive: Rumble CEO, Ashley Camerini speaks Rumble TV Launch and Managing Through a Pandemic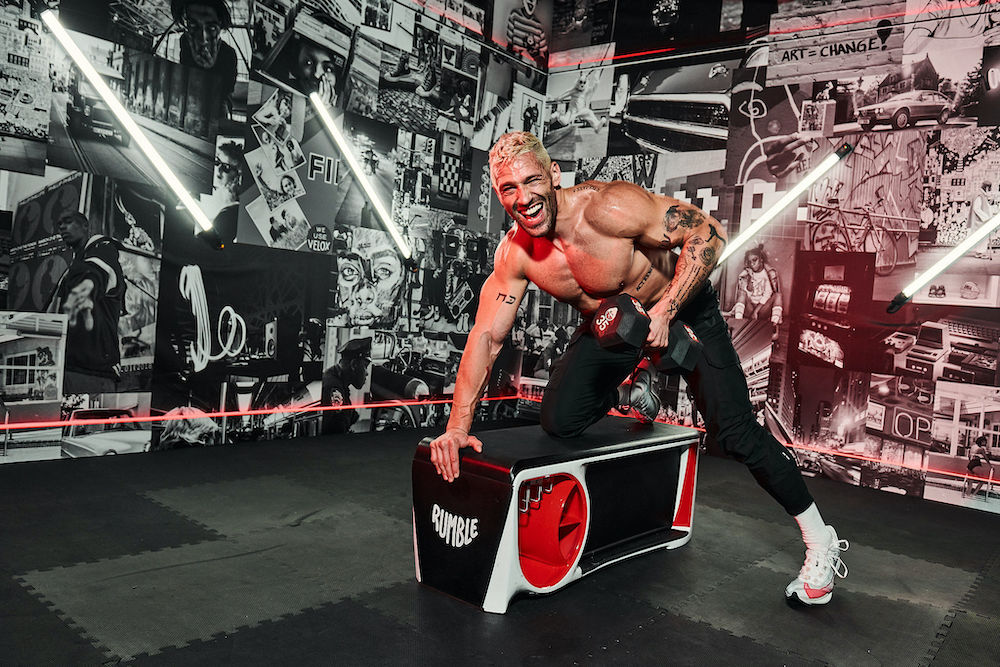 Today, Rumble announced the launch of Rumble TV, a subscription-based digital platform featuring live and on-demand at-home Rumble workouts. Athletech News had the privilege of sitting down (virtually, of course!) with Ashley Camerini, Rumble's CEO, to get the inside scoop on Rumble TV and the future of everything Rumble. Below are some of the highlights from our exclusive conversation.
Rumble is a group fitness company founded in January 2017 with locations across the US. Rumble's co-founder Noah Neiman started as a trainer at Barry's Bootcamp before launching Rumble. In January 2018, Equinox made a minority stake investment in Rumble Boxing. The traditional in-person Rumble class is a 45-minute sweat-dripping workout that combines full-body cardio and strength training leveraging specially designed water-filled, teardrop-style boxing bags. Since its launch, Rumble has grown and added new class formats as well as digital programming. Ashley Camerini was promoted to Rumble's CEO in 2020 after acting as EVP as well as other key leadership roles. Ashley has been integral in ensuring the business continues to thrive despite the impacts of COVID-19.
Ashley, thanks so much for agreeing to speak with us. Tell us about Rumble TV.
Yes, so many exciting things going on with Rumble right now. Most notable is our launch of Rumble TV. Rumble TV classes are full-body, cardio & strength virtual workouts designed for those of all levels. Rumble TV offers four core fitness offerings: Boxing (no bag required!), HIIT, Strength & Running. Participants can expect the signature Rumble experience, ie. awesome music, our sweat-drenched workout, and of course our next-level energy…which we all know we need so much these days!
Sounds awesome. What makes you most excited about this launch?
One of the things I am most excited about with the launch of Rumble TV is our ability to reach an entirely new set of clients who wouldn't have otherwise had access to Rumble given our current studio footprint. We have spent the last 4 years designing fitness programming and training our talent to teach classes that are results-oriented and fun so working out doesn't feel like a chore. It is a special art to create experiences that bring you to your physical max but leave you coming back for more. I believe we've perfected that art and I can't wait to bring that level of expertise to many more clients.
I love that! So, I have to ask, I am a longstanding Equinox member and use Variis, their on-demand fitness app, which Rumble is also now on…what are you thinking about these various platforms, including physical clubs, and how they coexist?
We are learning as we go. Our launch on Variis by Equinox confirmed that there is a huge network seeking Rumble workouts on demand. This was the first time we were able to provide On-Demand content to our community which bodes well for our launch of Rumble TV. I do anticipate some crossover between those two platforms that will continue to evolve as the state of the world does. For today's world — we're building Rumble TV as an all-in digital fitness experience for the at-home client who really cares about a truly fun workout, getting in a killer sweat while working out with the best, and may I add, most fantastic trainers. In addition to our launch library of over 100 workouts, Rumble TV's live schedule of 6+ classes per day will add 40+ new pieces of content to the library each week, so for the client who wants continuous fresh content and Rumble-curated programs, Rumble TV will be the near-term product for them.
In terms of the in-studio aspect, we expect significant cross-over between our in-studio clients and our digital clients as we begin to open studios and more outdoor locations, but that's a good thing in our mind. I believe the future of fitness is one where successful brands will find ways to engage and support their community both digitally and in-person. We will see our clients engage with us on both channels — some days coming to the studio with their friends and family and some days just accessing it at home. We are committed to delivering that high-energy, no B.S. Rumble experience no matter where you are.
In addition to cross promoting on Variis for Rumble TV, what other competitive advantages does having a partner like Equinox do to help during a trying time for the fitness industry?
You know that friend you call when you have a question but you aren't quite sure who to ask first? That's how our relationship with Equinox has been.
Does Rumble want to play in the hardware space as well? Is there a place for a Rumble to compete with Peloton, Mirror, Hydrow, Title etc and offer hardware and software?
Today, with the launch of Rumble TV, we are focused on bringing our high-energy and high-sweat workout to those who may not have access to a ton of equipment at home. While our boxing workouts can, of course, be done with a boxing bag, having equipment certainly isn't a requirement to leave with a killer workout and drenched in sweat. That being said, we are always looking to the future for how we can diversify and elevate the Rumble experience.
Do you see this space getting too crowded? Do you think this Peloton "bubble" will burst or is there room for other players to take sizable market share?
I believe digital fitness is here to stay and will only result in the growth of the fitness industry — both digital and in-person — as a whole. While there are many players today, there are fundamental differences between what each brand stands for, the experiences they create and the results they bring to their clients. Those who win long-term will be those who are maniacally obsessed with their consumer, paying attention to every detail of their experience and consistently investing to elevate the product.
Following up on physical locations…what is the future of Rumble studios? As much as I have adapted to working out in my living room, I still miss the camaraderie that comes with working out with friends. Incidentally, my NYC apartment is not entirely conducive for working out!
We hear that all the time. As humans, we are social at our core. Introvert or extrovert, the majority of people prefer to be around other people if they have a choice. We crave community and seek out experiences with like-minded individuals. Rumble studios were born to be a place where people could connect and share in a common goal – and that, I believe, will return with a vengeance after the pandemic. So physical locations will continue to be a large part of the brand's strategy and offerings going forward…more to come on new locations soon!
That is exciting. Having taken my fair share of Rumble classes, I know your instructors and employees are everything to your business. Can you talk to me about how your teams have adapted to this new normal, how you have approached training, incentivizing talent, hiring etc. One of the things we hear frequently at Athletech is the challenge of retaining talent within this industry. I like to hear how different leaders are approaching that challenge.
Yes, our team is a top priority as they are essential to our business. Since Day 1, we designed our internal training program to train our talent to deliver an experience, not just a workout. This has been a key differentiator for us as we have launched our digital offering, since our talent with all of their unique personalities translates very effectively through the camera. Nowhere is it more important for the trainer to keep you going than when you are working out at home alone — pushing you to get results while engaging you enough that you forget you're on your 25th squat!
And yes, in terms of keeping our teams engaged and motivated, we think about that a lot too. We have always leveraged our talent for responsibilities beyond teaching the Rumble class. They are at the core of many of our operational processes and marketing campaigns, contributing to quality control, program development, copywriting, social media, styling, and content creation. For those who have wanted to be a larger part of the Rumble brand, we have found meaningful ways to get them involved in the company. This has been a key factor in our ability to retain our talent.
Ashley, it's been such a pleasure talking with you. I have so much more I want to ask you, about being a female CEO, about the future of boutique fitness, the list goes on! I think we may need a part 2 of this conversation. In closing, can you share with our audience what you and your team have learned in 2020 and what advice you have for fitness startups and those trying to navigate growing their businesses?
This year has been crazy but my team and I have learned a lot. I think I would say, don't be afraid to try new things. 2020 was a year of creativity for many brands and my team at Rumble has been at the forefront of trying new things with the Rumble brand – from launching e-commerce, a new digital product, a new in-studio experience called Open Gym and several outdoor fitness experiences. We worked hard to create new customer touchpoints while continuing to stay true to what Rumble is all about…a results-oriented and fun fitness experience for all.
Thank you so much Ashley!