Pandemic-weary Gyms Buckle Up For a New Year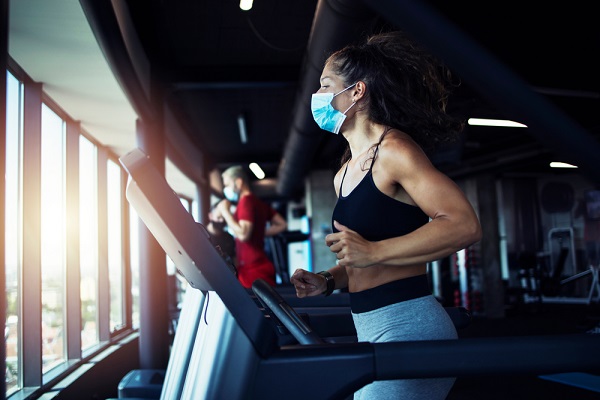 It was supposed to be over: How Northeast-based gym are responding to ongoing COVID spikes & mandates
New York has started 2022 with over 85,000 new positive COVID cases and hospitalizations climbing. January is known for being a fresh start, a time of year when fitness enthusiasts are heading back to the gym or starting a new fitness routine. But as everyone welcomes 2022, there is still a collective sense of uncertainty – and pandemic-weary gyms and boutique fitness studios are experiencing feelings like worry, complaisance, and even fury.
It was supposed to be almost over. As the nation prepared to celebrate the 4th of July with BBQs and fireworks, President Biden gave an encouraging and celebratory speech from the South Lawn. While acknowledging that COVID-19 had not been vanquished, Biden noted that it no longer controls our lives. And then Omicron swooped in just as winter arrived in the Northeast US. New York has been hit especially hard, and NY Governor Hochul has unveiled a "2.0" plan, including an extended mask-or-vax mandate until February, addition state-run testing sites, and doling out KN95 masks.
While many businesses have struggled during COVID, fitness facilities have suffered greatly. The fitness industry has repeatedly said that government-mandated shutdowns have been devastating to gym businesses, with a closure rate of nearly five times that of restaurants. In July, Community Gyms Coalition reported that 80% of locally-owned, independent gym and fitness owners are still struggling financially from the pandemic.
Will rising COVID cases & mandates impact gym attendance?
With mandates back in place and rising COVID cases, gyms are dreading another stressful year and have been trying to mitigate issues, including the health of its staff and members. In response to Omicron, some NYC-based gyms, like Fhitting Room, decided to close during the last few days of 2021 until the new year. SLT and Y7 Studios took another approach and announced that they'd ask their fitness members to wear masks. Fhitting Room confirmed with Athletech News that all three of its NY locations are now open for classes for its members in 2022.
With Omicron raging and highly contagious, and the added stress of mandates, many fitness studios and gyms are in a tough spot this January. However, it's not all doom and gloom – at least not yet.
Tone House, an NYC-based fitness training facility, tells Athletech News that they haven't experienced a notable decline in participation since the mask-or-vax mandate requirement. Masks remain optional since Tone House is 100% vaccine-required per the New York City mandate. However, there has been a slight decline due to Omicron concerns.
"There has been less attendance this month as people are being cautious due to the current high number of positive COVID cases, and we are encouraging athletes to stay at home if they feel sick or may have been exposed. The safety of our athletes remains our top priority, and we expect to see attendance pick back up as the city gets the spread under control," a representative for Tone House says.
Fitness facilities face tough decisions
Some gyms have opted to refuse mandates, while others are complying
Not all gym facilities feel like complying with the ongoing mandate and are fed up with what seems like a constantly moving goalpost. One New York gym, World Gym of Greece, has publicly stated that it would be refusing Governor Hochul's mask mandate.
Co-owners Michelle Sember, Ron Sember, and Tim Dougherty joined "Fox & Friends" and said that the initial two-week shutdown of their Rochester-based gym morphed into a seven-month shutdown. The closure, the trio said, ruined their business. However, the co-owners of the gym stated that by refusing the mask mandate, they have experienced a dramatic increase in membership. "We probably get five signups to every one cancellation because of the mask mandate," Michelle told "Fox & Friends." "They don't agree with us not allowing it, but you know, we have increased our membership."
On the other hand, Planet Fitness is opting to comply with the mandate – but they may be better positioned to consent with orders than other gyms that have struggled. Unlike other gyms, the Planet Fitness fitness franchise has managed to go unscathed the last two years. Planet Fitness reported in November that not a single location permanently closed due to the pandemic and said that its membership levels had returned to pre-COVID levels.
John Herinda, Planet Fitness Upstate New York VP of Operations, told Spectrum News that the fitness gym will adapt and look forward to when masks are a thing of the past. Herinda said Planet Fitness is focusing on keeping its members and staff safe while staying open.
Some gym owners in a tough spot have made a bold move, like Matt Doheny, co-owner of ABC Sports & Fitness in Latham, NY. Doheny recently told The Wall Street Journal that while denying people the right to exercise goes against his beliefs, he moved forward with a decision to ban gym members who are unvaccinated. Doheny was aware that the decision would have an impact but told The Wall Street Journal that simply asking members to wear masks wouldn't suffice because his employees were experiencing harassment when asking members to wear one. Doheny reports that 200 of ABC's 7,000 clients canceled or froze their memberships. As The Wall Street Journal pointed out, there was one bright side: 100 new clients signed up after quitting gyms that were requiring masks.
CompleteBody, which has four locations in New York City, reports that its clients are still attending its fitness and wellness facilities, but are still receiving membership freeze requests. Despite Omicron, CompleteBody remains hopeful for 2022.
"The vantage point we have at CompleteBody is unique as each location serves a unique demographic. While we have a steady base of members that are still working out in the gym, we are still getting requests for membership freezes every day. While this is a downward trend, we're seeing PT clients continue to meet with their trainers regularly. The Omicron variant has indefinitely affected our gym traffic and business as a whole. We've pivoted by offering virtual programming (both PT and small group training) and creating alternative experiences for our community. Covid-19 and all the variants that have come and will eventually fade into the virus continuum. The fitness industry must continually adapt and continue to provide wellness solutions in these uncertain times. We're optimistic that with increased vaccine rates and forward-thinking local leadership, the Spring and Summer seasons will trend upward," says Ken Anthony, Regional Training Manager of CompleteBody Health & Wellness Clubs.
Not just NY: Neighboring states are feeling the crush, too
In nearby Connecticut, Chelsea Piers, a sports and recreation facility that offers instructional programs, camps, sports leagues, competitive teams, and general fitness, has experienced staffing issues due to rising cases in their state. The staffing issue isn't unique to just Chelsea Piers – or even fitness facilities, as essential workers are facing similar challenges across all industries. "The biggest issue we are facing now, which isn't unique to Chelsea Piers, is keeping our staffing levels normal. With positive cases on the rise in CT, everyone needs to chip in to make sure we can service our members and help our colleagues get through isolation and back to work. Most of our staff have been asymptomatic, so are usually back after five days. All our staff is vaccinated and many are also boosted, so thankfully no one has been very sick," Greta Wagner, Executive Director of Chelsea Piers tells Athletech News.
The surge of Omicron has also impacted attendance, leading to a less-than-robust kick off to the new year. "Omicron has certainly made for a very different start to 2022 than we had all hoped for or expected. The holidays are usually quiet, but with Omicron we have seen a slightly larger decline in our attendance. January is normally one of the busiest months with a very large increase in attendance – it's not as robust as normal, Wagner shares.
Luckily, Chelsea Piers reports that its members have been considerate and patient. "It hasn't been too long since we eliminated the mask mandate so it didn't take much to reinstate it. Members are understanding and very good about complying. Our youth sports and competitive teams are in full swing, everyone is being extra cautious, masking and keeping unnecessary group gatherings to a minimum. We're all experts at social distancing, cohorts and safety measures," says Wagner.
Overall, Chelsea Piers remains positive. The facility says its been running smoothly since reopening in June of 2020 and feels confident even in the face of ongoing COVID-19 related challenges. "We've weathered many ups and downs throughout the pandemic and we will get through Omicron and anything else that will come in the future. One of the most important things people should do is focus on their health (total health- mental, physical and emotional) spending time at Chelsea Piers (or any club) is part of staying strong and safe," says Wagner.
As far as mandates, IHRSA say gyms should follow local guidelines
The goal should be for workout facilities to provide a safe atmosphere, according to IHRSA, the worldwide health and fitness organization that has been working with The Community Gyms Coalition. "IHRSA encourages all health and fitness clubs, gyms, and studios to follow local guidelines and mandates. Right now, the focus for every club should be to provide a safe and clean environment for members, staff, and the community. The implementation of risk mitigation measures—mask-wearing, sanitation and cleaning, ventilation, communication for possible exposures, etc.—does just that. We do not condone clubs going against local mandates," Liz Clark, IHRSA's President & CEO tells Athletech News.
As 2021 came to an end, The Community Gyms Coalition and the Global Health and Fitness Association continued sounding the alarm as Omicron quickly spread, warning that over a third of gyms and fitness facilities could permanently close. The coalition has been urging Congress to pass stimulus relief legislation for fitness businesses and gyms. "Many clubs have closed and many more have been hit hard financially with restrictions. I hope that the government will support our industry by passing the GYMS Act," noted Wagner of Chelsea Piers.
Time will tell how gyms will fare 2022, but even Omicron may be no match when it comes to fitness resolutions.
This article has been updated to include comment from CompleteBody.
Courtney Rehfeldt
Courtney Rehfeldt has worked in the broadcasting media industry since 2007 and has freelanced since 2012. Her work has been featured in Age of Awareness, Times Beacon Record, The New York Times, and she has an upcoming piece in Slate. She studied yoga & meditation under Beryl Bender Birch at The Hard & The Soft Yoga Institute. She enjoys hiking, being outdoors, and is an avid reader. Courtney has a BA in Media & Communications studies.