Whoop Lowers Wearable Subscription Price; CEO Says Move Comes As Other Fitness Companies are 'Going the Other Direction' & Reveals Upcoming Features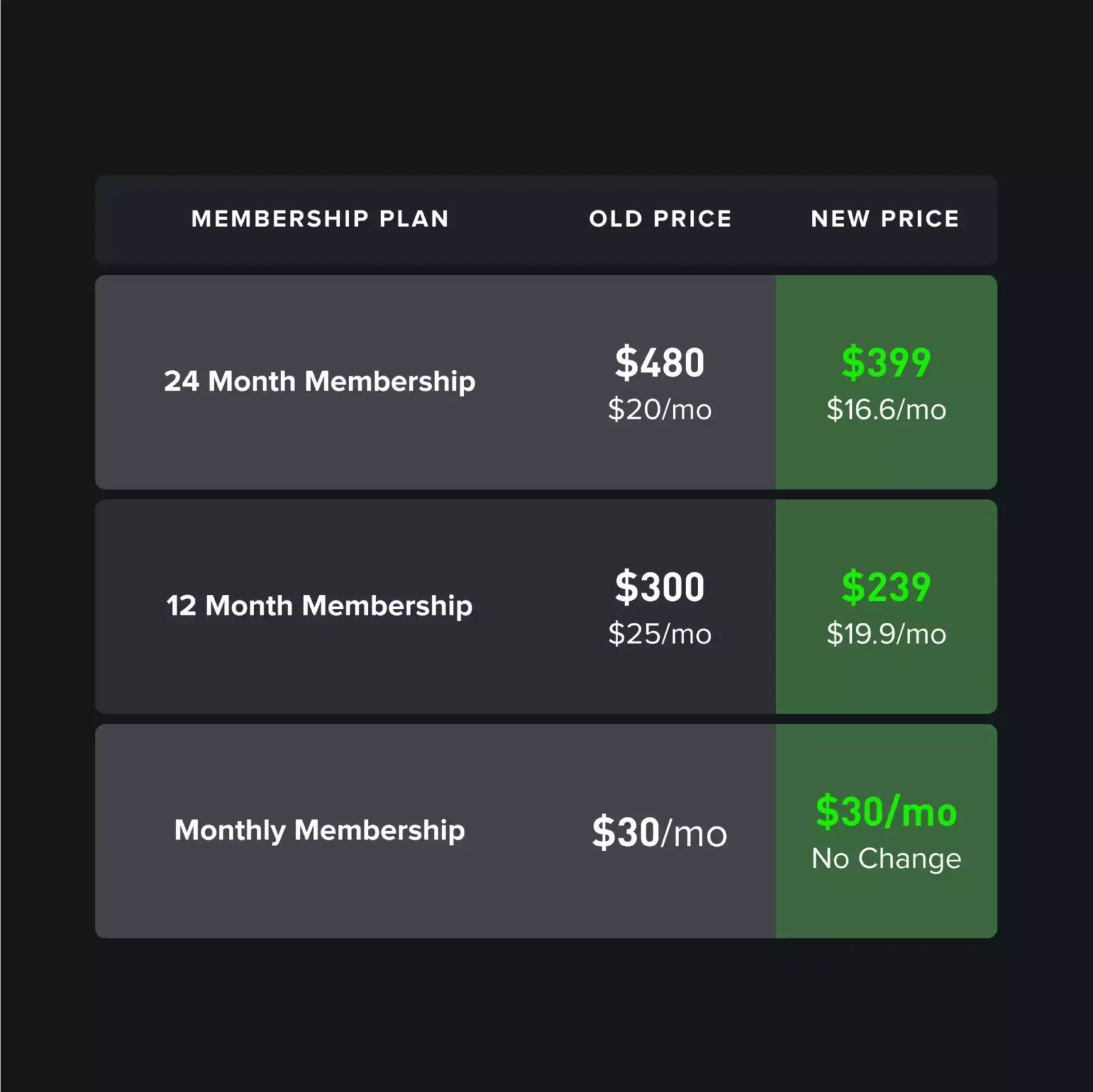 Will Whoop's lower price model attract more wearable consumers to its human performance device?
Great news for fitness consumers who have been eyeing a wearable: Whoop has announced it's lowering its subscription prices.
Whoop founder and CEO Will Ahmed took to social media to announce the new pricing structure that impacts Whoop's 12 and 24-month membership platforms – the lowest it's ever been in the brand's history. 
For those who joined Whoop before the announcement, Ahmed noted that those consumers would be granted a 1-3 month extension based on their membership type.
"We want as many people as possible to be able to improve their health. This will make Whoop more accessible than ever before," Ahmed said in the clip. 
Whoop annual subscription prices will decrease from $300 to $239, and 24-month subscriptions will drop from $480 to $399. Whoop's monthly membership will remain $30 with a 12-month commitment.
The ACSM named wearable tech as one of the top trends for this year.
Whoop's CEO also confirmed that additional features are underway, including stress monitoring, a weight lifting feature to track reps, muscular strain scoring, new recovery details, and an updated home redesign.
The changes are slated to roll out in the next few months.
As Ahmed noted during his announcement, the lowered pricing is coming at a time when other fitness companies are going in the other direction. While he didn't name names, there has been a trend of price increases as of late.
At the start of the year, connected rowing brand Hydrow announced another round of layoffs and a monthly membership price increase from $38 to $44 in the US for new members. Tonal also conducted layoffs earlier this year and announced the cost of its Tonal trainer would increase by $500 and a membership price hike from $49 to $59.95.
Gamified cycling platform Zwift is also considering a price increase. Eric Min, co-founder and co-CEO of Zwift, recently addressed the company's $15 a month subscription fee, stating that it isn't sustainable in the long run term. He confirmed that Zwift is exploring locked annual memberships but noted that the cycling platform hadn't raised prices since 2017. 
Fitness-focused software company Strava also announced a price bump, dependent upon the consumer's region, whether they are a monthly or yearly subscriber, and whether they purchased their Strava subscription before November 23, 2022. 
Whoop laid off employees in its B2B corporate health arm this January, following a 15% reduction in staff last summer.
The human performance company recently teamed with wellness brand Hyperice to better educate fitness enthusiasts about the value of recovery to their health and performance.
Courtney Rehfeldt
Courtney Rehfeldt has worked in the broadcasting media industry since 2007 and has freelanced since 2012. Her work has been featured in Age of Awareness, Times Beacon Record, The New York Times, and she has an upcoming piece in Slate. She studied yoga & meditation under Beryl Bender Birch at The Hard & The Soft Yoga Institute. She enjoys hiking, being outdoors, and is an avid reader. Courtney has a BA in Media & Communications studies.