Which Smart Gym Is Best For You?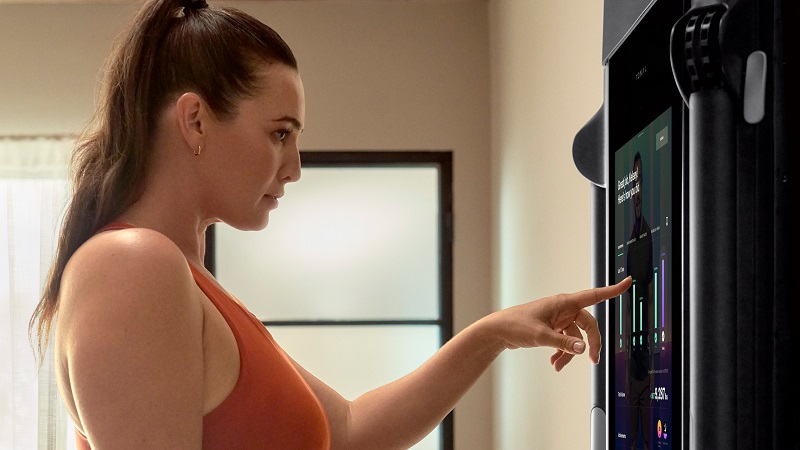 What Is A Smart Gym?
A Smart Gym, in the context of this article, is any at-home training equipment combined with technology that can connect you to virtual training or provide feedback on your workouts. With that explained, we will break down some of the top smart gym products in the industry and compare which are best for you, depending on your fitness goals.
Smart Gyms have exploded over the last few years due to their convenience, a small amount of space needed, and access to virtual training. Of course, the pandemic only boosted the demand for home fitness equipment by closing gyms, remote work, and lockdowns. The market and popularity of at-home fitness continue to grow even now.
Mirror Smart Gym
Up first is the sleek design of the Mirror. It functions as a mirror when it's off, but once you are ready to start training, it turns into a video library of over 10,000+ classes on demand. These classes can range from yoga to boxing classes. Courses can be online alongside other Mirror members, where you can receive live feedback and one-on-one sessions with a personal trainer.
Access to that number of classes can be overwhelming, but Mirror anticipates this and offers weekly curated classes based on what you like to do. The Mirror takes personalization even further by displaying your heart rate on the screen, but you must pair it with your heart rate monitor or smartwatch. You can play your favorite artists through Mirror or opt for their curated playlists that change depending on your activity.
Mirror also has a community where you can compete with each other in exercise-based games. Suppose competition is not your thing but still like the social element of working out together you can do that too. You can exercise with your friends and do the same training program. They also have a "health score" that you can keep track of to keep you motivated and pushing to better numbers.
The Mirror is an excellent option for individuals who are just getting started in their fitness journey or whose main goals are cardio and calisthenic based and are looking for a minimalist set-up that takes up a small amount of space.
Athletech News recommends The Mirror Pro if you are starting from scratch since you will gain your choice of 1 pair of weights, a workout mat, foam roller, and yoga block. The Mirror Pro goes at $1795 but has a financing option with Affirm where you can pay as low as 0% APR and $38 a month when this is published. If you have these accessories handy already, you can go with The Mirror, which will only include the product itself and an adjusted price of $1495 with the same financing offered by Affirm. Mirror Membership is also $39 a month with a 12-month commitment.
Tonal Smart Gym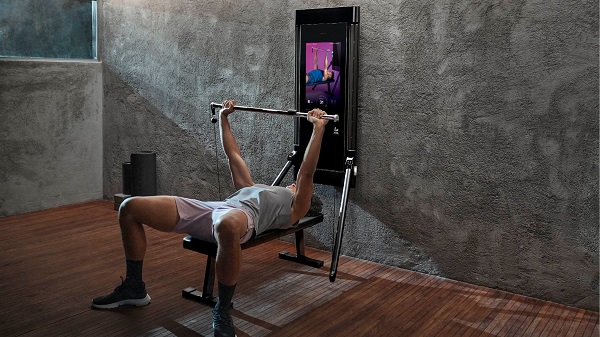 Tonal is similar to Mirror in that it is mounted to the wall and offers personal training. The cable resistance weights (up to 200lbs) make it one of the most versatile options in the market today.
Marketed as the "smartest gym," Tonal can provide you with personalized training, strength assessments that affect how Tonal can structure your workouts and performance analytics for specific parts of your body. Unlike your standard cable machine, Tonal has "Adaptive Weights," meaning you do not benefit from the inertia of your movement, meaning you experience the same resistance throughout your range of motion. You can even have a "Dynamic Weight Mode" that changes the cable's resistance in different areas of your rep. Essentially, you are working harder and getting a better workout to help you attain your goals.
Tonal not only offers weighted training, but you can also do yoga, interval training, and even meditation. Versatility is expanded further in the accessories you can have with Tonal, like the rope, bench, and my favorite, the bar. The bar will let you do some of the traditional movements of squat, deadlift, and benchpress using the adaptive weights of Tonal.
Tonal is for anyone and everyone, no matter what their goals are. The versatility of this gym is unbeatable, but with that, the cost is much higher than their competitors.
The price of Tonal with accessories (smart bar, handles, bench, rope, mat, and roller) will be $3490. A steep price for sure, and that does not include the Tonal Membership, which unlocks all the features like progress tracking, personal training, and workout programs. Tonal membership will be another $49 a month as of publication. The upfront price can be eased by financing by Affirm to as low as 0% APR.
NordicTrack Fusion CST and Vault
The NordicTrack Fusion CST Studio is almost like a Tonal and Mirror combined. It has cable resistance weights with a mirror to watch your form. It also comes with a 10-inch tablet that mounts on the mirror so that you can stream your workouts and keep up with your training metrics.
As with other competitors, they also offer mindfulness exercises with their membership and training programs. Interestingly, your trainer can adjust your weight depending on your performance to keep proper form which is a stand-out feature. Unfortunately, what also stands out is how much more space the CST Studio takes up than the Mirror or Tonal. It does not mount on the wall and fold up neatly to decrease its footprint. The footprint and space it takes up could be a dealbreaker if you are someone who lives in a smaller space.
The NordicTrack Fusion CST Studio is an excellent piece of equipment and versatile, much like the Tonal, as long as you have the floor space. If the Tonal was a little pricey for you, the CST Studio sells at $2495 or $64 monthly, as low as 0% APR. Membership for iFit personal training is $39 monthly.
The NordicTrack Vault: Complete Set is a direct competitor with The Mirror. They offer similar personal training and specs, except, in this case, the Vault is a better buy for the value. You get a range of weights from 5 to 30lbs, resistance bands, and two kettlebells at 20lbs and 30lbs. They can also be stored inside the Vault to save space. This feature puts it ahead of The Mirror for value and convenience.
The Vault is going for $1999 or $46 monthly, as low as 0% APR when writing this article. The monthly membership for personal training is the same at $39 monthly.
Tempo Studio Plus
The Tempo Studio Plus is similar to The NordicTrack Vault in that it is a stand-alone smart gym with no drilling required. Some but not all of the weights and accessories are stored inside the Tempo Studio. That being said, the bench and barbell can be stored behind the Tempo Studio if placed strategically.
The Tempo smart home gym offers personal training with a screen to watch your trainer and your form. A stand-out feature for the Tempo Studio is its camera that will notify you on-screen if you are using incorrect form. It does this by recognizing the weights, the rack, and the bench with the built-in camera. The camera is a valuable feature if you have ever been injured because of poor form or are just starting your fitness journey.
If you are starting your fitness journey, this can be an excellent choice. The guided assistance with form and personal training can take you along the path you want to be on for your goals. The Tempo Studio is also a solid choice if you need something to keep you more consistent with working out when you do not want to make that drive to the gym.
If you are a little more advanced, this may not be for you, considering the weight provided in the package is only 75lbs.
The Tempo Studio Plus package is selling at $3245. A steep price, but you have to factor in getting a bench, 75lbs of weight, and a 25lb barbell. You can also opt-in for financing at 0% APR and as low as $68 monthly.
PRx Foldable Rack Packages
We have a bonus product for you if you are more of a traditional weightlifter but want something more familiar and compact. PRx has multiple foldable rack packages for whatever you might need. These racks bolt into the wall and fold into the wall to decrease their footprint. They can come with various weights, two barbells, plyobox, resistance bands, kettlebells, dip station, bench, etc.
These foldable racks are the perfect solution for more advanced fitness enthusiasts that want a home gym set-up. If you don't necessarily need personal training or want something at home when you don't want to make that commute to the gym, this is for you.
The PRx Foldable Racks are in a price range of $1900-$5200 at the time of writing.
Athletech's Best Overall Choice
Considering versatility, personalization, and how little space it takes to install. Athletech News gives the best overall smart gym to Tonal. While Tonal is one of the more expensive packages, it is the most versatile. Its adaptive weight technology and variety of classes tailored to your level of strength will help you accomplish your goals whether you are just starting or are more advanced.
Tonal continues to stand out from the time of its release to now, and we expect to see more great things come from the company. Whether that is a new product or more accessories is yet to be seen. Athletech News would like to see a more budget-friendly addition to their line-up but remains our best overall choice for a smart gym.