Home Workout Injuries with Hospital Stays on Rise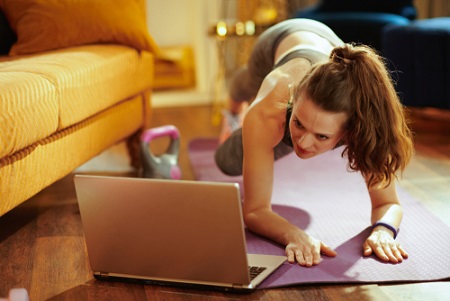 Candace Cordelia Smith
Candace Cordelia is a Pennsylvania-based journalist and on-camera broadcaster/host, with…
A rise of at-home fitness workout options brought on by the COVID-19 pandemic has caused an unfortunate uptick in injuries and subsequent hospital trips. But there are certain things one can do to avoid going to the emergency room.
The COVID-19 pandemic ushered a massive change in the way we work and live, especially when it came to fitness. With gyms closed during quarantine, many people were faced with pivoting towards at-home exercise, but apparently workout injuries followed.
According to Business Wire, fitness equipment sales skyrocketed up to 170% during lockdown. Meanwhile, a survey conducted by Beachbody in 2020 showed that nine in 10 Americans who regularly exercised were expected to continue their at-home fitness routines, even as gyms slowly reopened. With the convenient pleasure of at-home exercises, the pain of home workout injuries seems to have become a reality for scores of individuals.
NASM certified fitness instructor Joe Johnson told The Wall Street Journal that even with his pedigree, an injury to his shoulder during a home workout session sent him to the hospital.
"Turns out I'd torn my rotator cuff and couldn't train for six weeks," he said.
Johnson isn't the only one who has felt this unfortunate kind of burn due to home-based fitness training. A home workout injuries report published via MedicareAdvantage.com in August shows that "Americans have hurt themselves in droves."
Key findings of the survey report an increase of emergency room visits "by more than 48%," from 2019 to 2020 due to home workout injuries. In addition, almost 30% of those injuries were suffered by people aged 65 years and up. Interestingly enough, treadmills and exercise bikes were found to be workout equipment most associated with said home workout injuries.
These findings might sound discouraging, but there's hope in the form of prevention.
Montclair State University associate professor Evan Matthews Ph.D tells The Wall Street Journal that one of the most essential things anyone can do before an at-home workout is to "warm up properly…with five to 10 minutes of low-intensity cardio…followed by dynamic exercises like lunges and squats." Low-intensity cardio workouts such as jogging or jumping rope are suggested.
Other ways to avoid a hospital trip after a home workout include the implementation of varying workouts instead of sticking to just one trusted method, decluttering your workout space, and learning proper technique.
Dr. Naresh Rao, D.O. says, "It's like riding a bicycle: You have to learn to ride before you can do it alone."
In the case of actual spinning workout options at home, this couldn't be more fitting advice to consider.
Candace Cordelia Smith
Candace Cordelia is a Pennsylvania-based journalist and on-camera broadcaster/host, with a reporting background in wrestling, entertainment, and lifestyle. Her reporting work has been featured on websites and in publications such as Bustle, Pro Wrestling Illustrated, New York Daily News, am New York, ABC News, Yahoo!, Good Morning America, Madame Noire, Sister 2 Sister, etonline.com, Diva Dirt and The Everyday Fan. Her favorite workout influencers include Chloe Ting, Cassey Ho, Pamela Reif and Mary Braun. She still can't stand burpees and Rebbl Dark Chocolate Immunity Elixir is one of her favorite post-workout protein sips. You can follow Candace on Twitter @CandaceCordelia and on Instagram @thatgirlcandace16.