NordicTrack from iFIT Introduces Voice-controlled Dumbbells
NordicTrack iSelect™ Adjustable Dumbbells. Voice-controlled to work with Amazon Alexa
The $429 connected fitness dumbbells will work with Alexa
NordicTrack from iFIT has announced the release of its latest connected fitness innovation, the NordicTrack iSelect Adjustable Dumbbells. The patent-pending voice-controlled dumbbells will work with Alexa and offer stability during floor exercises with its square design.
With a voice command to an Alexa-enabled device, the iSelect Adjustable Dumbbells can electronically adjust from 5 to 50 pounds in seconds, making fitness routines less disruptive than traditional weight adjustments between exercises.

The NordicTrack iSelect Adjustable Dumbbells, priced at $429, are available on Amazon.
"We are thrilled to offer the first ever voice-controlled dumbbells that work with Alexa," said Mark Watterson, Chief Experience Officer for iFIT. "Our patent-pending electronic adjustment eliminates the pain points of cumbersome mid-workout weight change found on other adjustable dumbbells, like decreased heart rate and reduced time under tension, creating a truly uninterrupted and transformative experience."
NordicTrack ensured that the dumbbells could also be mechanically adjusted with the turn of a knob and feature knurled handles for improved grip.
The NordicTrack iSelect Adjustable Dumbbells include a one-month iFIT membership, which grants users access to a vast content library of workouts created by iFIT trainers. Members can follow the iFIT trainer's cues and use voice commands to adjust the weights as needed. The iFIT membership will auto-renew at $39 per month plus tax, but is not required to use the NordicTrack iSelect dumbbells.
Alexa recognizes three skills for the NordicTrack iSelect dumbbells: setting weight to a specific amount, increasing or decreasing weight, and setting weight presets for specific exercises.
See Also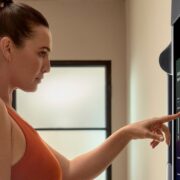 The iSelect dumbbells can save and automatically adjust to a user's preset for 15 different classic dumbbell exercises, including biceps curl, overhead shoulder press, lateral shoulder raise, front shoulder raise, triceps extension, bent over row, chest press, squat, deadlift, lunge, lateral lunge, wood chop, chest fly, reverse fly and renegade row.
Last summer, iFIT acquired SWEAT, a move made to provide the two with opportunities for collaboration on content development. A new strength workout series with SWEAT founder Kayla Itsines is available, along with other fitness series featuring iFIT trainers like Casey Gilbert, John Peel, and Gideon Akande.
The new connected fitness device from iFIT comes after the company shelved its IPO plans last year, citing unspecified "adverse market conditions." Some market experts suggested that investor demand may have been lackluster due to external factors, like high energy costs and inflation. In a statement, iFIT stated that it would continue to assess the market and the timing for its future IPO.
Courtney Rehfeldt
Courtney Rehfeldt has worked in the broadcasting media industry since 2007 and has freelanced since 2012. Her work has been featured in Age of Awareness, Times Beacon Record, The New York Times, and she has an upcoming piece in Slate. She studied yoga & meditation under Beryl Bender Birch at The Hard & The Soft Yoga Institute. She enjoys hiking, being outdoors, and is an avid reader. Courtney has a BA in Media & Communications studies.