Kobe Bryant Praised as Coca-Cola Acquires Bodyarmor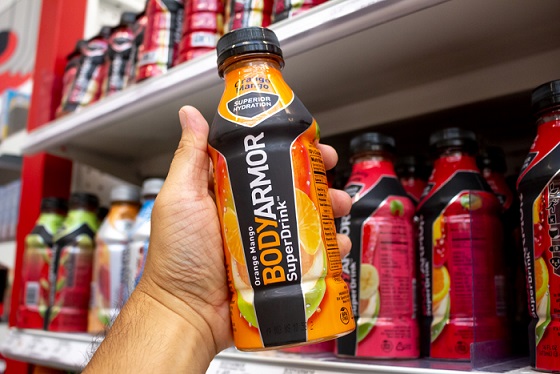 The famous beverage company acquired Bodyarmor for $5.6B.
Coca-Cola's largest brand acquisition is a line of sports performance drinks that emphasize hydration. The company just acquired Bodyarmor for $5.6 billion, expanding its portfolio and further competing with Gatorade. The acquisition has been in the works since 2018 when Coca-Cola made moves to attain a minority 15% stake in Bodyarmor with plans to head to the recent complete purchase.
Created in 2011 by Mike Repole and Lance Collins, Bodyarmor became the second leading sports drink in retail channels with a reported $1.4 billion in retail sales. The beverages, known for being electrolyte and antioxidant-rich, caught the eyes of athletes and fitness enthusiasts. In 2013, the late Kobe Bryant became a big-name investor, catapulting the sports drink brand in terms of recognition. Bryant reportedly invested $5 million for 10% of the beverage company and became Bodyarmor's creative director. The drink line boasts endorsements from Jennifer Lopez, Megan Rapinoe, Mookie Betts, Naomi Osaka, Mike Trout, and Carrie Underwood.
With Coca-Cola's initial stake in 2018, the sports drink line quickly scaled from using Coca-Cola's system. Bodyarmor will continue to be based in New York and managed separately within the Coca-Cola operating division with the new deal. The purchase also highlights the expanding wellness industry as well-known companies move to make more health-conscious investments.
"Bodyarmor has been a great addition to the system lineup over the last three years, and the company has driven continuous innovation in hydration and health-and-wellness products," said Alfredo Rivera, president of the North America operating unit of The Coca-Cola Company.
In the company's press release, Repole credits the success of Bodyarmor to the late basketball champ, Bryant.
"Ten years ago, we set out with a vision to create a better-for-you sports drink with a goal of becoming the #1 global sports drink," Repole said.
"Our talented leadership team under Brent Hastie, our 400 dedicated employees, and incredible Coca-Cola bottling partners have helped us build this remarkable brand. If it wasn't for Kobe Bryant's vision and belief, Bodyarmor would not have been able to achieve the success we had. I couldn't be more excited to become part of the Coca-Cola family and set our sights on the future," added the Bodyarmor co-founder.
The recent deal has reportedly resulted in $400 million for the Bryant estate.
Bodyarmor's Repole will still be a present figure, collaborating with Coca-Cola on marketing, packaging, and innovative strategies. The Queens native is no stranger to Coca-Cola. The entrepreneur and businessman co-founded Glaceau, who made Smartwater and Vitaminwater. By 2007, there was $1 billion in sales, and Repole sold the company to Coca-Cola for $4.1 billion. Young entrepreneurs can look to Repole as an inspiration. In 2014, Repole told Forbes that his interests in sports and marketing were present even as a kid.
"I think I might have been the only 15-year-old kid that I knew who had two magazine subscriptions at the same time," he added. "One of them was Sports Illustrated, which put me with the other 90 percent of 15-year-olds. The other was Money magazine. I would read both from cover to cover."
This year, Bodyarmor launched Bodyarmor Edge, combining hydration with a natural caffeine boost.
Courtney Rehfeldt
Courtney Rehfeldt has worked in the broadcasting media industry since 2007 and has freelanced since 2012. Her work has been featured in Age of Awareness, Times Beacon Record, The New York Times, and she has an upcoming piece in Slate. She studied yoga & meditation under Beryl Bender Birch at The Hard & The Soft Yoga Institute. She enjoys hiking, being outdoors, and is an avid reader. Courtney has a BA in Media & Communications studies.