CEO Corner: Former ClassPass Chief Executive Fritz Lanman Announced as Mindbody's CEO
Lanman, a seasoned wellness and technology executive, will succeed Josh McCarter, who will transition to the Mindbody Board of Directors
Effective September 3, 2022, Fritz Lanman has been appointed the new Chief Executive Officer of Mindbody, the leading technology platform for the wellness industry. Athletech News spoke to Lanman about his strategic vision for the company, and the greater state of the fitness and technology industry.
Athletech News (ATN): What brought you into this space, and what are you most excited about with the future of fitness and technology?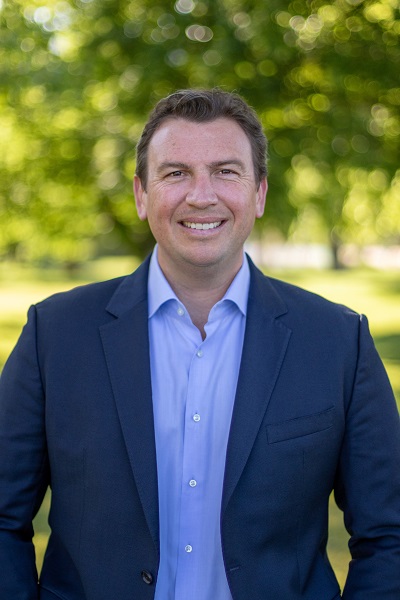 Fritz Lanman: I spent close to a decade at Microsoft out of undergrad as a Product Manager and then running the Corporate Strategy group there. Then I switched and became an entrepreneur and an angel investor. I actually got involved in the space originally by investing in ClassPass. I led the seed round when the company was actually called Classtivity. I met Payal [Kadakia], the Founder, and just fell in love with the opportunity. I led its Series A six-to-twelve months later. I was just spending a ton of time with Payal on business advising and she wanted me to be an Executive Chairman. In December 2015, Payal asked me to step in and take the operating reins of ClassPass.
I was just super passionate about the technical problems in the space, the ability to help wellness merchants be better businesses, and the ability to inspire people to live healthier, happier lives. Here I am, close to seven years later. We obviously then were acquired by Mindbody about ten months ago. When Josh [McCarter] and the Board presented me with the opportunity, it was a pretty easy decision to say, 'I'd like to double down on pursuing this mission of bringing great technology into this category. Helping merchants build better businesses, inspire more lives. And helping end users live happier, healthier, longer lives.'
ATN: What will be your first priority for Mindbody in this new role?
Fritz Lanman: I think what's interesting about Mindbody is that it's a category leader, who essentially invented the SaaS wellness business. It's a profitable business, and it's extremely well-capitalized. So, I'd say the first priority is to not break anything. And then the second priority is to finish this three-year product transformation that Mindbody has been undergoing. ClassPass, the category leader, was first built around 20 years ago, and the executive team has done a great job not only bringing the company through the pandemic, building video products that Mindbody customers could launch livestream classes during the pandemic, etc., and have migrated Mindbody to the cloud. So, cloud migration, a total UI/UX overhaul, and increasingly, launching new AI/ML-enabled features. We have a product called Messenger AI that allows a user to go to a salon's website or a fitness website and make a booking without having to talk to a human.
I'm first fired up about just making sure we finished the job on that product transformation. We're approaching the full completion of that three-year journey, but we have to run through the finish line. And then I'm really fired up to start leveraging some of my expertise building large-scale distributed systems, and especially ML systems, to figure out how we use it to help these customers build better businesses. And I see a tremendous amount of opportunity there.
ATN: How will Mindbody and ClassPass shift as consumer needs change, and where is the industry now?
Fritz Lanman: The industry itself is largely achieving recovery, kind of surpassing pre-pandemic reservation volumes. We were worried about whether there would be this massive transition or permanent transition to digital. Luckily, Mindbody's position is to sell digital products to studios if they want to add digital classes. What we learned is that there's a consumer who wants to pay for digital experiences, and then there's a consumer who will do digital, but really only wants to pay for in person. Once somebody goes back after a period of absence during the pandemic, they're actually going back 10% more than they were before the pandemic. What we hear from the Mindbody and ClassPass consumer is predominantly that they prefer these in person experiences, or that they're willing to pay for them because they want specialized equipment. They want that community experience. The Mindbody consumer app and ClassPass are both up and to the right in terms of growth, engagement, the number of bookings that we're seeing. The industry, I think, is going to emerge from the pandemic stronger than it was before.
ATN: Is there anything you're concerned about in the current fitness technology world?
Fritz Lanman: I would have said digital maybe two years ago, right after we were in the pandemic, both for Mindbody and ClassPass. But about two-thirds of people believe in-studio classes make it easier to work out regularly and maintain a routine. So, we think an in-person experience, maybe even a variety of experiences, is the best way to stay motivated to work out. And the vast majority of consumers, I think 75%, according to our last study, are saying that wellness is more important than ever coming out of the pandemic. So, a weird tailwind or benefit of the pandemic, is this consumer mindset and commitment to wellness and well-being. A lot of our consumers, both for the Mindbody app and for ClassPass, want to supplement with digital.
So, I would say the biggest risk to our industry isn't people stopping working out in person, but it's what the next pandemic will be—for example, monkeypox. And I'd say the recession, or the risk of an inflationary-driven recession is just necessitating that things will need to be a little more expensive for Mindbody customers, but that isn't specific to the fitness industry. If you zoom in, you see these near-term disruptions from COVID, or potentially the next pandemic, or inflation. But if you zoom out, you see a super strong exponential growth curve in this industry. And the benefit of ClassPass being in 30 countries is that it's not a U.S. phenomenon—it's something that we've seen throughout Southeast Asia, Europe, and Latin America.
ATN: What is your long-term vision for Mindbody?
Fritz Lanman: Our near-term vision is the product overhaul of the core Mindbody experience. The biggest risk to the industry is our businesses not having the tools they need to grow their businesses. The second is finishing the job on Mindbody and ClassPass. We're going to guarantee to businesses that Class Pass will be accretive. If you're a studio joining ClassPass, Mindbody will pay you double what you've lost. Third, we've launched a product called Mindbody Capital. It's made it easier using Mindbody and ClassPass's best data for lenders to underwrite loans in real time to these small businesses. We've so far advanced over $9 million in financing, and that's again been critical for these small businesses struggling, coming out of the pandemic, or trying to launch.
Then, in the medium-to-long term, I see the incorporation of ML and AI into the space. We have a suite of 50 ideas for ways that we can continue to enhance and automate things like customer acquisition and retention and just bring to bear great tech to these studios to make their businesses better. Then, I see geographic expansion on horizon for Mindbody. It's predominantly an American business with a large presence in Australia and the UK and a few other markets, English-serving markets. But ClassPass went from four countries to 30 in two years. We'll have earned the right at Mindbody to kind of get our presence established across many more languages, much more of the globe, since wellness is a global phenomenon. Last, I think, is adjacency expansion. Mindbody originally was really designed for yoga and then all of studio fitness. Then, we built spa and salon experiences and we acquired Booker. There are a lot of physical and wellness activities out there that would benefit from really great software. So that's the kind of longer-term vision: expanding on those geographic and vertical-adjacent areas.