Technogym Launches Ride Smart Bike in U.S.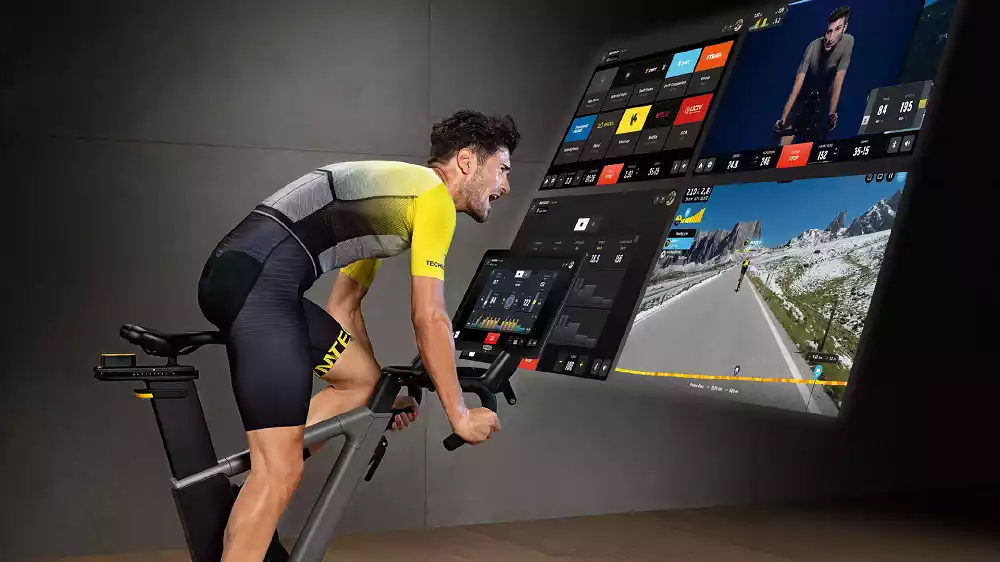 Marvel star Jeremy Renner recently shared that he is using a Technogym bike as he recovers from an accident earlier this year
Technogym has announced the launch of its smart exercise bike, Ride, in the United States, positioning itself as a strong competitor to Peloton.
The connected fitness brand has long collaborated with cycling champions, including Gianni Bugno's MG-Technogym professional team in the 1990s, and has been an Official Supplier for the last eight Olympic Games, but it recently received a celebrity nod.
Marvel star Jeremy Renner shared that he uses a Technogym bike to rehab his injuries from a snow plow accident earlier this year. He tagged the brand in one of his Instagram stories, showing him giving it his all and captioning it 'Whatever it takes.'
The $4,850 (or $404.17 per month) Technogym Ride smart bike provides an engaging experience with a 22-inch screen that allows riders to use a single log-in to access their favorite training apps and content, including Zwift, Strava, ROUVY, Training Peaks, Netflix, and Eurosport. Delivery is within 20 business days of a confirmed order, and it includes a 30-day Technogym subscription before transitioning to $29 a month.
The connected fitness smart bike mimics outdoor cycling by simulating real-world routes and inclines while offering training programs that challenge riders to hit power zones and to use Technogym Ride gears on dozens of routes, including legendary hills.
The classes and personal training programs are scaled based on the user's power ability. To replicate the feeling of an outdoor ride, the Technogym Ride comes with a real gearbox and quick reaction time while remaining quiet for an at-home fitness setting.
Indoor cycling still remains a hot fitness trend as other competitors look to take the lead in the at-home cycling market.
The connected fitness company is looking ahead to a social movement campaign, Let's Move for a Better World, taking place March 14 – 31.
Earlier this year, Technogym launched an experiential wellness retail concept at Selfridges London, where visitors could discover the latest at-home fitness products, technologies, and services.
Courtney Rehfeldt
Courtney Rehfeldt has worked in the broadcasting media industry since 2007 and has freelanced since 2012. Her work has been featured in Age of Awareness, Times Beacon Record, The New York Times, and she has an upcoming piece in Slate. She studied yoga & meditation under Beryl Bender Birch at The Hard & The Soft Yoga Institute. She enjoys hiking, being outdoors, and is an avid reader. Courtney has a BA in Media & Communications studies.