CEO Corner: LSKD's Jason Daniel Talks Brand Evolution Ahead of Stateside Takeover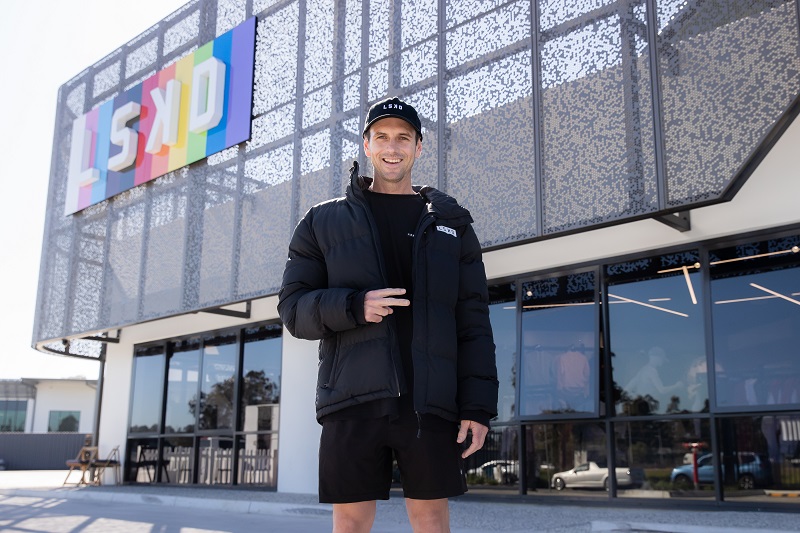 In this installment of CEO Corner, LSKD Founder & CEO Jason Daniel is in the spotlight. Athletech News caught up with Daniel before his brand from Australia aims to make an even bigger splash in the United States.
Athleticwear continues to hold heavy sway within the world of fashion. Athleisure has made way for athluxe and in the midst of people searching for the latest garments from Alo Yoga or HermésFit, Australian brand LSKD continues to steadily climb to the top ranks of sportswear.
Born out of his original brand, Loose Kid Industries, LSKD CEO and Founder Jason Daniel prides himself and his company on inspiring others to "chase the vibe" through sport, fitness, and adventure. That same vibe chasing mentality has certainly led to LSKD's extraordinary financial success (LSKD grew from $1.7 million to $55 million within the course of three years), celebrity endorsements (Zac Efron, Hilary Duff and Lucy Hale are fans!) and quality garment output. Daniel tells Athletech News that it wasn't until 2007 he decided to turn his brand, which was Loose Kid Industries at the time, into a career. In 2018, LKI became LSKD and the rest remains history in the making. "I was very lucky to have this huge journey of learning through the original brand when we transitioned to LSKD," says Daniel in reflection of his journey as a sportswear entrepreneur.
Now with just a few more months left of 2022, Daniel has his eyes set on taking his hugely successful LSKD brand to the United States. Its functional activewear meets streetwear appeal will be one to watch and covet from the former motocross athlete and 2021 Gold Coast Young Entrepreneur of the Year. Before that takes place, here's an exclusive look at the rising sportswear tycoon's thoughts on his career journey, why peaceful mornings are key to beginning his day, and why functional fitness is the future.
Athletech News (ATN): Tell us about your background
Daniel: I started off wanting to become a professional motocross athlete in the early days of my career when I was at school. I did my apprenticeship as a carpenter building houses and at the same time the brand, LSKD, was formed from a high school nickname in 2002. When I was riding BMX, I got this nickname "Loose Kid" because I was the guy that was always trying to push boundaries.
ATN: Please tell us about your current company and how either your role or the company (if you are a founder) came into fruition
Daniel: LSKD was formed in September 2018. The transition to the brand was really born of a real passion for personal development and trying to understand what my "why" was. Going through the previous brand with LKI I learned a lot. I made a lot of mistakes and learned across all different areas down to why we do what we do as a brand.
With LKI we tried to make everything for everyone. We made a lot of different products from life jackets and motocross gloves to sportswear. When we transitioned to LSKD and who we are today we narrowed our focus on sportswear with a street aesthetic created a mission. The mission—standing for something— was really important to us: to inspire people to chase the vibe through sport, fitness, and adventure. That was the first thing when we created LSKD; we wanted to start a culture internally before we spread it externally to the community. Mission first, and then how do we be the best in the world in creating sportswear for our community.
Luckily enough I've been traveling the world and traveling to places like China since 2011 and learning about manufacturing and different sides to product development. My roles go on today at the company as the CEO and Founder. We've advanced from essentially a team of 12 in 2018 to now over a hundred in 2022. Instead of our values coming from what I wanted, we worked on them as a team and today they are the six core values we use to make every decision. My roles evolved a lot in the last four years and it's been great.
ATN: What makes you stressed? How do you manage stress?
Daniel: Making sure we get the product right is really important to me. That can cause a little stress sometimes. We always want to be developing products for our community in a way that's performance-driven, with beautiful fabrics, and fit for the everyday athlete.
I have a huge passion for fitness. Throughout my time racing motocross for 10+ years, I was always into fitness. My mom was an aerobics instructor, so I grew up doing aerobics as a kid. I recently ran my first marathon—the Gold Coast Marathon —in three hours and seven minutes. I was really stoked to achieve that time. I just recently did a triathlon as well. I mostly train in functional fitness. Fitness and health are such a big part of my life, which of course ties back to our mission at LSKD to inspire people to chase the vibe. It's something I do a lot to manage stress.
ATN: What is your greatest accomplishment?
Daniel: As we've grown really fast in Australia over the past four years, LSKD's greatest accomplishment has been staying true to our mission and values while still growing exponentially. That's been a big one. It's been truly inspiring to watch our team come together and align everything back to our mission and values, right down to our growth as a company and onboarding new team members; we onboard with more than five different books.
ATN: Where do you see the future of fitness going?
Daniel: I think it's quite broad, where functional fitness is heading. For example, we have a professional athlete, Logan Martin, who won a gold medal at the 2020 Summer Olympics for BMX. But he doesn't just ride BMX; he's run a half-marathon, he trains in the gym, and does other forms of fitness. I think where fitness is going is such a broad spectrum in terms of not just subscribing to one type of fitness anymore. There are so many different variations to fitness. You could be running one day, in the weight room the next, and doing CrossFit and other sports in between. Our mission is to inspire people to chase the vibe through sport, fitness, and adventure–wherever that takes them.
ATN: What are some of your daily habits?
Daniel: I get up at 4 a.m. and make coffee. Then I start stretching and I'm listening to an audiobook at the same time to try and get about 45 minutes to an hour of learning in. I normally start training at 5:30 in the morning whether I'm doing a run or going to the gym or cycling. I'm home by around 6:45 to spend some time with the kids before school and then I get ready for the office. I'm very routine-driven and something I'm passionate about is how I start my morning to prepare for my day. Once I get to the office, it doesn't stop.
ATN: What makes a good CEO?
Daniel: Typically, as a business gets bigger and bigger, senior leadership tends to have their own offices, parking spots, etc., which I think long-term kind of makes it difficult for them to be able to work within the broader team. At LSKD, no one has an office. I don't have an office. We have meeting rooms here, but we all work in the same room together. No one gets their own parking spot. The CEO doesn't get a parking spot. Our company values were created by our team. We worked on those together. Our mission had to work internally before we shared it with our community. I think those things are really important. I think it's important as you get bigger and bigger as a business.
I personally try to spend at least 40 percent of my time with the team, learning and working together. I don't have a desk. I hot-desk a lot because I like to work within different departments and immerse myself into what they're working through.
I think a good CEO knows that it's the little things that make a big difference over the long term.
Candace Cordelia Smith
Candace Cordelia is a Pennsylvania-based journalist and on-camera broadcaster/host, with a reporting background in wrestling, entertainment, and lifestyle. Her reporting work has been featured on websites and in publications such as Bustle, Pro Wrestling Illustrated, New York Daily News, am New York, ABC News, Yahoo!, Good Morning America, Madame Noire, Sister 2 Sister, etonline.com, Diva Dirt and The Everyday Fan. Her favorite workout influencers include Chloe Ting, Cassey Ho, Pamela Reif and Mary Braun. She still can't stand burpees and Rebbl Dark Chocolate Immunity Elixir is one of her favorite post-workout protein sips. You can follow Candace on Twitter @CandaceCordelia and on Instagram @thatgirlcandace16.