CEO Corner: Rachel Katzman Continues to Evolve with P.volve
Candace Cordelia Smith
Candace Cordelia is a Pennsylvania-based journalist and on-camera broadcaster/host, with…
Designed around the unique needs of women throughout various life stages, P.volve provides inventive, yet simplistic functional movement classes, in part thanks to co-founder Rachel Katzman. Katzman gives the low-down on her P.volve path for Athletech News's CEO/Founder series, including information on the first startup she initiated and where she sees herself in 20 years.
P.volve CEO and co-founder Rachel Katzman helped to create the female-led company in 2017. Since then it's emerged as, what Vanity Fair called it in 2020, a "revolutionary fitness brand." Despite the COVID-19 pandemic and having to revamp business operations, P.volve continues to grow with the launch of two new studios, alongside an existing apparel line and popular streaming options for online users.
For Athletech News's CEO/Founder series, Katzman explains the importance of P.volve in the world of women's fitness and health, and more.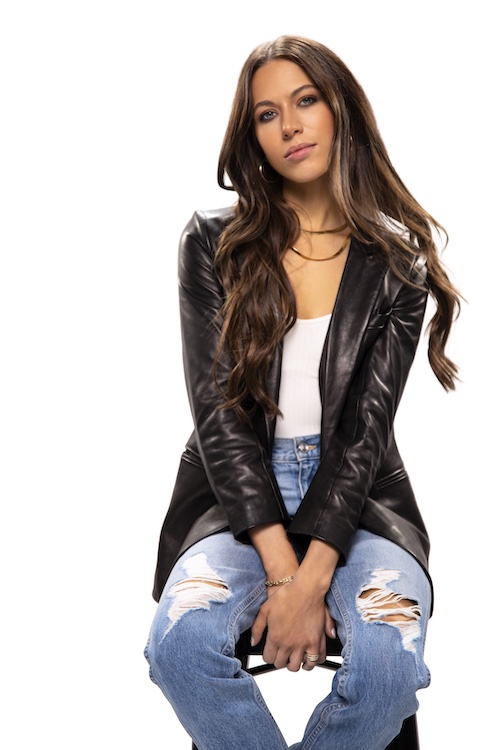 Athletech News (ATN): Tell us about your background
Rachel Katzman: At my first startup – Cuvee Beauty – I really learned what it was like to launch a brand from scratch. I took those key learnings, applied them to P.volve and am continuing to do so through each new business development, product launch, and brand initiative. I realized my customer-centric approach to leadership, and always challenging my team to "be the customer," resulted in a much more honest and successful brand. I knew it was wild to launch P.volve within a year of launching Cuvee, but it was a business move and risk I wanted to take — and something deeply rewarding that I've always wanted to do. Most importantly, I found the value in surrounding myself and my brands with an all-star team who I can trust to help me bring my creative vision to life.
In addition to my professional background, health and wellness are a huge part of where I am today and a major reason why P.volve was created. I struggled with finding a consistent workout that made me feel good on a regular basis until I worked with my co-founder to really find this all-encompassing method. All my years of trying the next HIIT workout or sweat-inspired routine really motivated me to find the perfect option.
ATN: Please tell us about your current company and how either your role or the company (if you are a founder) came to fruition / What was your journey like to get to this point?
Rachel Katzman: P.volve exists to help every woman feel powerful in her mind and body throughout her lifetime. We created a new science-backed fitness method that uses functional movement paired with our patented resistance equipment to help create strength, balance, mobility and flexibility throughout the body.
We believe you should move your body the way it was designed to move and when you feel good from the inside out, anything is possible. Through my own personal health evolution, I wanted to build a brand that supports women from all phases of life.
ATN: What is your greatest strength?
Rachel Katzman: I pride myself in my ability to really visualize concepts – being able to see and know where we need to go in the future. Being the founder of a brand with a real leadership voice, I really like to focus my efforts on what's next in the functional fitness world and having P.volve be the pioneers of that.
ATN: What is your greatest accomplishment?
Rachel Katzman: The launch of our Phase & Function cycle syncing program. It was a big idea and vision to create a menstrual cycle syncing program to help women navigate their cycles through movement, meals, and mindset. The program is designed to provide a one-stop-shop to educate women and help them work with their bodies and not against them. We brought on a team of experts to help develop this content and the response we got from our members was beyond amazing.
ATN: Where do you accomplish your best work?
Rachel Katzman: Morning time, especially the early morning, is my best time and most productive time of the day. It's when my brain is fully on. I also get amazing ideas when I am actually working out so I always have a notepad next to me, or in the shower!
ATN: What decision would you take back and do differently?
Rachel Katzman: Really none, I am a big believer that everything that has happened has gotten us to where we are today. I'm a forward-thinker and look towards the next thing P.volve can do, instead of honing in on past mistakes.
ATN: How would your colleagues, your co-founders, describe your strengths as a manager?
Rachel Katzman: Collaborative, mission-driven. I can get in the weeds with projects or I can stay strategic from the outside — but I love to be involved with my amazing team!
ATN: Where did you get the idea for your current business?
Rachel Katzman: After bouncing around the NYC fitness scene, I found myself at a worse place than when I started getting into fitness. Depleted, not seeing physical results and my body was in massive pain. I found out I had scoliosis and still continued to push through the pain. When I met my other co-founder, he introduced me to the world of functional movement.
After learning about a new way to work out that actually felt good on my body, I started seeing the physical results I was after but more importantly, my pain was gone. I knew women needed a new way to move their bodies that would help them not only reach vanity-driven goals but to feel good from the inside out. We have been on an evolution since, bringing on doctors to sit on our board to work alongside our trainers to help co-create our content to continue to drive our mission forward.
ATN: Where do you see yourself in 20 years?
Rachel Katzman: Continuing to create and work, while living on a big farm with lots of animals, kids and my own garden!
ATN: What motivates you?
Rachel Katzman: Our members and our mission. We exist to help every woman feel powerful in her mind and body throughout her life. And when you see that happen through our members and their stories, nothing will ever beat that.
ATN: What makes a good founder?
Rachel Katzman: Inspiring, caring, passionate, driven, open minded, obsessed with your customers. To me, my biggest job is to continue to motivate and inspire my team, continue to push myself to think outside the box and constantly innovate. And to know my place — at the end of the day it doesn't matter what I want, it matters what our customers are asking for.
ATN: What did you want to be when you grew up?
Rachel Katzman: I knew I wanted to create! I have always had big visions and wanted to do something to change and disrupt but I never knew what industry it would be in.
ATN: Is there anything about being a founder that you don't like, that you like to delegate?
Rachel Katzman: I truly can't think of anything! I love being able to see my passion and vision come to life and change people's lives. Over the past year with my new health journey on days when I am having a bad Lyme Disease flare up and have a speaking obligation, or have to really be on, it can be hard. But that's when you dig really deep and do your job!
ATN: What would be the title of your biography?
Rachel Katzman: "Work With Your Body, Not Against It"
ATN: Where do you see the future of fitness going?
Rachel Katzman: I see the future of fitness truly turning into a hybrid model, people wanting to continue to move in person with others at the studio and also move from the comfort of their own home — realizing they can still reach their fitness goals on their own schedule.
I hope that the work and content we are producing around women's health will continue to bridge the gap behind healthcare and fitness, allowing for more access and different options for women throughout each stage of their life.
ATN: How much sleep do you get?
Rachel Katzman: It varies night to night, but I'm lucky if I get 7 hours. With my recent diagnosis of Lyme Disease, it has not been as consistent as I would like or I need it to be! Sleep is everything.
ATN: Who is your mentor? Role model?
Rachel Katzman: I have been so lucky to work with incredible strong women who inspire me every day and that I get to learn from. I love surrounding myself with smart people who help me grow, challenge me and allow me to think differently. I would say my 2 mentors have been my dad and the President of our company, Julie Cartwright.
Candace Cordelia Smith
Candace Cordelia is a Pennsylvania-based journalist and on-camera broadcaster/host, with a reporting background in wrestling, entertainment, and lifestyle. Her reporting work has been featured on websites and in publications such as Bustle, Pro Wrestling Illustrated, New York Daily News, am New York, ABC News, Yahoo!, Good Morning America, Madame Noire, Sister 2 Sister, etonline.com, Diva Dirt and The Everyday Fan. Her favorite workout influencers include Chloe Ting, Cassey Ho, Pamela Reif and Mary Braun. She still can't stand burpees and Rebbl Dark Chocolate Immunity Elixir is one of her favorite post-workout protein sips. You can follow Candace on Twitter @CandaceCordelia and on Instagram @thatgirlcandace16.