Opinion: Eating Disorder App, Technical Sportswear New Luxury?, COVID in Gyms, Fitbit Mindful Method with Deepak Chopra
Athletech News was created with one goal, to apprise our readers with relevant content that will help inform their business decisions. We strive to aggregate the latest trends and happenings on all things fitness related. Below is what our team at Athletech News flagged as this week's most interesting reads in the world of fitness, tech and mental health.
Most People With Eating Disorder Never Get Treatment—This New App Makes Support More Accessible
Tech | Vogue | Feb. 24, 2021
Athletech's Take: 
At Athletech News, we talk a lot about mental and physical health apps, so we are excited to see technology helping to address a critical area of health and wellness: eating disorder. Equip is an eating disorder app launched earlier this month. It is designed to assist the treatment of eating disorder using a common strategy known as family-based treatment (FBT), an outpatient behavioral technique in which families play a critical role in the recovery process. The hope is that Equip can begin to support the 80% of the 30 million people suffering from eating disorders and are receiving treatment.
---
As online fitness booms, is technical sportswear the new luxury?
Apparel | Vogue Business | Feb. 24, 2021
Athletech's Take:
It makes sense that the expansion in virtual fitness is paralleled by clientele seeking to know the latest apparel choices of their favorite instructors. With this comes the opportunity for online fitness space to expand (or explore) fitness apparel that supports their fitness community and personifies (and brand) their businesses. As online fitness communities have boomed with the pandemic the industry is seeing both premium and mass-market athleticwear brands capitalizing on these fitness communities to reach hyper-engaged audiences. In addition, luxury brands are contemplating their expansion into technical athleticwear. Does this make sense?
---
C.D.C. Traces Covid Outbreaks in Gyms, Urging Stricter Precautions
Health | New York Times | Feb. 24, 2021
Athletech's Take:
This week public health officials strongly urged gym-goers to continue to wear masks when they work out and remain six feet apart while in the gym. New research has identified the rapid spread of coronavirus infections during high-intensity exercise classes at gyms in Honolulu and Chicago. While many clubs across the country have put in place new safety protocols and taken steps to improve ventilation, upgrade air filtration systems and maximize outdoor air circulation (despite being in challenging financial situations), gym-goers must continue to vigilant and protect themselves..
See Also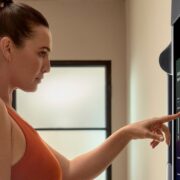 ---
Fitbit's Mindful Method is an exclusive wellness program for Premium subscribers
Tech | The Verge | Feb. 23, 2021
Athletech's Take:
Fitbit is getting into the mindfulness space. In partnership with Deepak Chopra, the well-known author and wellness expert who specializes in alternative medicine, Fitbit is launching an exclusive wellness program for its Premium subscribers called Mindful Method. The program is aimed at addressing stress management. Similar to Calm or Headspace the app provides guided meditation, differentiating itself by incorporating Chopra's philosophy of wellness with the data provided by Fitbit's watches and Premium service.
---