New Balance Debuts The TRACK for State-of-the-Art Training & Competition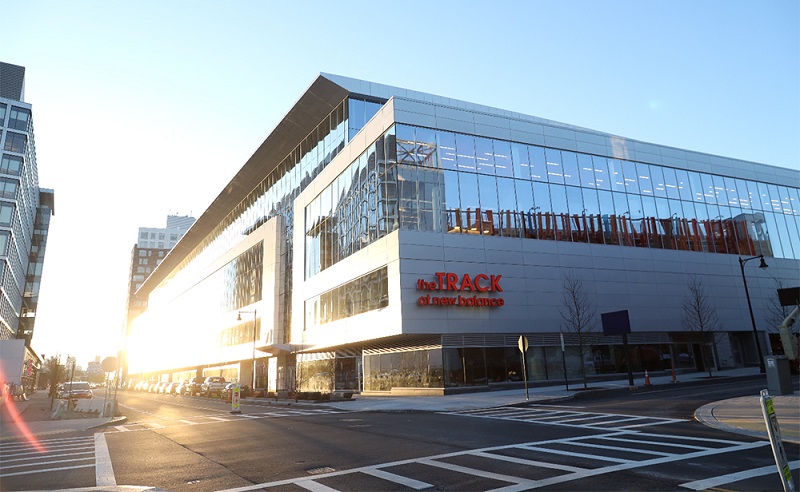 Candace Cordelia Smith
Candace Cordelia is a Pennsylvania-based journalist and on-camera broadcaster/host, with…
The footwear and apparel powerhouse's new multi-sport facility, The TRACK at New Balance, boasts a music venue, beer hall, sports research lab, and more
New Balance is treading new territory with the launch of The TRACK at New Balance — a multi-sport facility where Team New Balance, professional and community athletes can train and compete. The TRACK's grand opening on Thursday, April 14 included star-studded appearances from Euphoria actress & New Balance ambassador Storm Reid and "Nail Tech" rapper Jack Harlow.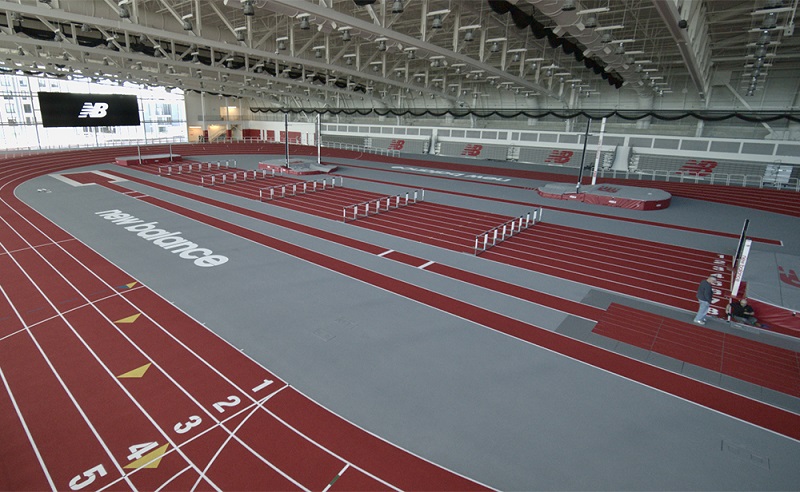 Visitors of The TRACK at New Balance can expect to see a number of incredible offerings such as a dual terrain indoor track with the ability to turn into a field, a Sports Research Lab, a 50,000 square-foot music venue, beer hall and "flexible" basketball, volleyball and soccer courts. New Balance President & CEO Joe Preston spoke of the groundbreaking venture for the long established sports footwear and apparel brand.
"Fifty years ago this month, Jim Davis purchased New Balance and together with Anne, they have led the tremendous growth of our brand into the global athletic leader we are today, while still maintaining our unique company culture. Jim also had the bold vision to completely transform the area around our global headquarters in Boston into a vibrant world-class sports hub for athletes and fans including the debut today of The TRACK at New Balance," said Preston.
"The TRACK at New Balance offers the optimal training and performance venue for athletes of all abilities while driving New Balance innovation and technology insights through our new state-of-the-art New Balance Sports Research Lab."
Despite declining sales within the past several years, New Balance has forged on with a number of significant business moves. In late March, the footwear brand opened an 80,000-square-foot factory in Methuen, Massachusetts. In addition, a slew of collaborations with the likes of Red Bull Bragantino, English professional footballer Bukayo Saka, and Los Angeles Clippers' Kawhi Leonard, among others, have taken place in 2022.
The Boston-based company also landed on Forbes first-ever Halo 100 list this year at #31. The Halo 100 features brands dedicated to serving their customers responsibly with the goal of consumers having positive experiences in mind.
Candace Cordelia Smith
Candace Cordelia is a Pennsylvania-based journalist and on-camera broadcaster/host, with a reporting background in wrestling, entertainment, and lifestyle. Her reporting work has been featured on websites and in publications such as Bustle, Pro Wrestling Illustrated, New York Daily News, am New York, ABC News, Yahoo!, Good Morning America, Madame Noire, Sister 2 Sister, etonline.com, Diva Dirt and The Everyday Fan. Her favorite workout influencers include Chloe Ting, Cassey Ho, Pamela Reif and Mary Braun. She still can't stand burpees and Rebbl Dark Chocolate Immunity Elixir is one of her favorite post-workout protein sips. You can follow Candace on Twitter @CandaceCordelia and on Instagram @thatgirlcandace16.