Mayweather Boxing + Fitness Continues Expansion with Acquisition of KickHouse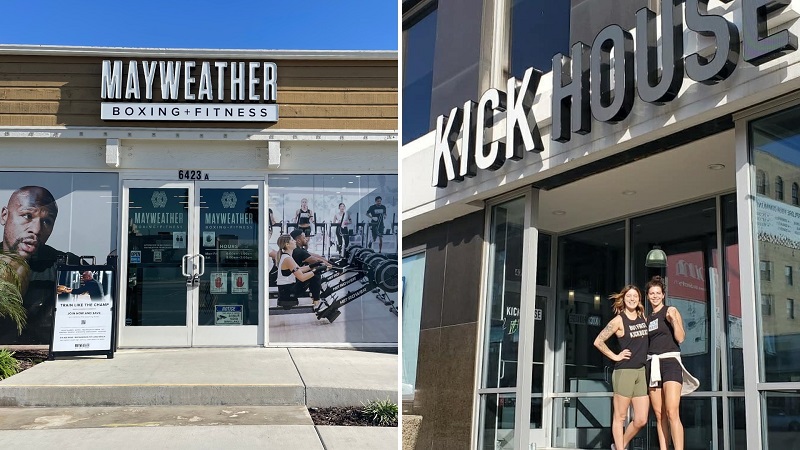 Floyd Mayweather's boxing franchise has acquired a fast-growing female-founded kickboxing brand
Floyd Mayweather's fitness franchise is expanding, having grown from 5 locations in 2020 to over 60 today. Now, Mayweather Boxing + Fitness' parent company, MW Fitness Holdings, LLC, has announced the acquisition of KickHouse Fitness, a fast-growing kickboxing franchise that launched during the pandemic.
With the acquisition, MW Fitness Holdings now has 65 locations for the former professional boxer's fitness franchise and 26 locations for the KickHouse franchise.
The fitness concept, created by Floyd in 2018 after his retirement, features an inclusive and high-intensity fitness experience that combines Mayweather's workout routines and instructional videos in the fitness studios.
"Mayweather Boxing + Fitness has become one of the most recognizable brands in fitness over the past three years. We are thrilled to combine KickHouse with our platform to enhance our infrastructure, improve our systems and increase the support that we provide to our franchisees," said James Williams, CEO of MW Fitness Holdings, LLC.
Mayweather Boxing + Fitness successfully weathered the pandemic, proudly sharing that its once temporarily-closed studios sold more memberships than when they were open prior to shutdowns. Mayweather's business thrived last year, with the opening of 21 new studios, the sale of more than 200 franchise units, and the signing of a development deal in Russia.
Jessica Yarmey, founder of KickHouse Fitness, said the acquisition will allow for combined business opportunities and will make the studio locations more relevant and attractive to fitness consumers. "We are beyond excited to become part of the MW Fitness family, sitting alongside the industry-leading Mayweather Boxing + Fitness brand and team," Yarmey noted. The female-founded kickboxing franchise recently expanded to 11 states and was recognized by Entrepreneur Magazine as an emerging franchise.
Courtney Rehfeldt
Courtney Rehfeldt has worked in the broadcasting media industry since 2007 and has freelanced since 2012. Her work has been featured in Age of Awareness, Times Beacon Record, The New York Times, and she has an upcoming piece in Slate. She studied yoga & meditation under Beryl Bender Birch at The Hard & The Soft Yoga Institute. She enjoys hiking, being outdoors, and is an avid reader. Courtney has a BA in Media & Communications studies.