GRNDHOUSE Launches New App & Studio
London's GRNDHOUSE is focusing on strength-based boutique fitness & hopes to go global
GRNDHOUSE, a London-based fitness platform, has released a new app and snazzy studio. GRNDHOUSE was co-founded during COVID by former Barry's UK trainers.
The fitness professionals and GRNDHOUSE co-founders (Louis Rennocks, Esmeé Gummer, Nik Naidoo, Izy George, Jay Copley, and Connor Minney) say they wanted to debunk outdated stereotypes about strength training and demonstrate the benefits of strength workouts at home and in the gym. They believed that in the fitness industry, strength training was not receiving the attention it deserved.
GRNDHOUSE has embraced the new hybrid fitness model and sees the value in allowing customers to choose when they want to exercise, referring to it as "boutique fitness in your pocket."
"Previously, we knew when people took their lunches, when they were going to work, when they were leaving the office — everyone's lifestyles were very rigid. Now we appreciate that people are more flexible and we're willing to be the same. No matter where you are or what you're doing, we want to cater for people with very busy lifestyles. Plus, with the app and the studio, we now have the ability to reach more people globally than ever before, co-founder Louis Rennocks tells WelltoDo.
The GRNDHOUSE app offers strength-based training that varies in intensity and duration, so consumers can select a workout based on their schedules. The fitness platform lists equipment requirements in the class descriptions but says many workouts don't require any pieces of equipment. The app also has a connectivity function so users can check out their metrics to enhance training and collect awards.
See Also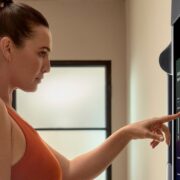 After first launching, GRNDHOUSE quickly gained over 1,000 subscribers in its first month.
Last November, GRNDHOUSE raised £1.5 million led by venture capital firm Passion Capital and angel investors. GRNDHOUSE planned to use the funding for a state-of-the-art film studio/facility and the app. The new 4,500 sq ft studio, located in Paddington, London, offers daily strength classes and features a retail space, changing area, and sells coffee and protein shakes. The space will also host events and fitness industry talks.
Courtney Rehfeldt
Courtney Rehfeldt has worked in the broadcasting media industry since 2007 and has freelanced since 2012. Her work has been featured in Age of Awareness, Times Beacon Record, The New York Times, and she has an upcoming piece in Slate. She studied yoga & meditation under Beryl Bender Birch at The Hard & The Soft Yoga Institute. She enjoys hiking, being outdoors, and is an avid reader. Courtney has a BA in Media & Communications studies.