Gap Expands Athleta Brand With AthletaWell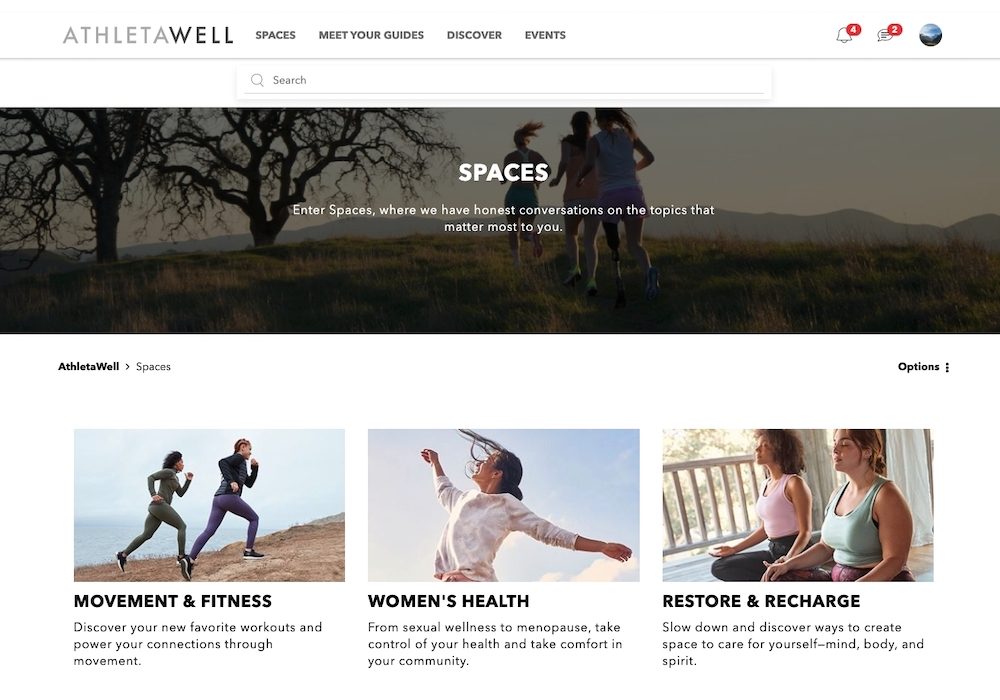 Candace Cordelia Smith
Candace Cordelia is a Pennsylvania-based journalist and on-camera broadcaster/host, with…
Popular activewear brand Athleta is expanding into the digital wellness space with new online platform, AthletaWell. AthletaWell will provide a safe place for women online seeking information and guidance on all things health and wellness.
Women who love Athleta will soon have a safe space to talk all things wellness. In late July, the performance apparel brand unveiled the launch of AthletaWell. AthletaWell is described as "an innovative and immersive new platform designed to build loyalty, engagement and a community of empowered women." Anyone who signs up for AthletaWell will be able to talk with others about a myriad number of health-related topics, including fitness and body positivity. The platform will have different sections as well such as "Spaces," "Guides," where users can gain insight from wellness and health leaders, and "Online and offline activations." 
Athleta's Chief Digital Officer Kim Waldmann states, "We've heard from our customers that wellbeing is a complex journey, rich with questions and there isn't a place where women can talk about it holistically or discover the best solutions. We're excited to offer AthletaWell, a new digital platform for women to help each other navigate the complexities of modern-day womanhood and to connect our customers in a way that will enhance their overall experience with the brand in a meaningful way, thus, creating even more brand loyalty over time."
WWD notes that AthletaWell is all a part of Athleta's overall plan to acquire $2 billion by 2023. In addition, CNBC states that the retailer is up against heavy competition from other labels entrenched in the athleisurewear market (Nike, Adidas, Outdoor Voices, Target). In January, The NPD Group reported that activewear buyers at the time were "spending 11% more per purchase compared to non-activewear buyers." Their study added, "These buyers also spent more on both men's and women's activewear in 2020 compared to the prior year, while less has been spent on non-active apparel." In the advent of more people spending time at home for work, school and otherwise, due to the COVID-19 pandemic, stylish comfort appears to have been a larger priority for consumers.
AthletaWell will be available, and free, for Athleta Rewards loyalty members. Interested parties can find more information via community.athletawell.com. 
Candace Cordelia Smith
Candace Cordelia is a Pennsylvania-based journalist and on-camera broadcaster/host, with a reporting background in wrestling, entertainment, and lifestyle. Her reporting work has been featured on websites and in publications such as Bustle, Pro Wrestling Illustrated, New York Daily News, am New York, ABC News, Yahoo!, Good Morning America, Madame Noire, Sister 2 Sister, etonline.com, Diva Dirt and The Everyday Fan. Her favorite workout influencers include Chloe Ting, Cassey Ho, Pamela Reif and Mary Braun. She still can't stand burpees and Rebbl Dark Chocolate Immunity Elixir is one of her favorite post-workout protein sips. You can follow Candace on Twitter @CandaceCordelia and on Instagram @thatgirlcandace16.