What's Changing In Your Hotel Gym?
The pandemic has hit the economy HARD. No other industry felt the pain of COVID more so than the hotel industry. The bans on travel, mandates, lockdowns, and hotels losing employees have been rough.
Employees are at the heart of the hotel industry, as wonderfully stated by the American Hotel & Lodging Association in their 2021 State of The Industry Report. In 2021, the industry was expecting to add 200,000 jobs, but to put that in perspective, that is less than half of what pre-pandemic levels were. Furthermore, the American Hotel & Lodging Association predicts that jobs will not return to the average amount until 2023.
Hotel occupancy projects are a low 52% compared to 66% in 2019. What does this mean in terms of occupied rooms? A total of 458 million rooms were left vacant compared to 2019 numbers. As for room revenue, we saw a similar trend with only making half the numbers compared to pre-pandemic. In 2020, revenue was $84 billion compared to 2019's $167 billion.
That said, Hotels are making a rebound. Everything is opening up and loosening their restrictions on travel and masks. As a result, people are feeling safer, and businesses are too. Even so, travelers are expecting services that reduce risk and offer increased personal safety as stated by a study by str.com.
One service that stands out is hotels offering different gym and fitness equipment that we have not seen offered in hotels before. Let's explore how hotels partner with big fitness brands, virtual trainers, and other brand new concepts.
New Personalized Equipment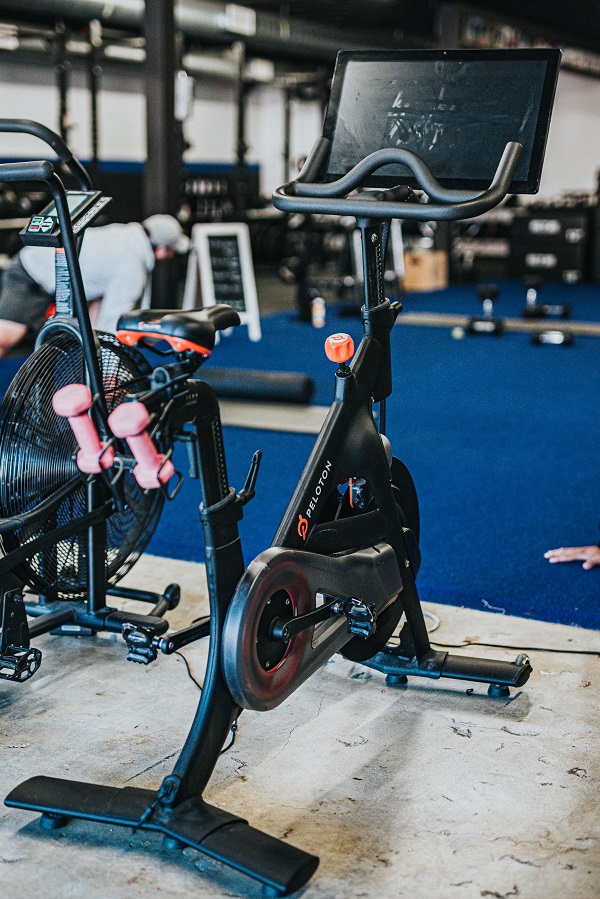 Last year Peloton acquired Precor and set its sights on more B2B sales. Their target is the hotel industry.
Brad Olson, Peloton's Chief Business Officer, told CNBC "We know that [having] our bikes in hotels and resorts around the world presents a great opportunity for lead-generation awareness of the Peloton product and content,"
Peloton is available at several locations upon request. For example, The Ryder hotel in Charleston, South Carolina, offers personal Pelotons to guests. In addition, the Envoy Hotel offers a whole suite under the Peloton Suite brand name. The Garland at North Hollywood is also stocking up on these more personalized fitness products. Their suites contain not only a Peloton but Bowflex customizable weights and a Mirror system.
Scott Mills, General Manager of The Garland, was quoted by Fortune.com saying "The Wellness Suites have been extremely popular lately since travelers have been opting for more in-room, private experiences".
Stepping up the personalization further is Arlo Hotels, partnered with Flexit. Flexit is a virtual one-on-one personal training platform that users can access via the web or app. They offer personalized coaching for all levels, from beginner to advanced athlete.
Fitness Based Suites
Yes, you read that headline correctly. Several hotel chains are now offering centralized fitness rooms. These rooms appeal to guests who are ultra dedicated to their routine and are on the safe side should another COVID strain make it challenging to work out in closed areas with other guests.
First, let's look at The Hilton's Five Feet to Fitness rooms. The Hilton has been an early adopter of the wellness trend and has offered these rooms for over five years.
They offer TRX bands, lightweights, a medicine ball, a yoga mat, and an exercise bike. All in your private room. While some might find this equipment lacking and maybe out of date, others will find that having their personal space is a benefit. In addition, guests should note that the TV in the room has guided tutorials on how to use the equipment.
Another notable mention is The Kimpton Sawyer's Sweat Suite. The Suite offers the use of a Peloton and Mirror in your room.
Ever the leader in its space, Equinox has further invested in its outdoor gym spaces in several locations. Learn more in Athletech's State of Fitness 2022 Report.
Hotels Are Filling A Need
While statistics from 2017 show that only 22% of people use the on-site fitness amenities, things are changing in the 2020s. People are becoming more health aware and want to pursue their health goals when on vacation or business trips.
49% of Millennials see an on-site gym as an essential feature in a hotel. In addition, hotels have to consider that 50% of their guests plan on and pack for exercise while traveling. With this in mind, it only makes sense that we continue to see this investment in the latest personalized gym equipment for hotel guests.
The growth is amplified further by how familiar people have become with brands like Peloton and Mirror. It is a welcome sight to go from your Mirror at home to the Mirror in your hotel room. With more and more virtual training options becoming viable at home, we can see hotels investing in similar equipment for guests to feel like they are at home.