Peloton's Race Against the Clock: 500 More Jobs Cut as CEO Gives Fitness Brand a Deadline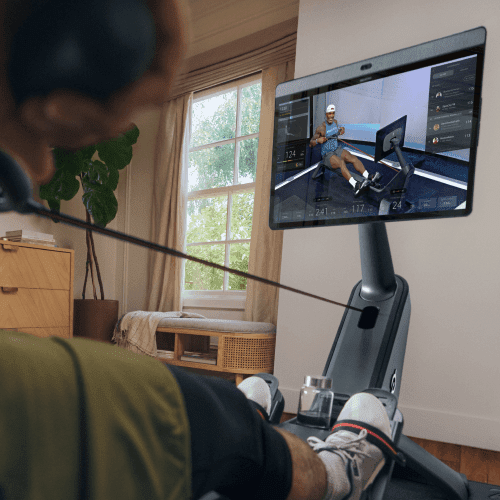 Can the connected fitness brand turn around in six months?
Peloton is cutting 500 jobs in another round of layoffs, and CEO Barry McCarthy, who took over the connected fitness giant in February, has given Peloton six months to change course.
The latest development comes just weeks after the brand unveiled its long–awaited at-home fitness rower.
The Peloton CEO, who is determined to "right the ship," told The Wall Street Journal, "There comes a point in time when we've either been successful or not. If we don't grow, we need to grow to get the business to a sustainable level." McCarthy, who emerged from retirement to lead Peloton in a shotgun marriage, has made no secret 0f the difficulty of turnaround plans, calling it a "full contact sport."
The additional round of layoffs appears to be part of Peloton's ongoing transformation. The fitness brand cut approximately 800 jobs in August and demanded employees return to the office. The brand said it would outsource equipment deliveries and customer service roles, as well as close Peloton retail showrooms beginning in 2023. Peloton included price hikes for its Bike and Tread in its announcement at the time.
McCarthy told WSJ that most of the company-wide layoffs are in the marketing division, which he says is too large for the size of the connected fitness brand. In recent weeks, Dara Treseder, Peloton's head of marketing, announced her departure from Peloton for Autodesk.
The former pandemic stock darling has reported significant losses, but McCarthy still believes in the future of Peloton, despite a reported operating loss of $1.20 billion in Q4.
"I know many of you will feel angry, frustrated, and emotionally drained by today's news, but please know this is a necessary step if we are going to save Peloton, and we are," McCarthy said in an internal memo to Peloton employees.
While this may be Peloton's last chance, McCarthy told the Wall Street Journal that numbers reveal that Peloton is beginning to change course. "The perception for a long time publicly has been that the business is failing," he said. "I think that perception is out of alignment… I can see in the numbers the business starting to change course—which is part of what gives me confidence when I say that I think this is the last step in the process."
Peloton's CEO reiterated his determination to employees. "I know we can make Peloton a great comeback story if we continue to fight for it. As I have said, this is not easy, but I've never been more confident in Peloton and where we are going," McCarthy concluded in his internal memo to Peloton team members.
Peloton fans and employees took to social media communities to discuss the latest news. "Judging from the 'surprise' 1:1 on my calendar this morning, looks like I'm one of them!" a Reddit user/employee shared in a Peloton discussion forum. Another poster questioned the future of Peloton's beloved instructors in light of the recent news. "I just wonder how long until the instructors we love start to jump because they see the end is near and they can go somewhere else before the ship sinks. If that starts happening it will tank in a hurry. I don't really know where they'd go for the same or more pay at this point though. I hope it all works out," the poster wrote.
The fitness brand has been partnering with notable brands in an attempt to get more visibility and members. Peloton recently announced a collaboration with Hilton Hotels, where its signature Bike would be featured in every Hilton fitness center by the end of the year. The connected fitness company has even teamed up with Dick's Sporting Goods and Amazon to sell its equipment.
Courtney Rehfeldt
Courtney Rehfeldt has worked in the broadcasting media industry since 2007 and has freelanced since 2012. Her work has been featured in Age of Awareness, Times Beacon Record, The New York Times, and she has an upcoming piece in Slate. She studied yoga & meditation under Beryl Bender Birch at The Hard & The Soft Yoga Institute. She enjoys hiking, being outdoors, and is an avid reader. Courtney has a BA in Media & Communications studies.