Peloton Report: McCarthy's First Month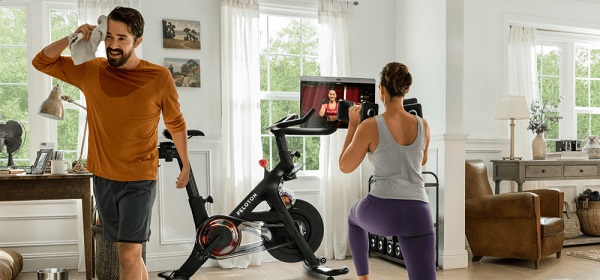 We take a closer look at the latest Peloton headlines
Peloton's new CEO, Barry McCarthy, calls his entrance into Peloton's orbit a "shotgun marriage." He was retired, spending days golfing and managing investments, and a Peloton user – until he reached out and said, 'Hey, Coach, put me in. I can fix this.' 
McCarthy, 68, is confident and brings a new ethos. Peloton may have had a wild ride over the last few years, but one theory remains constant: the company has value. And devoted Pelotoners have a strong bond with their instructors and are prepared to stay the course.
Despite the noise and CEO shuffle, there's just something about Peloton. Could that magic make it easier for the connected fitness company to make a great comeback? McCarthy seems to think so.
Let's take a closer look at McCarthy's first month as we review Peloton's changes, challenges, experiments, the future — and why McCarthy says Peloton is a sports team trying to win the Super Bowl.
Peloton extends home trial
Will 100 days of Peloton cause a psychological push to purchase?
The connected fitness company has announced that its 30-day home trial will be extended to 100 days until March 22. If 100 days of the Peloton Bike, Bike+, or Tread did not entice test riders to join its rabid base, Peloton says it will issue a full refund and cover shipping fees. 
Peloton's home trial extension is a great marketing tool. Consumers have nothing to lose by giving Peloton a whirl for 100 days, but studies show it can create what's called a "mere ownership effect." Consumers who are able to see and touch a product can activate a sense of attachment and ownership.
The jump from 30 to 100 days is significant. Peloton is likely to nab new consumers after they have access to its connected fitness equipment for three months.
The connected fitness company may also attract those who have contemplating ditching their 2022 workout goals. In part of the advertising for the 100 day trial, Peloton points out that 70% of its members work out more than they did before joining.
Peloton offers $300 discount – says to treat yourself & your friends
Discount codes were issued to existing Peloton users
Peloton has announced a $300 discount on its base Bike, Bike+, and Tread and is launching a limited-time offer for its base to share the Peloton love with friends and family. 
All Peloton members will receive a unique promo code to get $300 off any new Peloton Bike, Bike+ or Tread. Peloton says the promo code is valid through March 21 and can be used on up to five orders. The code can also be used for existing members to purchase a new piece of equipment.
Peloton presents it as a thank you to its followers. "That's why we're launching a limited-time way for you to help empower your own communities to join you on the Leaderboard, to allow your loved ones to find, embrace and love their fitness journey as much as you have, or to continue expanding your own Peloton experience," Peloton says on its site.
Some believe this is an attempt to shift Peloton's price model to make it more palatable.
Could Peloton become an open platform?
McCarthy says the magic happens on the screen
McCarthy told The New York Times that the magic happens on the screen and hinted that Peloton could become an open platform.
"That's where the user experience is, right? It's the music. It's the instructors. It's all the social aspects that we have only just begun to develop — and that's where we're going to spend our money. Today, it's a closed platform — but it could be an open platform and part of the creator economy," he said.
Peloton also recently introduced Lanebreak, an immersive and gamified workout that includes David Bowie remixes. Luckily for Peloton, preliminary reviews for Lanebreak have been overwhelmingly positive.
Experimenting with Peloton's pricing model
Will Peloton find it's sweet spot?
McCarthy tells The New York Times that Peloton is experimenting with finding the "sweet spot" when it comes to its pricing model. Peloton may consider a dramatically lower upfront cost and a higher subscription model. 
That difficult All Hands Meeting? It didn't get cut short, says McCarthy
Peloton's new CEO says he doesn't worry about being charismatic
McCarthy's first All Hands Meeting reportedly went awry, but he tells The New York Times that he thinks he has been well received. He also says the meeting wasn't cut short.
"They did the cost cutting before I arrived, in fairness to them. Do I worry about being charismatic enough to lead a culture — the kind of company that has been built around a very charismatic leader? No. There are two sides to that coin, and, given where the company is, I think I've been well received."
The CEO shuffle & difference in management Style
McCarthy on his relationship with Foley & how Peloton isn't a family anymore – it's a sports team
In an email to Peloton employees, McCarthy gave a preview of his management style. His list included phrases like, "Be stubborn on vision, flexible on details," and "Your comfort zone is your own worst enemy." 
McCarthy says he wouldn't have boarded Peloton unless Foley remained engaged on the product side and acknowledges he wasn't hired to be Peloton's "product guru." He sees the value in Foley and wants to tap into Foley's talent for as long as he can.
Calling Foley an "economic animal," he says Foley is a happy camper in his new role, but that they don't always agree – and McCarthy has a different leadership approach.
"Like [Foley] announces to the team at our all hands — which didn't get cut short by the way — that we're a family. And I say you'll never hear me say we're a family. We're a sports team, and we're trying to win the Super Bowl. And so we're going to put the best players on the field we can. And if you go down the field, and we throw you the ball, and you drop it a bunch, we're going to cut you. Because everybody else who's trying hard to win the game deserves to have the best players on the field. And if you're a good player, you're going to love being on this team. I love John's strengths, but I'm running the company," he told The New York Times.
McCarthy is aware that he could get cut, too. "And if the company isn't doing well, I'm getting replaced anyway. So it's pretty cut and dry. And if I don't do well — and there's a change — maybe at that point the business gets sold."
Ongoing supply chain headaches
Peloton is aware that delivery delays are frustrating consumers & says it will up its comms game
Peloton moved to cut expenses by relying on third party delivery partners (and plant closures) but it hasn't been smooth. 
One user on Twitter expressed frustration at delivery delays. "Ordered my @onepeloton bike on 2/7 with delivery scheduled for 2/26. On 2/26 was told by @XPOLogistics that we needed to push to 3/4. 3/4 became 3/7. 3/7 has now become 3/16. Peloton has my money. I have no bike or actual guarantee I'll ever get it," she writes. 
Another writes, "@XPOCustomerCare this is the second time you have canceled our peloton order on us at the LAST minute my husband had to take off of work because we were expecting our delivery and no one contacted us we had to call. Such a slap in the face to us @onepeloton please address this."
McCarthy says Peloton had 10,000 customers scheduled to receive bikes from Peloton and were moved over to third parties. "Ten thousand people are getting rescheduled. Plus, some of those 10,000 are going to get rescheduled again. So we need to up our comms game," he said.
Is Peloton's future in apparel?
McCarthy reveals he is open to joint ventures & sees opportunity in apparel
When asked if he could consider joint ventures, McCarthy says he would, but says he sees the value in apparel.
"There's a big opportunity in apparel — we do $250 million revenue in apparel. John's wife is no longer running apparel for us, by the way: not an employee of the company anymore, which is something he fixed before I joined," he tells NYT.
The Chipotle comparison
What does a fast casual Mexican grill have in common with a connected fitness company?
Motley Fool analyst Bill Mann compares Peloton's CEO shuffle to Chipotle, when Steven Ells stepped down after numerous issues with food safety started to erode the reputation of the popular fast food chain.
Mann credits Foley for recognizing that it was time to step back and says Peloton went through a bigger crisis than food safety, noting the death of a child who ended up under one of Peloton's treadmills.
"They have dealt with certain things that would be impactful to a weaker brand, and to me, this shows that there is real value at Peloton that is extractable. Hopefully, Mr. McCarthy will get after it," Mann said in an interview last month.
Former CEO Foley is making moves
Foley has sold shares & may be looking to sell his home
Peloton's former CEO John Foley, has sold approximately $50 million in PTON shares to an investment firm. The sale involved 1.92 million shares, according to a regulatory filing.
Peloton said in a statement that Foley's decision to exercise stock options and sell shares in a private sale to MSD Partners was his own decision and based on his own "financial planning."
He's also reportedly listing his oceanfront home in East Hampton, NY.
Courtney Rehfeldt
Courtney Rehfeldt has worked in the broadcasting media industry since 2007 and has freelanced since 2012. Her work has been featured in Age of Awareness, Times Beacon Record, The New York Times, and she has an upcoming piece in Slate. She studied yoga & meditation under Beryl Bender Birch at The Hard & The Soft Yoga Institute. She enjoys hiking, being outdoors, and is an avid reader. Courtney has a BA in Media & Communications studies.