Myzone Encourages Government To Move With Congressional Fitness Challenge
credit: PAA
Congressional members and their staff will use Myzone wearable fitness bands to promote nationwide fitness and wellness
Members of Congress are up for a different type of challenge this month, as wearable fitness brand Myzone and the Physical Activity Alliance (PAA) have teamed up for the 2023 Congressional Physical Activity Challenge, which rewards lawmakers and their staff for moving.
The Congressional Challenge runs through May in conjunction with National Physical Fitness and Sports Month, which has been observed annually since 1983, to inspire the country to get moving. 
The challenge is open to all congressional members and their staff. Each participant records their exercise and activities using an MZ-Switch heart rate monitor and earns Myzone Effort Points (MEPS) for each minute of exercise. 
Myzone shared that winners will be named based on individual achievement, office achievement and most staff participants able to hit the World Health Organization's guidelines of at least 150 minutes of moderate-intensity aerobic physical activity or at least 75 minutes of vigorous-intensity aerobic physical activity per week.
"Recording their exercise with the MZ-Switch, every Congressional office member put in an impressive amount of effort in last year's challenge," said Mike Leveque, Myzone CEO for the Americas. "It shows how important it is to raise awareness of just how easy exercise can be, using the right tools to motivate and inspire movement."
In a podcast episode of "Move to Live More," hosted by PAA president Amy Bantham, Leveque shared that the heart rate-based wearable fitness company uses gamification as a way for users to remain engaged. 
"We focus on intensity rather than fitness, and that's sort of the secret sauce of MyZone," he said. "We wanted to create a system that included gamification, to make sure to keep the member interested and motivated to hit their fitness goals and to continue along their fitness journey."
Leveque also touched on the success and motivation of social connections when it comes to Myzone, revealing that if a member has four or more connections, they work out 41% more than the average member. If a member receives four or more 'likes' in a month, they will work out 84% more. 
Leveque is also a Physical Activity Alliance board member.
See Also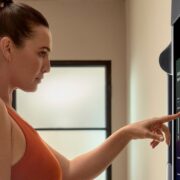 Bantham, the PAA president, noted that only one in four U.S. adults meets the recommended physical activity guidelines for both aerobic and muscle-strengthening activity.
"We're proud to work with Congress and Myzone in raising awareness of the importance of exercise, and look forward to congratulating the winners of this year's Physical Activity Challenge," Bantham said.
President Biden also released a statement to encourage Americans to find ways to become active this month and called on state, local, tribal and territorial governments and business leaders to make physical activity more accessible.
"When we invest in our health, we foster healthy homes, more productive communities and a more resilient society for generations to come," Biden wrote in a statement from the White House briefing room. 
Courtney Rehfeldt
Courtney Rehfeldt has worked in the broadcasting media industry since 2007 and has freelanced since 2012. Her work has been featured in Age of Awareness, Times Beacon Record, The New York Times, and she has an upcoming piece in Slate. She studied yoga & meditation under Beryl Bender Birch at The Hard & The Soft Yoga Institute. She enjoys hiking, being outdoors, and is an avid reader. Courtney has a BA in Media & Communications studies.