Myzone Announces Partnership with Wellonomics to Increase Workplace Wellness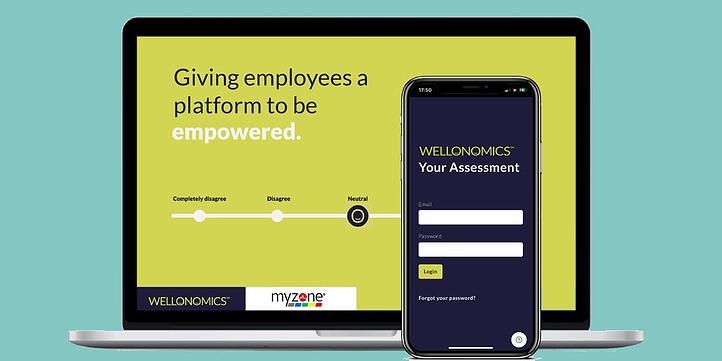 Myzone and Wellonomics believe wellness goes beyond the traditional fitness industry
Myzone has announced a collaboration with Wellonomics, a one-stop wellness solution that provides workplace wellness in areas such as sleep, health, stress, social, financial, and work life. The collaboration is intended to broaden awareness of physical activity beyond the traditional fitness industry.
The Wellonomics app will use Myzone functionality to motivate employees and groups of employees to engage in physical activity. The app is designed to increase employee engagement, provide fun and healthy competition, and to track physical activity data. According to Wellonomics, employees will also have confidential access to solutions from top experts.
"Wellbeing is complex," says Glen Thurgood, Wellonomics CEO. "That being said, our acutely accurate Wellonomics Assessment helps to highlight some of the areas which are relevant to you and through our Wellonomics App we can help you to explore your World of Wellonomics where we have world-class expertise and programmes to help you in every way possible."
Businesses will have the opportunity to gain insight into how employees feel about life and their overall well-being, both inside and outside of the workplace.
Employers can then use the data to improve their workplace culture and employee well-being.
"Approaching digital initiatives as partners and as part of a greater community is vital in bringing the benefits of physical activity to more people," says David Stalker, CEO Myzone EMEA. "Through heart rate training, employees and individuals can improve their health with education, understanding that movement goals can be achieved through incremental change."
Stalker says that the two-way partnership will ensure continued understanding of employees needs.
Rachel Young, Myzone director of business development, says it's easy to lose track of essential factors when it comes to the bigger picture of wellbeing.
"The work that Wellonomics is doing is so important to keep teams happy and help them become more effective. It also allows CEOs and board to better understand the needs of their workforce. A clear picture of physical activity is vital to this, and Myzone is proud to be a part of it," Young says.
Young says Myzone has asked its own staff to regularly fill out the Wellness Assessment. "In doing so, we're analyzing the data from everyone's honest, and anonymous, answers to further increase well-being engagement, because better never stops," she adds.
Myzone is now valued at $102 million. In 2021, Myzone launched the MZ-Switch, the world's first interchangeable heart rate monitor with chest, arm, and wrist options.
Courtney Rehfeldt
Courtney Rehfeldt has worked in the broadcasting media industry since 2007 and has freelanced since 2012. Her work has been featured in Age of Awareness, Times Beacon Record, The New York Times, and she has an upcoming piece in Slate. She studied yoga & meditation under Beryl Bender Birch at The Hard & The Soft Yoga Institute. She enjoys hiking, being outdoors, and is an avid reader. Courtney has a BA in Media & Communications studies.