CEO Corner: J METHOD's Jennifer Jacobs on Self-Belief for Success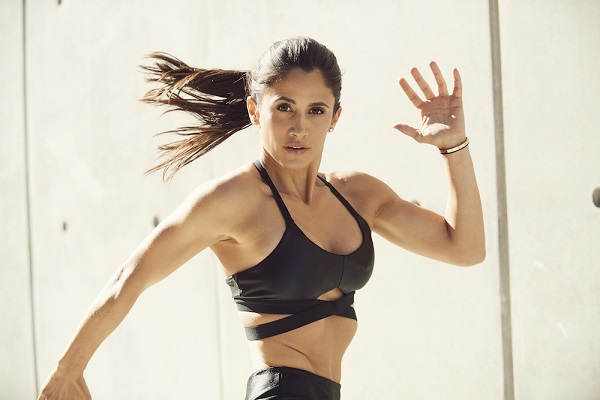 Candace Cordelia Smith
Candace Cordelia is a Pennsylvania-based journalist and on-camera broadcaster/host, with…
Jennifer Jacobs's journey to becoming an established leader in the world of fitness was born out of a personal health need that grew into a highly successful workout program called The J METHOD. The entrepreneur and now Beachbody Super Trainer talked with Athletech News for our CEO Corner series to reveal more about her business model, philosophy, daily habits and more.
One thing Jennifer Jacobs stands by wholeheartedly is her intention to motivate others. The J METHOD founder, athlete and Beachbody Super Trainer believes that her program "is more than a method," but rather a lifestyle that does more to change one's health habits. It's life-changing work. Jacobs refers to herself as a "personal fitness motivator," and she's certainly made a profound impact. With over 160K Instagram followers, Jacobs's empire continues to grow, not only with The J METHOD and Travel Size Gym and Accessories offering, but also with the addition of her forthcoming Job 1 fitness program for Beachbody.
"Don't think that there is anything you can't do," says Jacobs to Athletech News, and it's a statement that holds even more significance considering the impressive source. Read on to discover more about the dynamo who delights in empowering others.
Athletech News: Please tell us about your current company and how either your role or the company came to fruition.
Jennifer Jacobs: The J METHOD is not just a workout program. The J METHOD is more than a method, it is a mindset to resist your limits and unleash your best self. The J METHOD teaches you to train with a purpose towards your goals by improving movement, developing balance, redefining strength, and optimizing nutrition through a functional training approach. Created for all ages and all fitness levels the J METHOD is a lifestyle and mindset around training consistently, efficiently, and effectively. It is about understanding that you don't need to train more to see results. It is all about training smarter and understanding that sometimes if you train less you can actually gain more.
I created the J METHOD out of a personal need to improve my own fitness and health after having my two children and in response to a growing demand of personal training clients. As a mom of two small children, I didn't always have time to go to the gym, and I didn't always have a lot of time in general. I needed to figure out an effective and efficient way to train myself. One of the hardest parts of staying fit is to be consistent and part of that challenge is overcoming the belief that you don't have enough time, or you don't have access to a gym. Thus, the J METHOD was born.
Athletech: What was your journey like to get to this point?
Jennifer Jacobs: Starting your own business and developing your own brand is not easy, especially in the fitness industry, which can be very male-dominated when it comes to running a business. There are always challenges and roadblocks you will encounter no matter what you do. It's all a matter of having the confidence to keep going, to remind yourself that if you set your mind to it, you can achieve anything you want to do.
It's easy for everyone to think that what I have achieved came easily, but it didn't. The difference was believing in myself and not listening to all the naysayers out there telling me that I couldn't or shouldn't do something. Believing in myself is what helped me start my own fitness business in college to help pay for school. Believing in myself is what brought me to Peloton as one of the original 12 elite instructors. It is what has now brought me to Beachbody as one of its newest elite Super Trainers. My goal each time has been to keep growing and challenging myself while being able to reach and help as many people as possible achieve their health and wellness goals. To give people the motivation and inspiration to be the best versions of themselves and Unleash Their Best Self!
Athletech: What is your greatest strength?
Jennifer Jacobs: Giving people the confidence they need to reach their goals and helping them to believe that if they set their mind to something they CAN achieve what they put before them. So often we are discouraged either by other people or by our own self-doubt. But when you have that one person standing in your corner who believes in you and encourages you to be your best, it can make all the difference. The hardest thing is to get people to look beyond their perceived limits and to think big. Once you are able to embrace who you are without the limitations put there by yourself or anyone else then anything is possible. As I like to say "The sky is not the limit it is just the view!" It is a new vantage point to see yourself more clearly and to climb even higher.
Athletech: What motivates you?
Jennifer Jacobs: Knowing that if I can share my knowledge about health and fitness with others, I can help them lead healthier lifestyles. I set out each day to be my better self and I seek to inspire each person to do the same. Now more than ever it is important to make health and fitness a priority. Health is a complete state of physical, mental, and social well-being. By that definition, alone many of us would be considered unhealthy, as health is about more than just physical well-being. What health means, however, will differ from one person to the next, depending on their needs and situations. Our ability to adapt to situations, especially during times of change, is an important factor to maintaining our health. Sometimes all you need is that one person – someone like me – who is there to keep supporting and inspiring you to resist your limits and unleash your best self in all facets of your life.
Athletech: What are some of your daily habits?
Jennifer Jacobs: Starting off your day right always helps set the tone for the rest of the day. When you are in the right mind-frame, then everything ahead of you may not seem as daunting.
Something really simple is my hydration cocktail and "wake up bounce" routine each morning – these always help me set my day. I always start my morning with my hydration cocktail followed by a cup of my favorite KO matcha. The hydration cocktail consists of 8-10 oz. of warm water, freshly squeezed lemon juice from ¼ lemon and just a pinch of pink Himalayan sea salt. Hydrating yourself first thing in the morning helps combat the loss of water while sleeping. I follow that up with a cup of my favorite KO matcha which has so many natural benefits including boosting your immunity and metabolism all while providing you with long sustainable energy throughout the day. In addition, moving your body when you first wake up helps get your circulation going and stimulates your lymphatic system. The lymphatic system is an important part of your circulatory and immune system, and having a healthy lymphatic system helps you fight off disease and infections. A morning routine such as my "wake up bounce" helps get that lymphatic flow moving. It helps the fluid move through your body, reducing inflammation and getting rid of any waste and toxins that may have built up overnight while you were sleeping. As a result, you feel more energized and ready to take on anything!
Athletech: When have you failed? Talk about your failures? What have you learned from them?
Jennifer Jacobs: I don't like to think of past experiences as "failures" because that puts a negative connotation on things. Rather I think about them as life lessons and experiences. When I was in college, it didn't take me long to recognize that I would be more successful if I broke out on my own, but I was discouraged by a few people around me and told not to do so. The fitness business was male-dominated and I was told that as a woman I would have a difficult time running my own business and having others take me seriously. As a result, I stayed where I was until several months later when I decided not to listen to that advice and do it anyway. The rest is history. The lesson learned – don't listen to the naysayers. Trust yourself and trust your instincts.
I truly believe that in whatever you set out to do, always be authentic and always be true to yourself. If you have an idea, try it out and see if it sticks. And if it doesn't, know that it is okay. Pick yourself back up and try again. It doesn't mean you failed, it just means you learned something and that always makes you better for the next time around. Lean on your network. Don't be afraid to ask people you know for advice, and if they don't know the answer, ask them if they know someone who does. There are so many people who have been in your place before that you could learn from.
Athletech: Where did you get the idea for your current business?
Jennifer Jacobs: I was already running my own personal training business as a way to help pay for college. But my business and what I did took on greater heights from the encouragement of a former client of mine who is now a great business advisor to me. I trained her back when I was in California. We became fast friends and kept in touch throughout the years. I trained her periodically, especially after she had two kids, but most importantly when the demands of her job changed. She had to travel all over the globe and didn't have much time nor did she always have access to gym equipment. It was at that time training through Skype and eventually FaceTime was a lifesaver for her. But because she didn't always have access to a gym or even time to make her way to the hotel gym given her tight travel schedule, she tried packing her own TRX, but not all hotels were conducive to using a TRX (not enough room, no proper door to anchor to), plus it was heavy.
As a result, I had started to advise her on various tools she could pack in her luggage which were smaller and lighter — similar to what I was using myself when I traveled. When I was at the point in my career when I wanted to start to build my own brand and reach people in a way I had not before, she encouraged me to find a solution for people just like her. People who were so busy that they felt they never had time to exercise or never had easy access to a gym and heavy equipment. We got to talking and brainstorming and that's where the concept of the J METHOD training program and the J METHOD Travel Size Gym was born. It was based upon the method I developed to not only train myself but to train her as well – to train efficiently and effectively, anytime, anywhere. The J METHOD allows you to train in a short amount of time from the comfort of your home or in the comfort of your hotel room, no gym required. No excuses.
Athletech: What charities are important to you? What does philanthropy mean to you?
Jennifer Jacobs: Charities that are important to me are ones that create sustainable models, ones that look towards creating longer term solutions to helping to fix a problem. That is why I am a Global Ambassador for Smile Train. At Smile Train they advance a sustainable solution and global health model for cleft treatment, drastically improving children's lives, including their ability to eat, breathe, speak and ultimately thrive. I truly believe that we can change the world one smile at a time. The confidence a great smile can give a child is amazing. When you are confident you believe in yourself and you can do anything and be whatever you want! To me that is the greatest gift we can give a child.
Athletech: Where do you see the future of fitness going?
Jennifer Jacobs: Looking ahead, my goal for the fitness and wellness industry as a whole is for it to evaluate how it can create an environment that is more equitable and more inclusive in many different ways. Fitness and wellness will continue to merge with an increased focus on mental health issues with fitness playing a vital role as a form of therapy. Expect far more innovative tech, peak social experiences, unlikely brick-and-mortar facilities, and an emphasis on convenience and personalization, in part due to AI-enabled technology. Imagine being able to attend your favorite fitness class in person or online while simultaneously a shopping cart is filled with nutrient dense foods based on your preferences accompanied by a healthy recipe from a wellness expert specifically designed for your needs and to increase your productivity and performance. As consumers put a premium on experience, fitness content will increasingly blend fitness with entertainment. This lies true for digital platforms as the future is a hybrid of both digital and physical space. With fitness and wellness merging, gyms and digital platforms will expand their offerings to include recovery & mindfulness to optimize performance, improve sleep, and emphasize nutrition. The future is a complete approach to physical, mental, and social well-being to improve one's overall health.
Athletech: Who is your mentor? Role model?
Jennifer Jacobs: Every single woman who has stayed true to herself has gone against the grain and has broken all the molds of how people in fitness "think" a woman in fitness should be like, are my role models.
Candace Cordelia Smith
Candace Cordelia is a Pennsylvania-based journalist and on-camera broadcaster/host, with a reporting background in wrestling, entertainment, and lifestyle. Her reporting work has been featured on websites and in publications such as Bustle, Pro Wrestling Illustrated, New York Daily News, am New York, ABC News, Yahoo!, Good Morning America, Madame Noire, Sister 2 Sister, etonline.com, Diva Dirt and The Everyday Fan. Her favorite workout influencers include Chloe Ting, Cassey Ho, Pamela Reif and Mary Braun. She still can't stand burpees and Rebbl Dark Chocolate Immunity Elixir is one of her favorite post-workout protein sips. You can follow Candace on Twitter @CandaceCordelia and on Instagram @thatgirlcandace16.