Care/of Readymade Vitamin Products Now at Target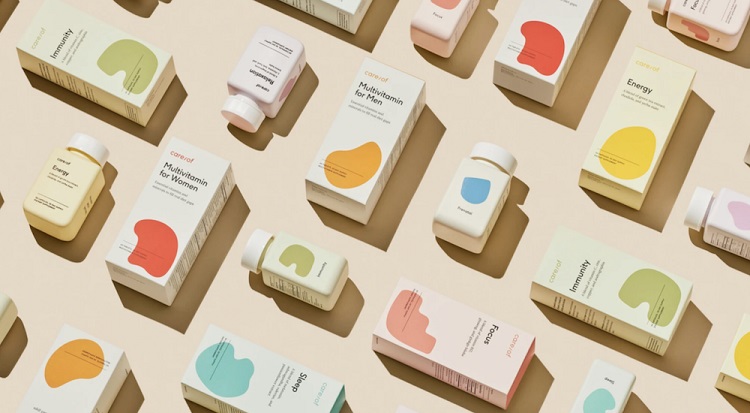 Target will increase its reputation as a hub for health and wellness, with exclusive products from Care/of.
Care/of, a company that creates personalized vitamin regimens based on customers' response to an online questionnaire, is branching out by selling readymade vitamin products at Target.
Care/of's line for Target includes three multivitamins: 1) for prenatal care, 2) for men and women, and 3) five blends for sleep, relation, energy, immunity and focus, respectively.
The retail behemoth's website and some locations are already stocking them. The vitamins sell for $14.99 and $18.99 for the prenatal multivitamins for 30-day supplies.
The product line claims a number of often-checked health product buzz phrases: "Certified C.L.E.A.N.," "non-GMO," "sugar-free," "gluten-free," "no unnecessary fillers" and either "vegan" or "vegetarian."
The move comes after six months of German conglomerate Bayer buying 70 percent of Care/of for $225 million, with an option of owning it outright in 2025.
It was one of several recent investments or acquisitions by large corporations in online personalized health product businesses, which have captured a growing segment of the supplement market as one-time strip mall staples like GNC and The Vitamin Shoppe lost ground.
Nestlé Health Science acquired LivingMatrix, Unilever to bought SmartyPants Vitamins, and Nature's Way purchased Baez. These acquisitions don't just offer new, trendier wealth streams but also a wealth of information on consumer desires and health spending, drawn from custom orders.
For Care/of, the move to the crowded shelves of Target represents some confidence that brick-and-mortal retail will rebound after or has stayed sufficient throughout the COVID-19 pandemic. It will also increase the visibility of Care/of to segments that don't fulfill most of their health needs online.
For its part, Target has shown more interest in associating its ubiquitous brand with health, beauty and wellness, bringing in more exclusive health product offerings and experimenting with the presentation of its aisles associated with those groupings.
Care/of, founded in 2016, sought to take the desire to have everything customized and mail-delivered to the vitamin world. Think of it as Stitch Fix or Vinyl for your body.
The company claims six million people have utilized its services.
Nick Keppler
Nick Keppler is a freelance journalist, writer and editor. He enjoys writing the difficult stories, the ones that make him pore over studies, talk about subjects that make people uncomfortable, and explain concepts that have taken years to develop. Nick has written extensively about psychology, healthcare, and public policy for national publications and for those locally- based in Pittsburgh. In addition to Athletech News, Nick has written for The Washington Post, The Daily Beast, Vice, Slate, Reuters, CityLab, Men's Health, The Gizmodo Media Group, The Financial Times, Mental Floss, The Village Voice and AlterNet. His journalistic heroes include Jon Ronson, Jon Krakauer and Norah Vincent.