High-Growth Brands Joining Bloomreach's Commerce Experience Summit '23 'Spill the Tea' on Using Data to Personalize Consumer Experiences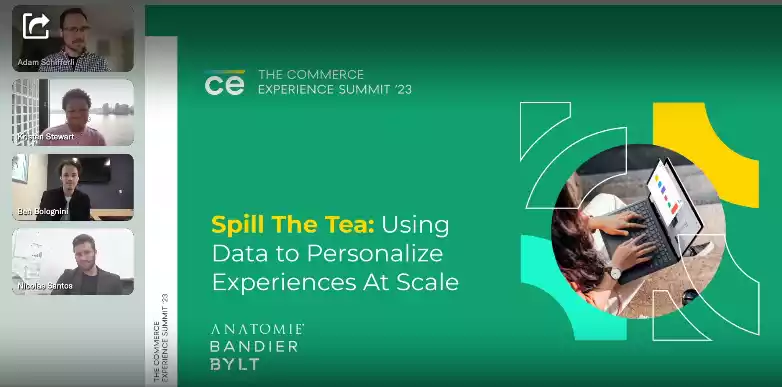 The cloud-based software company conducted a fireside chat with Bandier, BYLT, and Anatomie Fashion marketing leaders
The Commerce Experience Summit '23, hosted by Bloomreach, offered insightful thought leadership on using data insights to create meaningful connections with consumers. 
The summit included three event tracks with e-commerce and digital leaders over the course of a two-day virtual conference. 
One of the tracks, Spill The Tea: Using Data to Personalize Experiences At Scale, hosted by Adam Schifferli, Head of Customer Success & Professional Services Americas, featured a roundtable discussion with Nicolas A. Santos, Marketing Director of Anatomie Fashion, Ben Bolognini, Head of Marketing and E-commerce, BYLT Basics, Kristen Stewart, Head of Digital, Bandier.
The marketing leaders did spill the tea, sharing their insights on digital seekers, personalized experiences, omnichannel approaches, and the best practices to improve the customer experience.
In an ever-changing environment with advancing technology, here's how three digital and marketing retail experts are reaching (and retaining) consumers:
Spilling the 'Who': Digital Seekers
Nicolas Santos, Marketing Director of Anatomie Fashion, said the luxury brand is looking for convenience, speed, and a personalized experience when it comes to digital seekers.
The fashion brand is heavily focused on travel but quickly pivoted in 2020 after numerous flights were canceled due to COVID.
Anatomie then moved towards performance, athleisure wear, and professional leisure fashion for those on the go. Santos said at the Experience Summit that Anatomie succeeded in those verticals and that the brand attracts a mature demographic, ages 45-54, who are empty-nesters, and "love traveling and the good things in life."
The target Anatomie customer is also heavily focused on convenience. The luxury brand also has segments for those ages 34-44 and 54 – 60 plus, but Santos confirmed that those aged 45-54 are their core consumers.
The brand has retail locations that allow consumers to get a perfect fashion fit, allowing for a personalized shopping experience.
"How do we give the same experience that our retail customers are receiving when they go to the store and they have a stylist one-on-one helping choosing their fit? How do we transition that experience into online?" Santos said. He added that Anatomie customers seek and expect the same experience, whether online or in person.
Ben Bolognini, Head of Marketing and E-commerce for BYLT Basics, said the target consumers for the fashion brand are "affluent millennials, primarily males, who value health and wellness and go after what they do best."
He added that BYLT Basics equips its target consumers with confidence as they go about their day.
"We have so much data, seemingly unlimited… where do you even start?" he said. However, he explained that BYLT Basics is now reverse-engineering its approach to expand past its core audience.
"The data tells us a story," Bolognini said. BYLT Basics is looking at gift-giving moments to see how they can create a "second time customer."
Bandier is another brand that has a great handle on its core consumer.
"We consider ourselves (or termed ourselves) the fitness edit for the fashion woman," said Kristen Stewart, Head of Digital for luxury activewear brand Bandier, at the Commerce Experience Summit. She described the Bandier consumer as a fashion-savvy, image-conscious individual. "This is someone who doesn't just wear clothes but wears an ensemble," Stewart explained.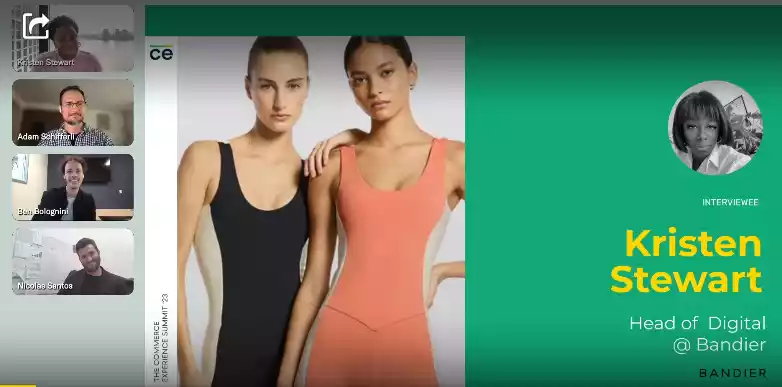 "They walk down the street in an outfit and they want to translate that everywhere they go, even in their activewear. They want a 'look' when they are on their treadmill or in a pilates class."
While Bandier has a solid customer base with its brick-and-mortar locations, as the brand has expanded, the athletic wear company has had to consider what their consumer may look like if they aren't based in NYC or LA, but somewhere in between, without access to a store location but still aspires for the sought-after look.
Bandier's Head of Digital described the athletic wear company's consumers as falling into two groups: a slightly older demographic and a younger, up-and-coming Gen Z/younger millennial "becoming fashion-forward," and is looking to be advised on how to style their activewear.
Despite the age difference between the two groups, Stewart reports an overlap in values where social proof is important. Still, the more mature group tends to value quality over social proof.
Dishing the 'What': Personalized Experiences
Santos says there are many layers of personalized experiences, but Anatomie is looking to centralize its data in a CDP. The brand also takes an omnichannel approach while creating a journey through text, email, and on-site.
He confirmed that on-site is one big goal for this year, where Anatomie wants to identify customers before they even get to the point of sale.
Bolognini of BYLT Basics remarked that it's essential to test and learn constantly.
He shared at the Commerce Experience Summit that he was a customer organically before joining BYLT. As a former customer, Bolognini said he has a solid "frame of reference" and uses that to resonate with BYLT consumers. He suggests considering what it's like to be in the customer's shoes — without overthinking the process.
Bandier is eyeing new technology in its personalization.
"We've taken an approach of stripping everything to bare bones and building up from your most basic personalization and then building better from there," Stewart said. She added that Bandier had utilized production recommendation engines for years but that the brand continuously looks for ways to improve using new technology.
"Using new tech like AI, product surveys, and preference centers on the communication side – where people tell us what they want to hear from us," Stewart said.
She added that Bandier takes the approach of leading and inspiring without dictating, allowing consumers to discover their own style.
The 'Where':
Santos reported that Anatomie has a robust email customer base and is continually testing SMS, but "email is the main player."
The luxury brand has had luck with social platforms, like Facebook, and is strategic with its website. Instead of an automatic pop-up to capture email, Anatomie will give the customer some time to go through the site. If they go to exit the page, a 15% off promo code may pop up.
The brand is exploring how to get consumers comfortable with providing their phone numbers for SMS.
BYLT is also taking an omnichannel approach and is examining what content is best to present in every channel while still using heat mapping tools. The basics brand believes data centralization is critical to being effective everywhere.
Bandier is also focused on building an omnichannel experience, Stewart confirmed to Bloomreach.
"We want to make sure we are talking to our customers in the way that reaches them in the places they are," she added. "We have a strong in-store experience. The [Bandier] stores are really beautiful and provide personalized experiences, but how do you translate that online?"
Stewart said at the event by Bloomreach that the online experience could seem distant and colder and that creating a warm clienteling online means trying to build a relationship, whether via email or SMS or taking it beyond.
While there are paid marketing plans, there's only so much data a brand can have while trying to create particular journeys for people. Overall, customer data is the crux, Stewart said.
The 'When':
All three marketing leaders agreed the "when" is always.
As tech advances, Anatomie will incorporate AI into its verticals to learn more about its customers and intentions, allowing the luxury brand to provide a more catered experience.
Stewart said she has been pushing for personalization since 2012 and notes that it's evolved.
"The time for personalization is now," she said, adding that it's imperative to look at the data (and nuisances within the data) to understand when to add the next layer.
"Customers will tell you what they want – and when," Stewart said. "Giving yourself the time to set up a proper foundation to make what you're doing scalable," she advises.
"You will be easily prepared for the future if you set a solid foundation now and it's worth taking the time to build it before rushing to trying new things," Stewart continued, adding that taking that path leads to being agile in the future.
The 'Why':
Santos said at the Commerce Experience Summit that Anatomie intends to build a long-term relationship with clients while staying away from promotions and discounts, as Anatomie prefers to lean into luxury. The brand hopes to create client journeys so that the brand can stop relying on promotions. 
The 'why' for Bandier is simple, says Stewart. "To add value to our customers' lives, to add engagement by creating value in their lives. An engaged customer is a retained customer," Stewart concludes.
Click here to access content from Bloomreach Commerce Experience Summit '23 and hear e-commerce and digital leaders discuss customer trends, personalization, and revenue-driving tactics.
Courtney Rehfeldt
Courtney Rehfeldt has worked in the broadcasting media industry since 2007 and has freelanced since 2012. Her work has been featured in Age of Awareness, Times Beacon Record, The New York Times, and she has an upcoming piece in Slate. She studied yoga & meditation under Beryl Bender Birch at The Hard & The Soft Yoga Institute. She enjoys hiking, being outdoors, and is an avid reader. Courtney has a BA in Media & Communications studies.