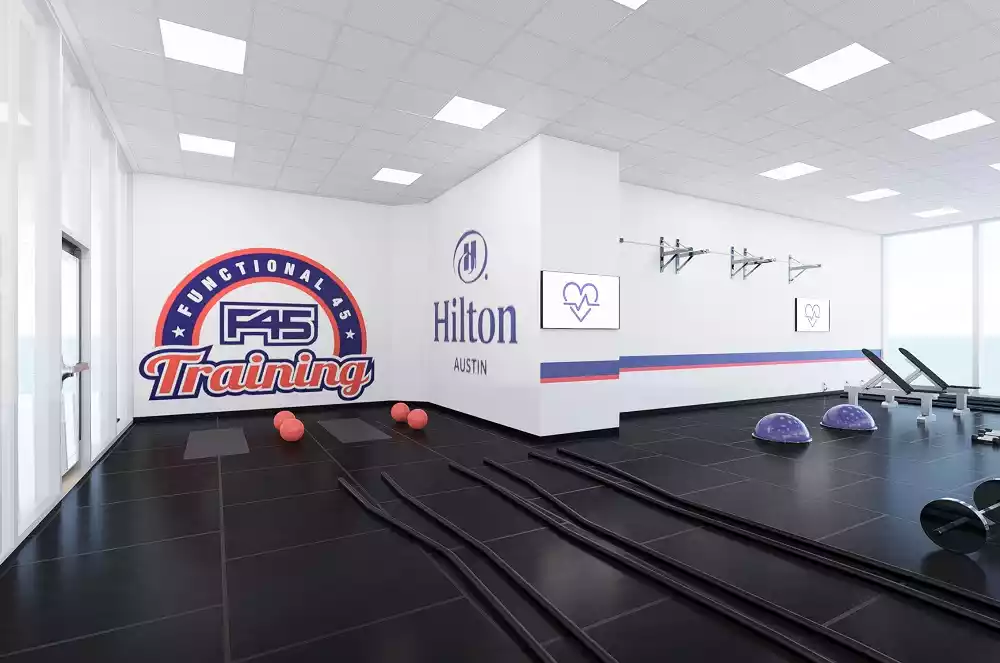 The functional fitness franchise closed a deal to improve its balance sheet, refreshed its Board of Directors, and named an interim CFO. The big changes come as F45 pushes into fitness hospitality with the announcement of its first hotel studio at Hilton Austin.
A flurry of big changes has come to functional fitness franchise F45, which has been trying to recover from a rather rocky 2022.
Before we review the just-announced changes, let's recap what's been happening in F45's world:
While excitement spiked when fitness brand went public in 2021, raising over $300 million with a $1.4 billion valuation, things went south. 
In 2022, F45 was plagued with layoffs, lowered revenue targets, stocks plunging to $1.25, and the departure of its CEO Adam Gilchrist, who once had high hopes of the company sprinting past Planet Fitness and becoming "bigger than McDonald's."
David Beckham, who celebrated the launch of an F45 in the UK, filed a lawsuit against the fitness company last fall, seeking $20 million in damages. The former pro soccer player's lawsuit alleges that the fitness franchise failed to pay him on time for a marketing campaign in 2021. Greg Norman, pro golfer, was reportedly planning to join Beckham in his lawsuit against F45.
After F45 released its third quarter 2022 financials, the fitness franchise announced a special committee would review and evaluate alternatives to an unsolicited take-private bid by Kennedy Lewis Investment Management LP for $385 million. 
And now, in 2023, F45 has announced some formal changes to the foundation of the Mark Wahlberg-backed fitness franchise.
While there may be bad blood between Beckham and F45, Wahlberg is still on board, although he sold nearly one million shares of F45 stock last spring.
Let's review.
The Deal
F45 has announced the closing of a new $90 million subordinated debt facility provided by a group of existing investors, led by affiliates of Kennedy Lewis Management LP.
The financing transaction is meant to improve F45's balance sheet and enhance liquidity for long-term growth.
Ben Coates, F45's Interim Chief Executive Officer, remarked that the financing, combined with F45's operational realignment and cost-reduction initiative, will enable the fitness franchise to increase the support it provides to its franchisee network.
"We are glad to have secured this significant financing from investors who share our vision," he added.
The deal has a five-and-a-half-year term, and proceeds will be used for general 'corporate purposes' and a partial paydown of F45's existing Senior Secured Revolving Credit Facility with JP Morgan Chase Bank, N.A.
F45 Board of Directors gets a revamping
In addition to the financing, F45 has announced that current Board member Gene Davis has been appointed Chairman.
Additionally, four new independent directors were appointed to the board, including Timothy Bernlohr, Lisa Gavales, Steven Scheiwe, and Ray Wallander.
The new group of directors replaces Angelo Demasi, Vanessa Douglas, and Lee Wallace, who all resigned.
F45 brand ambassador and investor Mark Wahlberg is remaining on the board, along with Ben Coates, Adam Gilchrist, Elizabeth Josefsberg, and Michael Raymond.
The naming of an Interim Chief Financial Officer
F45 has also named Bob Madore as Interim CFO. Prior to signing on with the brand, Madore, with over 30 years of management experience, served as CFO of Ralph Lauren, American Eagle Outfitters, and The Cronos Group.
"With the Company on stronger financial footing, I look forward to working with my fellow Board members and the leadership team, including Bob, to refine F45's go-forward business strategy to deliver sustainable growth, enhance opportunities for our franchisees and team, and drive long-term value for shareholders," remarked Gene Davis, Board Chairman.
What's next for F45
Earlier this month, F45 launched "No One Trains Alone," a year-long brand campaign, the first of its kind for the fitness franchise. 
The brand opened its first studio in Hilton Downtown Austin this February, pushing into wellness tourism and hospitality. The fitness facility, located on the 8th floor of the hotel, serves as Austin's exclusive F45 training studio.
F45 has also come to Philadelphia, opening two of its 45-minute fitness centers on South Street and Washington Square West.
The next earnings announcement for F45 is anticipated mid-March.
Courtney Rehfeldt
Courtney Rehfeldt has worked in the broadcasting media industry since 2007 and has freelanced since 2012. Her work has been featured in Age of Awareness, Times Beacon Record, The New York Times, and she has an upcoming piece in Slate. She studied yoga & meditation under Beryl Bender Birch at The Hard & The Soft Yoga Institute. She enjoys hiking, being outdoors, and is an avid reader. Courtney has a BA in Media & Communications studies.