Xponential Stock Still Hampered by Report, but Analysts Are Optimistic
credit: Xponential Fitness
Xponential has refuted the claims made about its financial health in a recent short-seller report, calling them "misleading" and "inaccurate"
After being dubbed a house of cards on the verge of collapse by a short-seller report published last week, Xponential Fitness is fighting back and appears to have the support of Wall Street analysts, who believe the boutique fitness company's stock is likely to make a full comeback.
The question, however, is when?
Despite the initial optimism from analysts, which helped Xponential's stock rebound some from a low of $14.5 early last week, the boutique fitness company was only trading at $17.5 as of Monday afternoon, down 30% from its pre-report level of $25.1.
Report Attacks Xponential's Financial Health
Last week, a scathing short-seller report released by Fuzzy Panda Research caused shares of Xponential to plummet 37%. 
Among the many allegations, the report indicated that over half of Xponential studios never make a positive financial return and eight of the boutique fitness franchisor's ten brands are losing money.
Upon the release of the Fuzzy Panda report, one Baird analyst maintained a neutral rating of Xponential but lowered the stock price target to $23 from $36, according to BestStocks.
Xponential quickly reacted the next day, releasing an official statement refuting the report's numerous claims, calling them "misleading" and "inaccurate." The company's shares rose nearly 18% in response. 
Analysts Bullish on Xponential's Future
Compared to Baird's (perhaps conservative) approach, other analysts maintained a Buy rating for Xponential, including Evercore ISI, Jefferies and Raymond James. 
As MarketBeat reports, while the short-seller report may have led the analysts mentioned above to adjust price targets, the group's average target of $39 indicates a strong belief in the boutique fitness franchisor and that this will be just a small bump on the road to long-term success.
Jefferies analyst Randal Konik recommended investors buy XPOF on the dip, believing Fuzzy Panda's report seemed like a "stretch" and setting a $45 stock price target, according to MarketWatch.
Likewise, MarketBeat cites the fitness company's revenue increase in Q1, membership growth and expanding footprint as positive signs.
Xponential's next earnings report is expected on August 10.
Simply Another Challenge To Overcome?
Xponential, ever-confident, has weathered other recent storms with ease. By all accounts, the boutique fitness franchisor has long seemed untouchable, seemingly coasting through the challenges of the pandemic. 
 "While others were shrinking, we were growing," Xponential founder and CEO Anthony Geisler said last month at TD Cowen's 7th Annual Future of the Consumer Conference, referring to the pandemic.
The boutique fitness franchisor recently increased its full-year 2023 guidance for system-wide sales, revenue and Adjusted EBITDA based on its successful performance in Q1 and the beginning of the second quarter.
See Also
International Growth & B2B Partnerships
Aside from the Fuzzy Panda Research report drama, Xponential has been setting its sights on international growth, opening its first Club Pilates in Frankfurt, Germany, in early 2023.
Meanwhile, in Japan, the boutique fitness franchisor has five brands that have signed master franchise agreements, including Club Pilates, Rumble, CycleBar, AKT and StretchLab.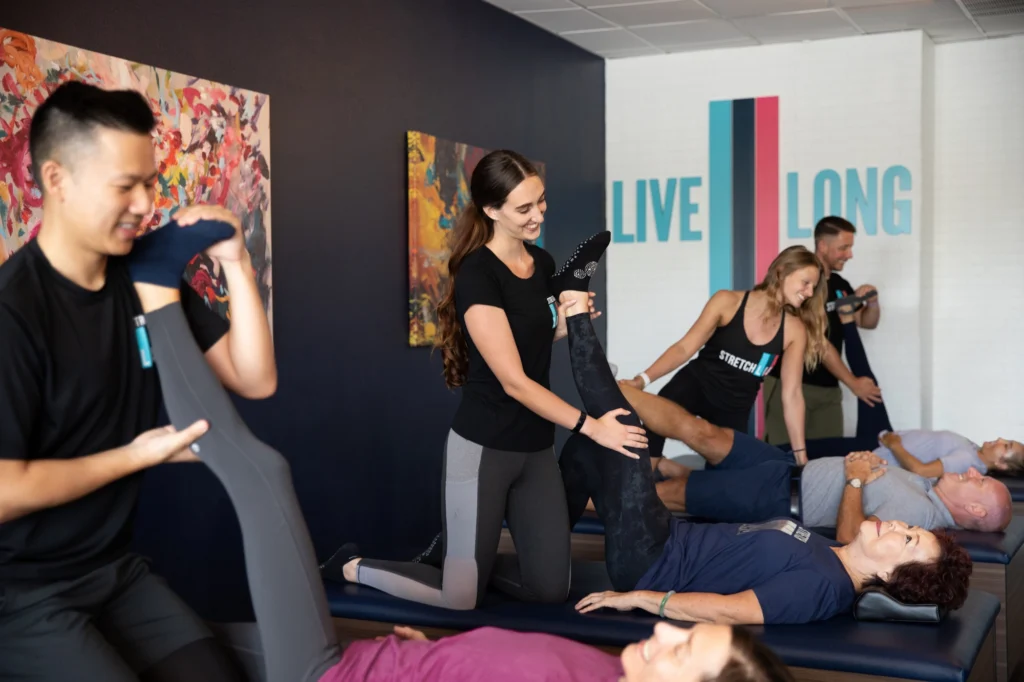 Club Pilates also recently signed master franchise agreements in Ireland and Switzerland. 
On the B2B partnerships side, Xponential sees XPlus, its on-demand platform, as a key driver. The company reported that at the end of Q1, it had over 140,000 subscribers on Xponential+, many of whom also have in-studio memberships.
The company recently launched XPlus on LG Electronics Smart TVs.
Another blossoming partnership is with Aktiv Solutions, which offers immersive Xponential exercise experiences for hotels and resorts, corporate campuses, universities and high-end multifamily housing properties. Xponential has also brought its boutique fitness approach to the high seas, striking a deal with Princess Cruises.
Courtney Rehfeldt
Courtney Rehfeldt has worked in the broadcasting media industry since 2007 and has freelanced since 2012. Her work has been featured in Age of Awareness, Times Beacon Record, The New York Times, and she has an upcoming piece in Slate. She studied yoga & meditation under Beryl Bender Birch at The Hard & The Soft Yoga Institute. She enjoys hiking, being outdoors, and is an avid reader. Courtney has a BA in Media & Communications studies.