UBX Is Latest Boutique Fitness Brand To Offer 24-Hour Access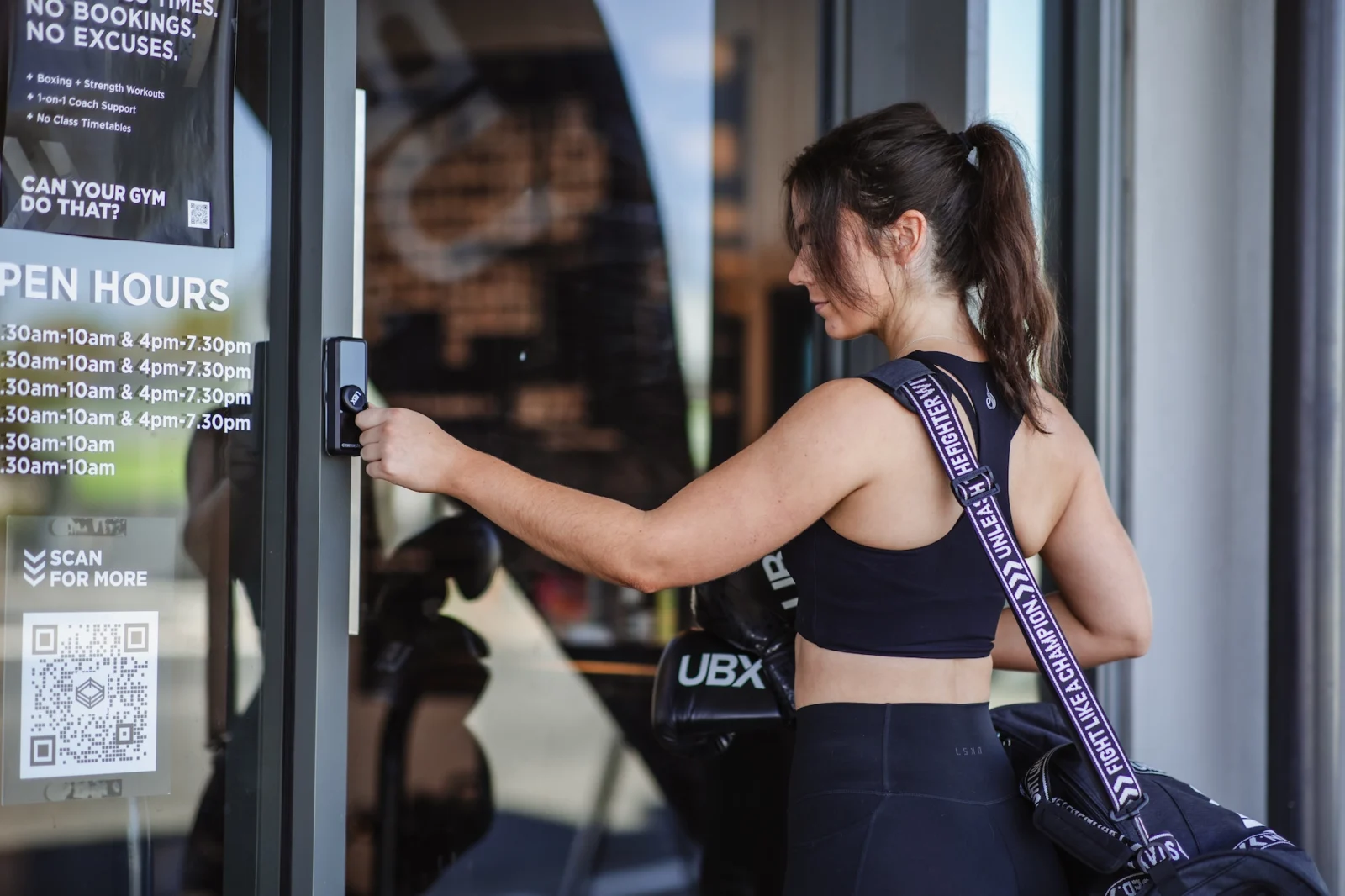 credit: UBX
The boxing franchise has adopted a 24/7 model where members are self-directed using screens
Australian boutique fitness franchise UBX now offers "Extended Access" so fitness members can train outside traditional staffed studio hours using their member tag as a key. It's a move UBX says elevates the experience of its members while also increasing retention and franchise revenue.
UBX's new "training freedom" model comes on the heels of an excellent year for the boxing franchise, including its expansion in four new countries, a partnership with Warner Bros Pictures and Universal for "Creed III" and a noteworthy deal with Adidas Combat Sports.
Tim West, who co-founded UBX in 2016 with world champion boxer Danny Green, emphasized the common challenges boutique gyms confront due to high labor costs, which lead to facilities often opening just for a morning and afternoon shift during the week and a Saturday morning shift on the weekend.
"They're actually shut more than they're open," West noted. "We knew members would train more regularly if they had more access to the gym, so we created a system that can deliver a highly engaging and effective workout even outside of staffed hours. And the more that we can continue expanding on the value we give to our members, we know the more likely we are to retain them and nurture strong advocates of our brand."
The 24-hour extended access model is now available at select UBX locations. For a limited time, UBX says new "franchise opportunities" will receive a $10k incentive to enable extended access at their gym.
Studios Embrace Staff-Free Hours
The new self-service fitness approach allows UBX members to drop in and work out on their own schedule using coaching screens offering workout guidance through the 12-round boxing and strength circuit with demonstrations, reps and heart rate zone indicators supported by Myzone's technology. If unable to visit a UBX gym, members can use the on-demand workout app with the same boxing and strength exercises as the in-gym training experience.
The low-cost convenient option provides ultimate flexibility to gym members — and it may become a trend that catches on with boutique fitness studios looking to maximize revenue opportunities without increasing staff costs. 9Round Kickboxing, a South Carolina-based fitness franchise, recently unveiled '9Round 365,' a similar model that relies on screens to encourage members through their workouts with a 24/7/365 "drop in" concept.
UBX Eyes Global Growth
Earlier this fall, UBX launched in Japan with three locations in Tokyo, adding to its existing global portfolio of locations in Australia, New Zealand, Singapore, Ireland, the U.K. and the U.S.
The fitness brand aims to exceed 500 gyms in the next five years, projecting 3,000 in time.
UBX's master franchise partnerships, as seen with Prova Group and Empowered Brands, have resulted in rapid expansion. Empowered Brands signed on with UBX to open 250 gyms across the U.K. and the Republic of Ireland within the next five years, as its chairman, Pietro Nicholls, noted that the "predictability" of the UBX franchise model makes it an "attractive prospect to franchisees."
With Prova Group, UBX will open a minimum of 145 locations in Japan over the next ten years.
Courtney Rehfeldt
Courtney Rehfeldt has worked in the broadcasting media industry since 2007 and has freelanced since 2012. Her work has been featured in Age of Awareness, Times Beacon Record, The New York Times, and she has an upcoming piece in Slate. She studied yoga & meditation under Beryl Bender Birch at The Hard & The Soft Yoga Institute. She enjoys hiking, being outdoors, and is an avid reader. Courtney has a BA in Media & Communications studies.