Recovery Day: Catching Up With Fitness Coach Josh Honore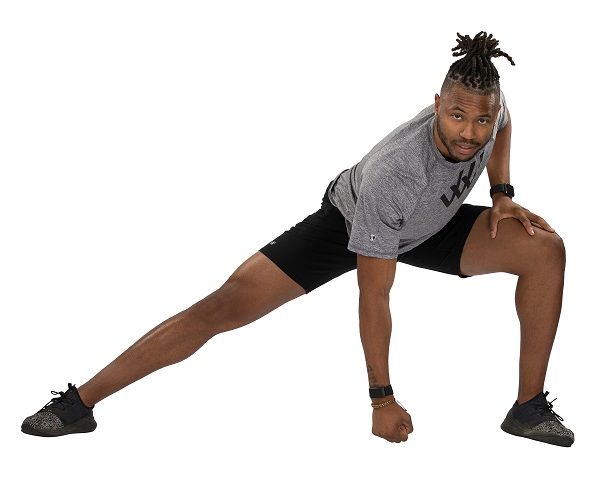 The personal training expert & West Coast native has a fitness philosophy with heart: "I don't just build bodies, I build people."
Josh Honore (NASM CPT and XPRO for STRIDE GO and Row House GO) enjoys espresso, and shares his fitness passion with thousands of followers. He loves that barriers are being broken in fitness, with more women weight lifting and men taking (and enjoying) Pilates and spin classes. He's passionate about fitness and enjoys seeing his clients have personal breakthroughs.
"I don't just build bodies, I build people," Honore notes in his Instagram bio.
Athletech News caught up with the popular fitness influencer and fitness coach as he filled us in on his opinions of fitness trackers, his Sunday recovery days, meditation, and his thoughts on alcohol.
Athletech News (ATN): What's your go-to outfit when not at the gym?
Josh Honore: I actually pretty much wear fitness clothes 24/7. Occasionally on a night out, I may wear jeans and a nice shirt.
ATN: How do you start your day?
Josh Honore: My favorite way to start the day is with an early morning walk and a cup of espresso…absolute heaven.
ATN: When can you actually "relax"?
Josh Honore: Saturday afternoons are when I actually designate time to be lazy. Sometimes that's getting out of town, and sometimes it's napping on the couch.
ATN: What would we find on your Netflix/Hulu favorites?
Josh Honore: LOTS of Planet Earth and a good amount of Rick and Morty.
ATN: How many days do you work out?
Josh Honore: I'm active usually six days a week between my own training and coaching Stride and Row House.
ATN: What do you do on your "off" day?
Josh Honore: Sunday is my "off" day from fitness, and I usually get in a good long walk and work on any aches or boo-boo's my body has accumulated from the week.
ATN: When you are injured, how do you manage your inability to workout?
Josh Honore: When aches build up to where I am forced to take a step back, I dive deep into the activities that reinforce my foundation of movement. I double down on rest and mobility to restore my body and give it some needed pampering.
ATN: How much sleep do you get? 
Josh Honore: When I get to bed on time, I average about 6-7 hours a night in bed.
ATN: Yes or No to fitness trackers? Data friend or enemy?
Josh Honore: LOVE data trackers (especially Whoop). I love to see how even subtle lifestyle habits can translate to big payoffs in training and overall well-being. I DO NOT think trackers are for everyone. I think feeling good about your lifestyle is more important than obsessing over the data.
ATN: How healthy are you really?
Josh Honore: I try to build habits that translate to longevity, so I think I'm pretty healthy. I could probably eat a bit more veggies though, haha.
ATN: What does your food shopping/prep look like?
Josh Honore: I usually Instacart my essentials on Saturday or Sunday and then prep my staples in bulk for the week on Sunday. I calculate my general macros and then portion appropriately.
ATN: Coffee or Tea? What type of Coffee? How many cups?
Josh Honore: Coffee in the morning and tea occasionally in the evening. I'm a huge fan of espresso and recently invested in a fancy home espresso machine.
ATN: What are your thoughts on alcohol?
Josh Honore: I think alcohol could possibly be one of the most chaotic substances when it comes to fitness. The unseen drawbacks are rarely worth the temporary indulgence. That said, It happens. I believe fitness is about building a balance that makes us happy as we live life…so we must live life and let loose from time to time.
ATN: Do you have a vitamin and/or supplement regimen?
Josh Honore: Every morning I drink Athletic Greens. Game changer for me personally. I also regularly supplement protein and creatine as they are backed by extensive research to be beneficial with very little drawbacks if any. Occasionally I will take Sleepy Bear Gummies to really boost my sleep and recovery.
ATN: What are some of your greatest indulgences?
Josh Honore: Meditation has been a fantastic tool for me. Sometimes that is sitting with breathwork, but most often it's long walks listening to music that feeds my soul. I LOVE getting my hair done and getting manicures and pedicures. Also the occasional spa day.
ATN: Do you have a therapist? 
Josh Honore: Fortunately for me, my mother was a therapist as I was growing up. I also have my own therapist that I see regularly.
Courtney Rehfeldt
Courtney Rehfeldt has worked in the broadcasting media industry since 2007 and has freelanced since 2012. Her work has been featured in Age of Awareness, Times Beacon Record, The New York Times, and she has an upcoming piece in Slate. She studied yoga & meditation under Beryl Bender Birch at The Hard & The Soft Yoga Institute. She enjoys hiking, being outdoors, and is an avid reader. Courtney has a BA in Media & Communications studies.