A 'World-Class Gym on Wheels:' Randy Hetrick Has Big Plans for OutFit Training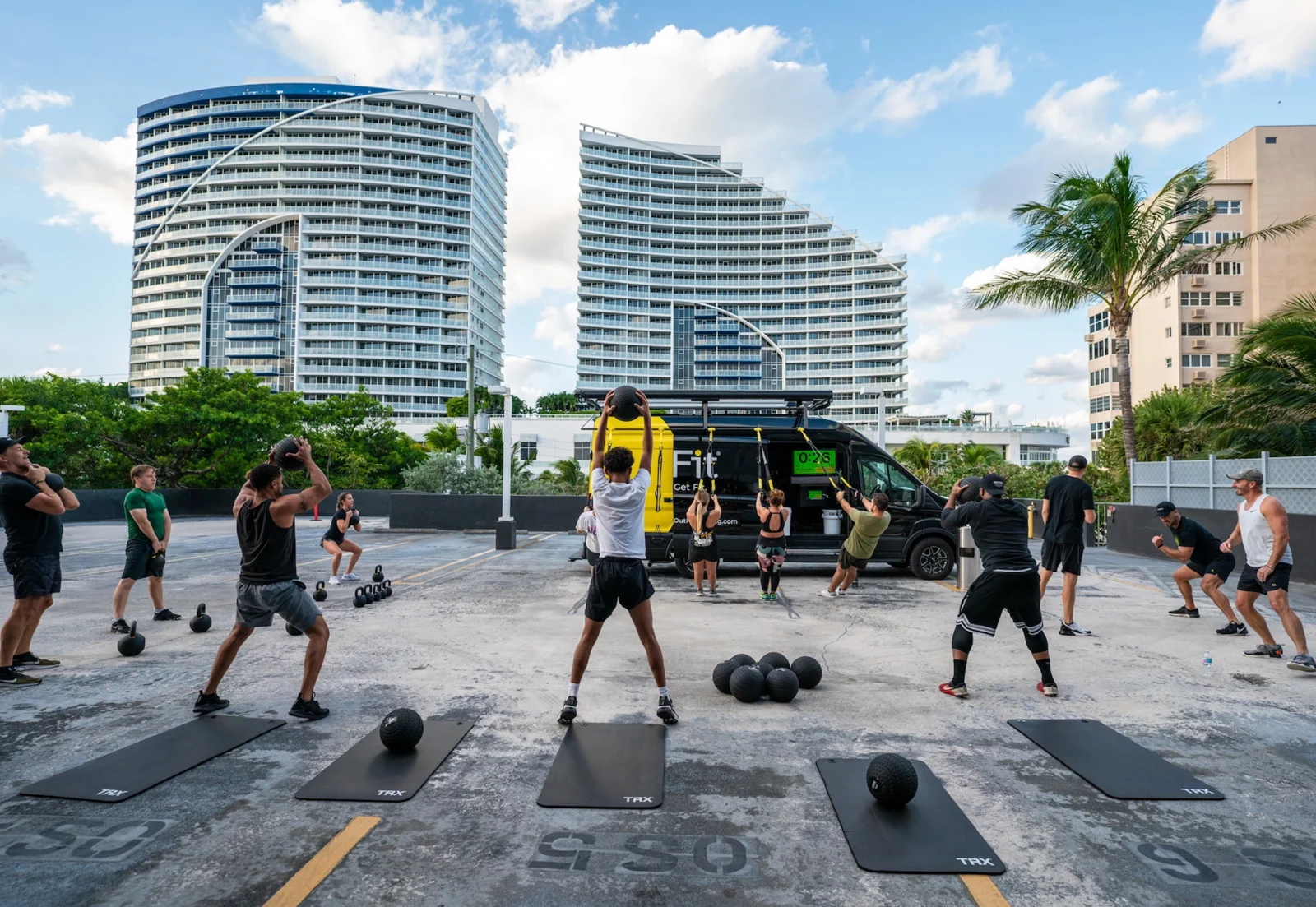 credit: OutFit Training
The TRX founder has begun franchising his next big fitness business idea: outdoor workouts enabled by modern tech
Randy Hetrick knows a good fitness business opportunity when he sees one. He also knows how to build a company from the ground up.
Hetrick, a former Navy SEAL who started TRX from his garage and turned it into a functional equipment giant, believes he's found the next big white space in the fitness market: outdoor workouts enabled by modern tech.
A couple of years ago, Hetrick started OutFit Training, a concept that offers interval-style strength training workouts led by expert instructors, all staged out of vans parked in the great outdoors and packed with TRX functional training gear, flat-screen TVs and thumping sound systems.
"Think of OutFit as a world-class gym on wheels," Hetrick tells Athletech News about his new company, which just started franchising. "Each unit has enough equipment to train up to 100 people at a time, although most classes are similar to other group fitness classes, so around 15 to 25 participants."
Hetrick first got the idea to start a mobile outdoor fitness company around a decade ago, when he was still running TRX. Around that time, the equipment maker did a brand activation called "TRX On Tour" in which trainers drove a van around the country and conducted outdoor group fitness classes to promote TRX products and workouts.
"Every time we ran it, we had people coming up asking us if they could work on one of the TRX On Tour units or asking if it was a franchise," Hetrick recalls. "I was really intrigued by the opportunity, but if you think back 10 years ago, there was none of the tech that would be required to scale that kind of business."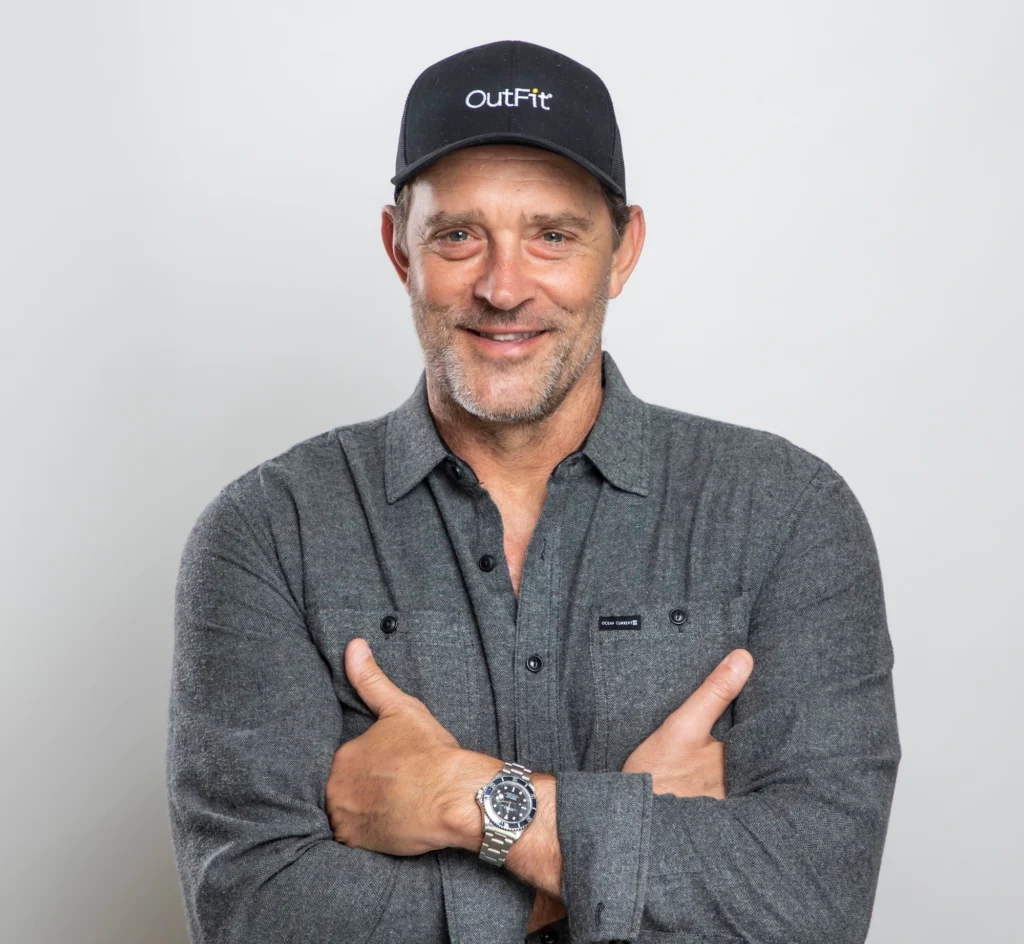 Over the next decade, as direct-to-consumer apps proliferated and business software became ever more impressive, Hetrick grew convinced that technology was advanced enough for him to run and scale his outdoor training idea.
When the pandemic came and caused outdoor fitness to become more popular than ever, Hetrick knew the timing was finally right to go all-in. He created OutFit in 2021 and spent much of that year forming a team and building out all of the assets needed to launch the business to the public, including, most notably, a highly sophisticated tech stack. OutFit's secret sauce is its sleek and functional consumer-facing app, which allows customers to find a training van in their area, book classes and browse workouts all on their smartphone.
"If you think about OutFit's tech, it's kind of a mashup of the capabilities of a rideshare service like Uber – that's the geolocation and mapping piece – and also something like Mindbody where you have online registration, scheduling and billing," Hetrick explains. "We've (also) brought some social engagement features into our app, although we're in the early stages of personalization."
OutFit plans to add features to its app including gamification, status rewards and the ability for users to look back at their workout history.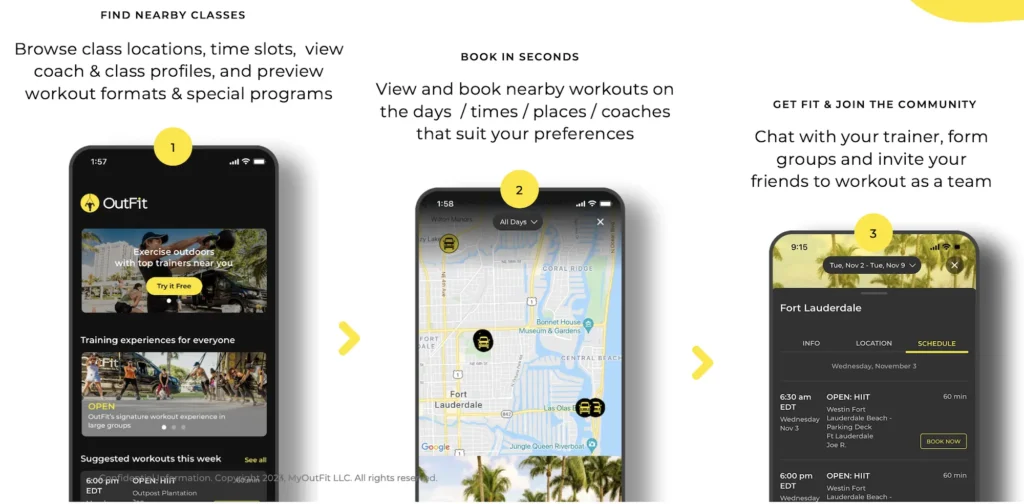 With the tech in place, OutFit went live in the South Florida area in 2022, launching a corporate-owned fleet of vans to test its outdoor training concept before opening it up for franchise sales.
"My feeling after having been in the industry for a long time is you can't be a great franchisor until you've been a franchisee and eaten your own dog food," Hetrick explains. "We ran the corporate market for about 18 months and it's been great, we have unbelievable subscription metrics. Our members are crazy about the service."
Encouraged by that success, OutFit started selling franchise licenses at the beginning of Q2 of this year, so it's still early days for the brand. Hetrick shared that OutFit recently sold its first multi-unit deal to a group in Atlanta and has several other agreements in the pipeline, including one with a group in Northern California. 
The early success comes despite OutFit having yet to spend any money on marketing.
"I'm looking forward to ramping up our marketing spend as we begin to scale," Hetrick says.
OutFit's chief selling point to consumers is that it's an affordable way to engage in group fitness classes or personal training sessions in an outdoor setting while being coached by top instructors. OutFit's signature membership option features unlimited group classes for just $100 a month. 
"You could come 30 times if you wanted to and pay $3.50 a class for expertly coached outdoor boutique group fitness," Hetrick notes. "Even if you only come a few times a week, you're looking at something under 10 bucks in class, which is pretty phenomenal for a boutique experience."
OutFit also offers more expensive private memberships for small group training and personal training classes. It further offers a "custom" service where large groups like businesses, schools and sports teams can essentially rent out a van and engage in a workout of their choosing.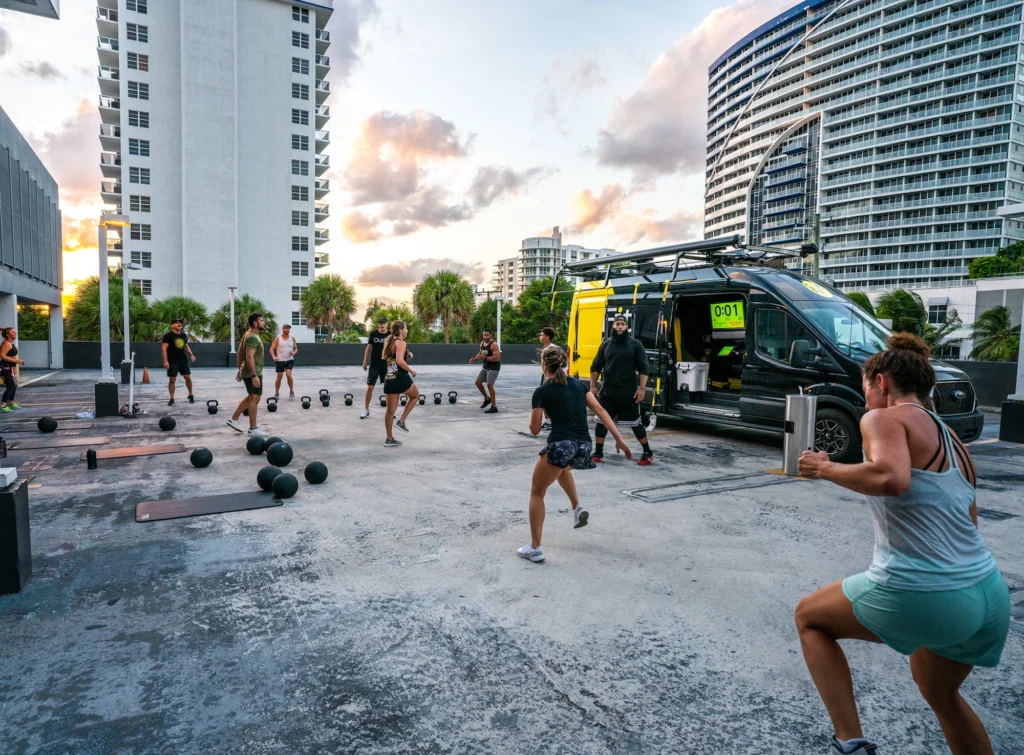 For franchisees, OutFit is a relatively low-cost way to own a fitness business. Franchisees can get started with their own Outfit van for a total buy-in of less than $100,000. That's far cheaper than the start-up costs for most boutique fitness brands, which can stretch into the many hundreds of thousands and even top $1 million.
Due to OutFit's low-cost model, Hetrick anticipates that many of the company's franchisees will be fitness professionals and/or veterans, who are often entrepreneurial but are usually priced out of modern-day fitness businesses.
"Most of the groups that own fitness franchises are investor groups with pooled capital from LPs," Hetrick says. "There's nothing wrong with that, and we certainly expect that we'll have some of those in our system. But I started TRX out of my garage after a career as a SEAL with no money, so I have a real affection and respect for entrepreneurs that want to build businesses for themselves and their families."
OutFit projects that each van has the potential to do around $400,000 in top-line revenue a year, which would allow franchisees to quickly break even and start earning a profit given the low initial buy-in and what Hetrick says are relatively low operating costs.
"The economics are pretty incredible because the expenses are so low from buy-in to your monthly operating expenses," he says. "It's a relatively low-risk deployment of capital, rapid breakeven and then you're investing in a unit that has impressive revenue potential."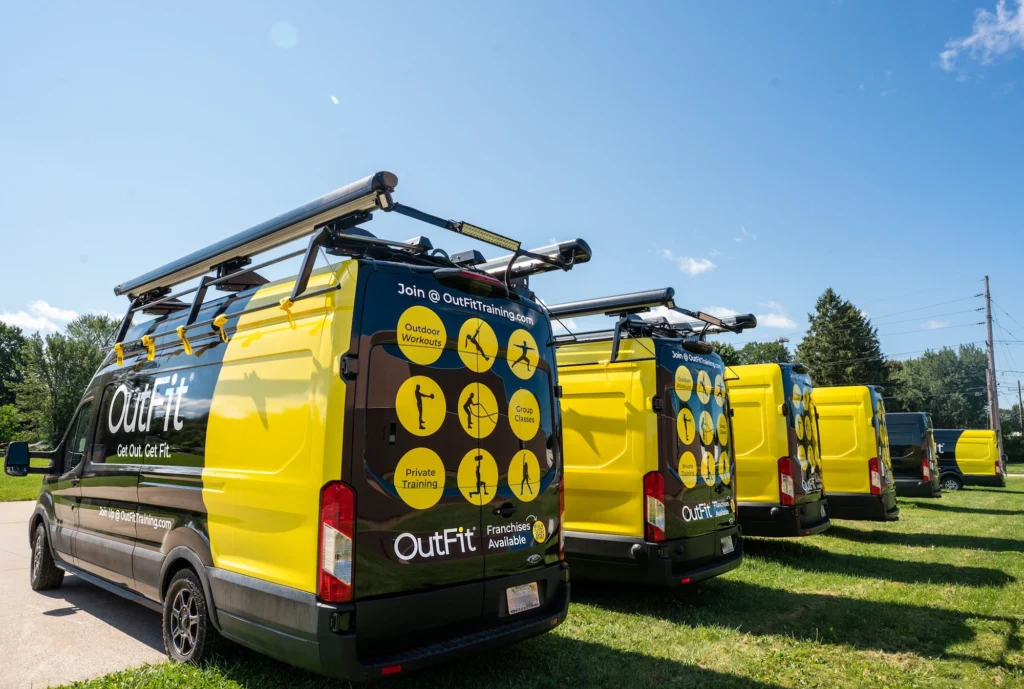 Another important aspect of OutFit's mission as a brand is to give back. Taking a page out of the TRX playbook – the functional equipment brand offers discounts and other deals for active and former military members – OutFit will offer free memberships for first responders and their families.
"It's an organic, authentic way to get members of the police service, fire service and EMT out there working out with the citizens in the communities they serve," Hetrick says. "It's something we think is pretty special and we're excited to continue it as we scale."
As it looks to scale, OutFit plans to focus on growing its franchise footprint in the Southern and Western parts of the U.S. (and potentially Canada) for at least the next few years, where the climate is more hospitable to doing outdoor fitness year-round. 
That's not to say OutFit won't ever expand to the Northeast and Midwest, but snow-heavy locales aren't in the cards just yet.
"We're going to start with everything south of the Mason-Dixon Line and then look north on the Western side of the country," Hetrick says. "There's a couple hundred million people in that area, so you can build a decent-sized business on that."