Keeping it Legal – Why Fitness Companies Need Licensed Music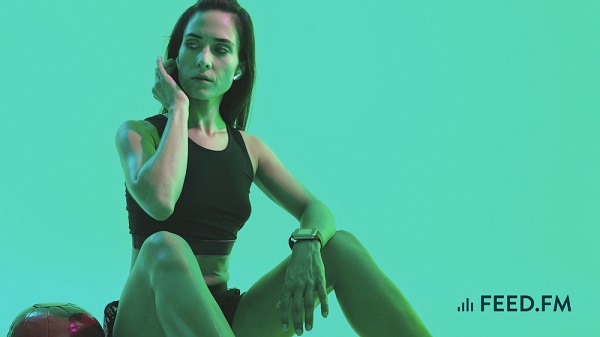 Feed Media Group shares insight on how fitness brands can feature popular music without the worry of legal ramifications with its truly 'plug and play' solutions.
Music and fitness go hand-in-hand.
The boost a workout derives from a good song with a pulsating beat can be as essential as an engaging workout routine itself. In fact, 93% of people say music makes or breaks a workout. But what many fitness businesses and trainers either fail to understand (or blatantly disregard) is that using music without properly securing its rights can lead to lawsuits and damage to your brand down the road.
With the industry booming amid the pandemic, the need for B2B music providers has swelled as well.
In response, industry leader Feed Media Group (FMG) has taken the lead in helping businesses license popular music for use in their digital apps. FMG's proprietary streaming platforms and SDKs deliver pre-cleared music—compiled by the industry's best curators—complete with user analytics, and payments to rightsholders. Feed.fm powers music for the world's leading fitness brands including Mirror, Nautilus, FightCamp, Class Pass, and Tonal; and up-and-coming startups use Adaptr to create new music-based experiences.
No one wants to get a call from a lawyer letting them know they are in copyright violation. FMG protects its partners from those encounters by fully indemnifying them for music usage. We all know it can be overwhelming to navigate the rules and regulations of the music industry, and FMG makes it easy (and affordable) for any business to comply with these licensing requirements.
Here are some key points that fitness businesses should consider when deciding to integrate music into their apps and sites, as well as tips and solutions to the common challenges many brands face.
Legal issues are hard to navigate—but don't have to be
Fitness businesses and digital brands have two options to gain assurance that they are using popular music legally:
Go directly to rights-holders for permissions, navigating complex, time-consuming negotiations with music labels and publishers.
Team up with a B2B solution like Feed.fm, using pre-cleared music, compiled by industry curators, and receive user analytics and legal indemnification.
Intersecting music licensing and tech has given FMG a competitive advantage because it has become a specialist in offering a solution to music licensing, removing red tape so users don't have to.
"You can go out and learn the rules and regulations and one-by-one communicate with rightsholders to sort it all out. The benefit to Feed.fm is that we are doing this every day, we have the relationships in place. It's a plug-and-play solution that allows you to do what you do best," Jeff Yasuda, CEO & co-founder of FMG, said.
Copyright infringements can be costly
When companies neglect to account for music licensing, they can be held responsible for copyright infringement, and even the biggest entities aren't exempt. "You have to be properly licensed to use music, period. You can't just do it. In the past, there have been several fitness players that have played a little fast and loose around licensing, and that did not end well," says Yasuda.
He's right. In 2019, Peloton was forced to settle a $370 million copyright infringement lawsuit for using music during on-demand and live-streamed workouts. And just this summer, Gymshark was sued by Sony Music for copyright infringement, alleging that the athletic apparel company misused hundreds of Sony Music's songs in its ads on social media.
Companies like FMG simultaneously protect businesses and the valuable catalogs of artists and songwriters while developing important relationships that support innovation, success, and sustainability in music and technology.
Perhaps most importantly, the B2B music provider offers peace of mind.
Music licensing laws are always changing
As technology evolves, questions arise about best practices for properly licensing music. Sometimes innovations are so cutting-edge that existing rules and regulations haven't yet caught up. Feed Media Group acknowledges and honors this aspect, ensuring that the company is acting responsibly.
"We are constantly talking to rightsholders, we are talking to the labels, publishers, and other parties asking them about their view on music usage in certain technologies and use cases to make sure we are compliant, and therefore our customers are compliant. It's critically important that you have constant communication and frequent communication with the rightsholders so that there aren't surprises. It is not only about compliance. It's about building relationships based on trust," Yasuda says.
By using open communication, FMG stays ahead of the curve and says in the event of litigation or preceding, it incurs the fees, lawyers, and potential damages that may arise.
The company is also expanding its global strategy, as many fitness businesses have a worldwide presence. Since music rights are unique to each country, this can pose a big challenge to any company looking to stream music internationally, says FMG.
Whether a fitness business or digital brand is established or just getting started, music integration can be time consuming and tricky. The best solution is partnering with a platform like Feed.fm, which has the licensing rights covered, the best and most popular songs, professional music curators, and a guarantee that they will be there in the unlikely case problems arise.
If a company is contemplating B2B music services, Yasuda says, "Don't cut corners. If you want to use known popular music, you have to go about it the right way. You can do direct deals with the labels, you can choose not to use music, or you can use stock. The other solution is to work with Feed Media Group. We specialize in music licensing for fitness business and provide a streamlined end-to-end solution."
Doing things the right way means respecting the business of music. "Be careful, take it seriously, respect the copyrights of the artists you know and love, and work within the rules," Yasuda advises.
While Feed.fm offers a music solution for businesses, Yasuda says it also helps contribute to a healthier society. "Macroscopically, it feels good to be able to do something to make it easier for fitness companies to help people get healthy. Fitness and diet remain the No. 1 way to improve major health issues like diabetes and hypertension, things that are affecting millions of Americans. To be involved in a small way of people getting healthier and fitter–that feels good," he says.