FitNation 2022 Discusses Fitness Industry's Place Outside Itself and More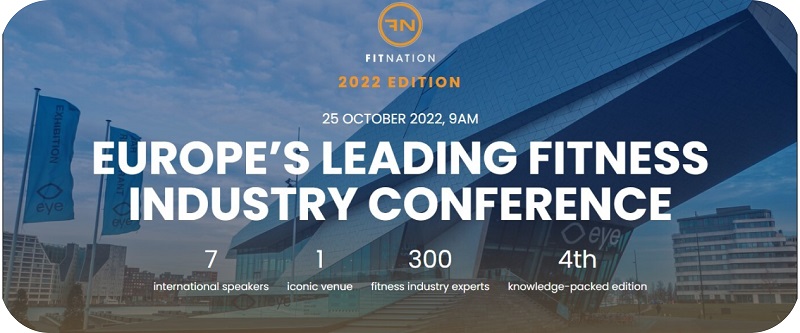 This year's FitNation conference in Amsterdam tackled fitness as a piece to a greater whole for societies all over the world. Another topic discussed during the annual event, which was held on Oct. 25, was the fitness industry's current status in relation to the world's current economy.
The latter part of October ended on a strong note in part to this year's FitNation conference. The annual event took place in Amsterdam at the Eye Film Museum to inspire and educate nearly 300 fitness and health guests through seven international speakers, including ultratrail runner Anne-Marie Flammersfeld, EuropeActive CEO Andreas Paulsen, and distinguished nutrition scientist-author Dr. Samefko Ludidi. Dr. Ludidi, who was the host of FitNation 2022, moderated the panel discussion regarding the global economic crisis and its effects on the fitness industry.
The key message from FitNation 2022 focused on a need for the global fitness industry to reach out to outside communities in an effort to bolster the fitness industry as a whole. Paulsen indicated that many governments have recognized the significance of fitness in the lives of the people since 2021. Due to the growing demand for fitness services, Paulsen spoke on strategy building in order for fitness clubs to become a "third space" for people seeking to lead healthy lives. Digital strategies and optimal connectivity would be key factors in leading this change.
Fellow panelist Patrick Rijnbeek, Director of NL Actief, added accessibility as a third element of consideration in this initiative, particularly highlighting those with disabilities and others who may not be able to afford a gym membership. Aligning with groups catered to both of these demographics, according to Rijnbeek, is critical to ensuring more people can get the fitness and health benefits they seek regardless of any disability or financial status.
FitNation 2022 guests were also treated to hearing keynote speaker Bryan O'Rourke's presentation on technology innovation and change and the future of health and wellness. O'Rourke, who is both the founder and the CEO of venture capital firm Vedere Ventures and the CSO and partner at Flywheel Group, stressed why fitness brands should embrace being a part of communities and put a spotlight on the concept of "prosumers," or modern consumers as producers.
With FitNation 2022 now over, plans for FitNation 2023 are being drawn up, with a date also being set for October 12. Further information for the next year's event can be found on the FitNation website.
Candace Cordelia Smith
Candace Cordelia is a Pennsylvania-based journalist and on-camera broadcaster/host, with a reporting background in wrestling, entertainment, and lifestyle. Her reporting work has been featured on websites and in publications such as Bustle, Pro Wrestling Illustrated, New York Daily News, am New York, ABC News, Yahoo!, Good Morning America, Madame Noire, Sister 2 Sister, etonline.com, Diva Dirt and The Everyday Fan. Her favorite workout influencers include Chloe Ting, Cassey Ho, Pamela Reif and Mary Braun. She still can't stand burpees and Rebbl Dark Chocolate Immunity Elixir is one of her favorite post-workout protein sips. You can follow Candace on Twitter @CandaceCordelia and on Instagram @thatgirlcandace16.