Chris Hemsworth's Centr Unveils Comprehensive Wellness Strategy
credit: Centr
From app content to fitness kits and equipment, Centr is building a health and wellness ecosystem that blends physical and digital
Centr, the health and wellness platform founded by Chris Hemsworth, is embarking on a new chapter, looking to evolve its brand into a one-stop hub for its members to access all physical and digital resources needed to fuel them on their wellness journey.
Earlier this summer, Centr centralized its workforce in the U.S. and partnered with longevity-focused Lifespan.io to rev up the development of interventions to fight age-related diseases and promote longer lives.
Most recently, Centr introduced a new product line that ties into its digital training offerings. Now, Centr will roll out a "Functional Movement Challenge," introducing functional strength training to members. 
The program will promote stability and mobility while utilizing Centr's new equipment and accessories and will include four 30-minute workouts each week, ranging from intermediate to advanced fitness levels. While dumbbells are required for the 30-minute sessions, members can intensify the workout using new products such as sandbags, slam balls, fabric bands and slide discs. 
To track progress, members can take a functional test to monitor their strength, mobility, locomotion, coordination and balance as they go through the program.
A New Approach to Interconnected Wellness
Centr has built a holistic approach to wellness with its products and guidance team of trainers, nutritionists and mindfulness experts, so members have all bases covered on their journey to optimal health and wellness. The app, which offers personalized plans that span workouts, meal planning and mindfulness, can also integrate wearables. 
It's an approach that has resulted in success for the A-list actor and founder.
"Early on in my career, I experienced the power of interconnected fitness, nutrition and mental wellness and how these pillars worked together to help me perform at my absolute best," Hemsworth said. "Centr has always offered exceptional digital content and guidance, and is now taking it a step further with best-in-class equipment to help everyone seamlessly reach their goals by giving them all of the tools to get there."
After being acquired by HighPost Capital early last year, a deal that also included the purchase of equipment marker Inspire Fitness, Centr hired Andrew Sugerman as its new CEO. The former Walt Disney Company executive has made Centr's mission clear: to enable members to achieve balance across movement, meals, mind and motivation while democratizing wellness. 
In a recent interview with Athletech News, Sugerman gave a glimpse into what's ahead for Centr, hinting that the health and wellness company is working on a product line designed for competition-level athletes, which will be revealed in the coming months. In 2023, the company is focusing on at-home products, but Sugerman told ATN that Centr will be exploring "broader commercial opportunities."
Blending Physical Products With Digital Content
Centr's fitness accessories, now available in the U.S. and Australia, will soon launch in additional locations and were designed to offer versatility for at-home fitness, gym-based workouts or a "fitness anywhere" approach. The four kits, available exclusively on Walmart's website and in 3,000 of its stores, are themed for targeting core, strength, all-in-one workouts and recovery. However, fitness consumers can also purchase the accessories individually to meet their individual needs.
Aside from the new kits, Centr offers fitness products ranging from slam balls, slide discs, push-up bars, body weight training straps, battle ropes, massage roller sticks, pull-up bars and yoga mats.
In addition to its fitness accessories, Centr has also introduced home gym functional trainers, such as the Centr 1 Home Gym, a 160-pound single weight stack, the Centr 2 Home Gym, a dual 165-pound stack and the Centr 3 Home Gym, a dual-weight stack with a Selectorized Smith Bar.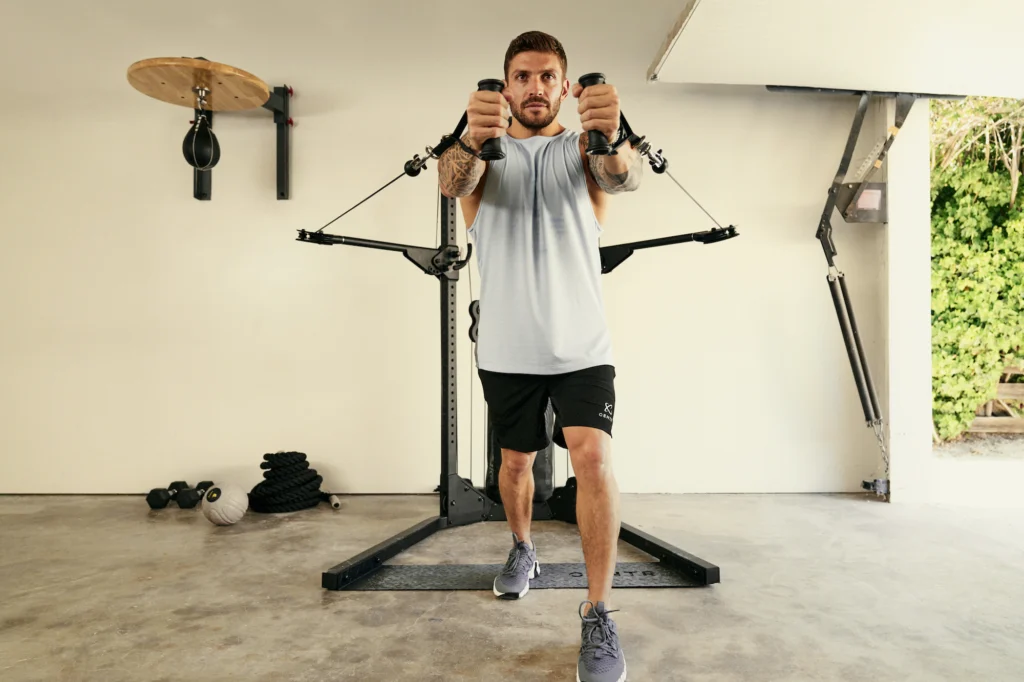 Centr's kits, accessories and equipment come with a complimentary three-month digital membership.
"The launch of Centr's physical product line marks an incredibly exciting milestone for the company as we're entering a new category of health with state-of-the-art fitness equipment in the U.S. and abroad," Sugerman said. "Since merging with Inspire Fitness, we've been committed to developing a premium selection of products that complement Centr's unparalleled digital content, fulfilling our mission of making health and fitness accessible, achievable and fun for everyone."
Courtney Rehfeldt
Courtney Rehfeldt has worked in the broadcasting media industry since 2007 and has freelanced since 2012. Her work has been featured in Age of Awareness, Times Beacon Record, The New York Times, and she has an upcoming piece in Slate. She studied yoga & meditation under Beryl Bender Birch at The Hard & The Soft Yoga Institute. She enjoys hiking, being outdoors, and is an avid reader. Courtney has a BA in Media & Communications studies.