Alo Yoga Launches Supplement Line, Continuing Wellness Push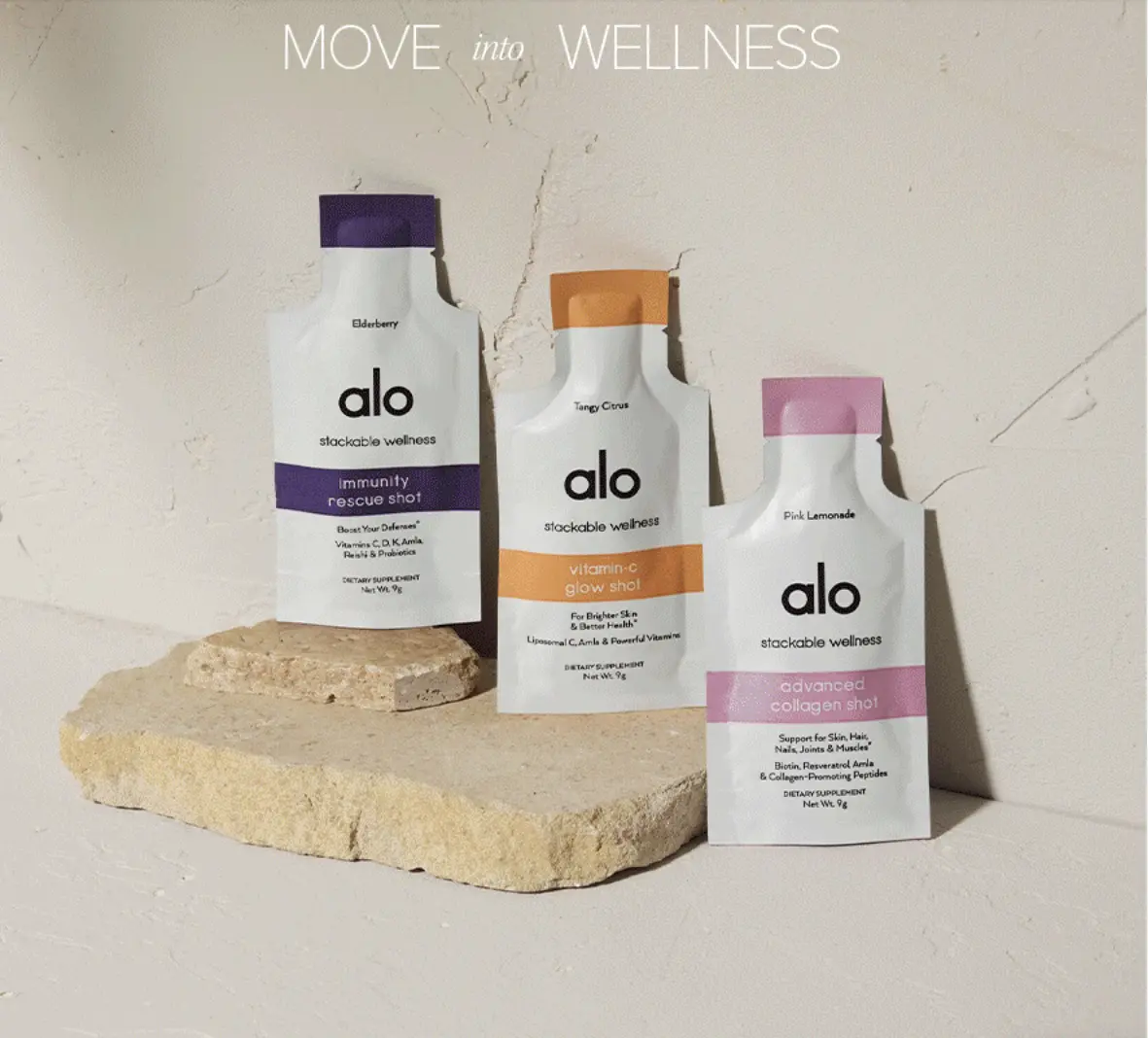 credit: Alo Yoga
The activewear brand is positioning itself to reach all verticals of wellness, partnering with Sephora in addition to releasing vitamin shots
Alo Yoga has mindfully moved into the supplement space, recently unveiling new gel-based ingestible wellness products and partnering with Sephora to launch its beauty and recovery line in stores in early September. 
Perhaps best known as an LA-based activewear brand for yoga enthusiasts, celebrities and social media influencers, Alo Yoga has quickly created a one-stop shop for all things active, including women's and men's apparel, accessories, yoga mats, a subscription-based online wellness platform, essential oils, skin and hair products and now supplements.
The latest addition, Alo's vitamin gel shots, are available in three varieties: Vitamin-C Glow Shot, Advanced Collagen Shot and Immunity Rescue Shot. Boasting bioavailable nutrients for enhanced vitality, immunity and promises of brighter, glowing skin, the daily supplement shots are sourced from the earth with antioxidants, adaptogens, superfoods and vitamin C, and come in packs of either 10 or 30.
The Advanced Collagen Shot gels have resonated with consumers, as both the 10 and 30 packs have sold out. Earlier this week, Alo teased its new drop on social media alongside an image of juicy orange slices, prompting followers to head to Sephora's app for "early access."
The ingestible wellness products have been four years in the making, with Alo carefully selecting ingredients and suppliers and working with leading scientists and nutritionists. In an interview with WWD, Alyson Wilson, Alo's vice president of brand innovation, shared that Alo always intended to push into wellness supplements, adding that "nothing is ever off the table for Alo" when it comes to product creations that support wellness.
By all accounts, Alo is just getting started with its supplement push, with plans to release wellness capsules in January 2024.
"You can expect to see ingestible, among a few other secret projects, quickly be an expansive category for Alo," Wilson confirmed to WWD. 
In addition to the beauty and wellness vertical, Alo entered the footwear space earlier this summer, introducing a unisex sneaker.
Alo Yoga has been on a mission to woo Gen Z and Gen Alpha consumers, and its CEO and co-founder, Danny Harris, has likened the wellness-obsessed company to Tesla, pointing out that its rivals are more like Ford and General Motors. Hitting all verticals and creating an ecosystem of wellness appears to be working for Alo, which, according to Harris, has done over $1 billion in sales in 2022.
Courtney Rehfeldt
Courtney Rehfeldt has worked in the broadcasting media industry since 2007 and has freelanced since 2012. Her work has been featured in Age of Awareness, Times Beacon Record, The New York Times, and she has an upcoming piece in Slate. She studied yoga & meditation under Beryl Bender Birch at The Hard & The Soft Yoga Institute. She enjoys hiking, being outdoors, and is an avid reader. Courtney has a BA in Media & Communications studies.