Sound Check: What Workout Music Tells Us About Fitness Trends, With Feed.fm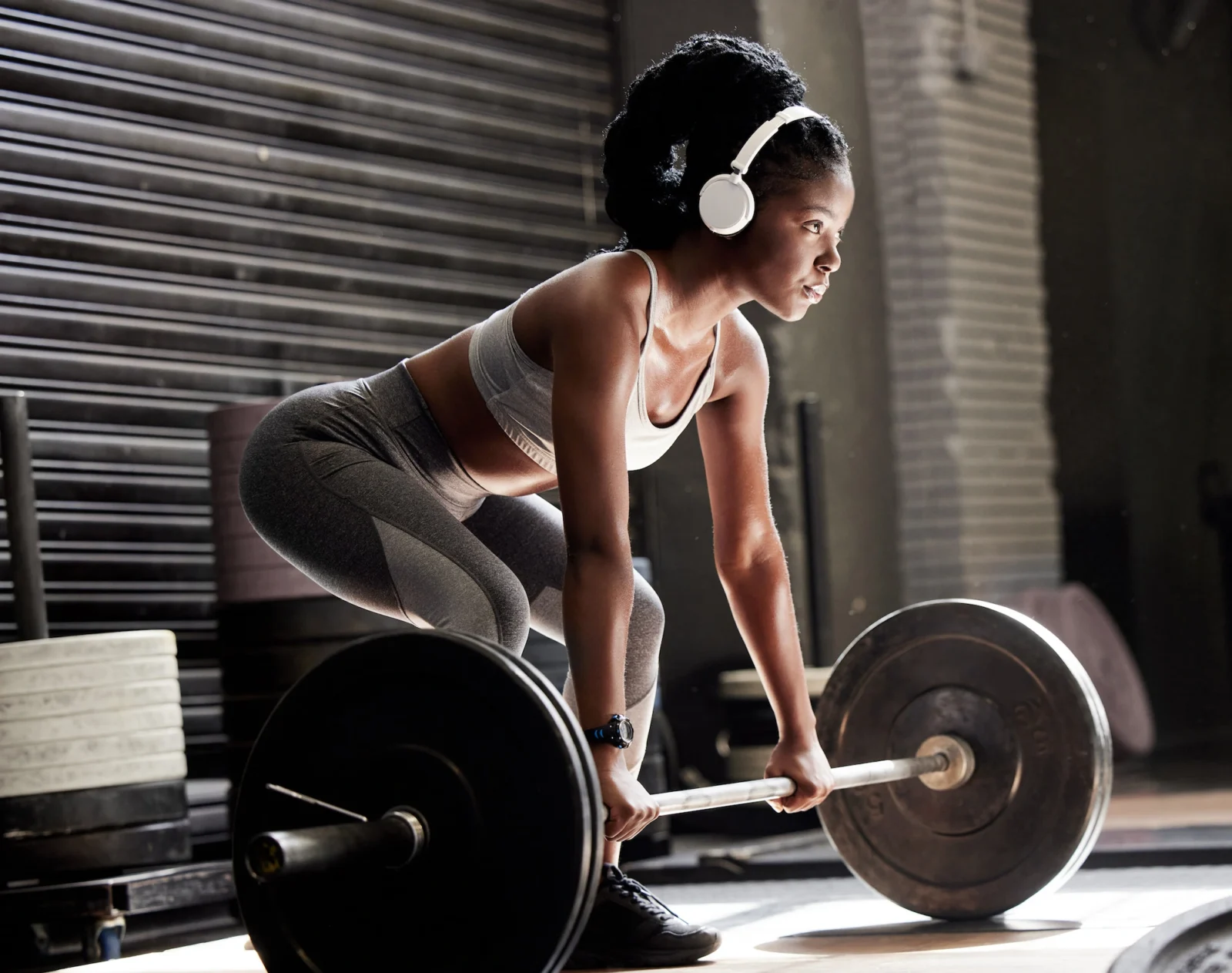 Contrary to popular belief, workout music isn't just a subset of the latest chart-topping songs. Increasingly, it's becoming almost a genre unto itself
For most people, the idea of doing an hour of exercise without music is unthinkable. Music can be a welcome distraction from pain and fatigue, a mood enhancer and an endurance booster.
According to data from Feed.fm, a leading music solutions provider to the digital fitness industry, the music that accompanies our exercise routines can also be a barometer of where fitness and wellness trends are headed.
The Feed.fm platform, which integrates licensed music directly into the apps and connected devices of more than 75 top fitness and wellness brands including Nautilus, Class Pass, BODi Interactive (formerly Beachbody) and Tonal, streamed over 730 million tracks to digital fitness app users in 2022, a 33% increase over 2021.
Serving a large audience through a wide variety of apps uniquely positions Feed.fm's music curation team to be able to aggregate the data and quickly identify trends to deliver effective music stations to their partners. Workout music is not one-size-fits-all. Thanks to solutions like the Feed.fm music API, fitness providers can offer these customized music experiences seamlessly in their apps.
Contrary to popular belief, workout music isn't just a subset of the latest chart-topping songs. Increasingly, it's becoming almost a genre unto itself. According to Mike Savage, Feed.fm catalog development curation manager, some of the best exercise tracks aren't found on Billboard's Top 10. "Malibu" by Kim Petras and "2 Hearts" by Sam Feldt and Sigma made Feed.fm's top 10 workout songs two years in a row despite never appearing on a mainstream top 10 list.
Pop on top
Featuring dance-centric, uplifting music from the last decade, the fitness pop charts are the biggest draw for workouts. Many popular workout songs are pop hits remixed specifically for fitness. Top tracks last year include "Butter" by K-pop band BTS and "Beautiful Mistakes" from Maroon 5 and Megan Thee Stallion. Pop is showing more signs of hip-hop influences including "Montero (Call Me By Your Name)" from Lil Nas X, and "Kiss Me More (feat. SZA)" from Doja Cat. Pop is also starting to sound a little more anti-establishment punk in tracks like "Stay" by The Kid LAROI and Justin Bieber, and "good 4 u" by Olivia Rodrigo.
In 2022, pop music maintained its position as the most-streamed genre, with almost 40% of the total, but compared to 78% in 2021. It's losing traction to ambient and throwback stations which each grew to 15% of the total this last year.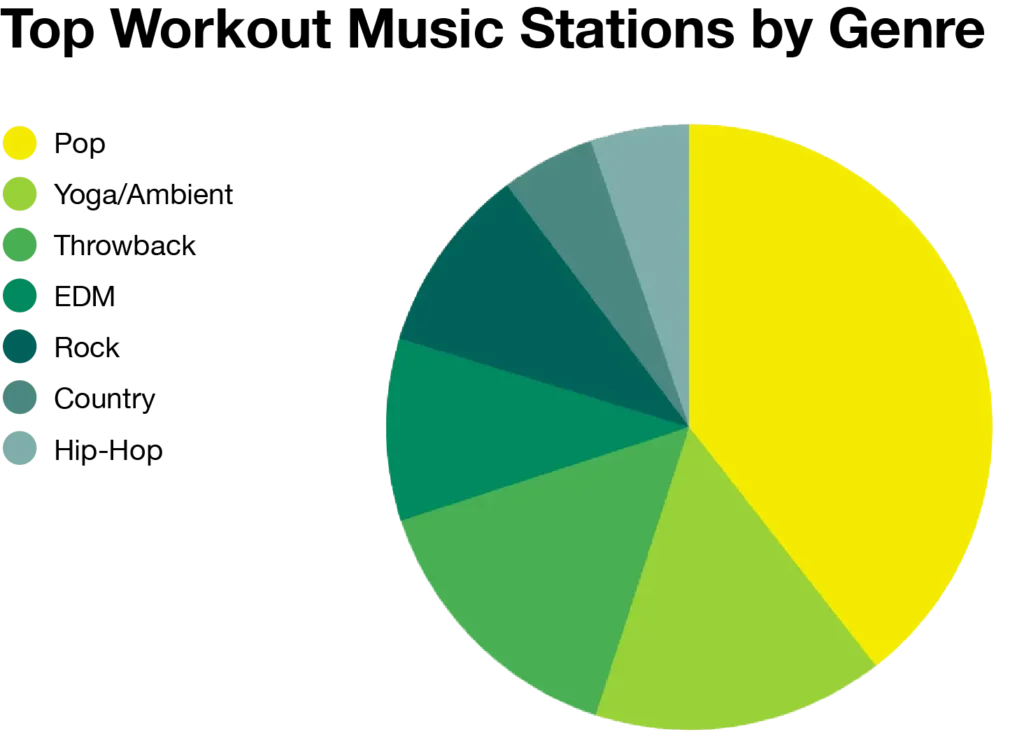 Ambient
This genre's popularity is no surprise given the growing devotion to yoga, pilates and the burgeoning meditation-based wellness segment. Characterized by gentle, flowing ambient music with subtle or no vocals, ambient music is also great for relaxing, stretching and cooldowns. The ironically titled "Shallow Breathing (feat. Makk Mikkael)" by Alex Lustig and "Limitations" by East Forest were in this category's top 10 in 2022.
Sweating to the Oldies again
Richard Simmons had it right! Throwback music and stations inspired by specific decades of yore collectively grew threefold from 5% of streamed tracks in 2021 to 15% in 2022. With Tik Tok bringing lots of oldies into people's consciousness, we can expect this trend to continue.
Soundtracking the workout arc
Not only is it important to use music that inspires and motivates, it's also important to have the right music for each phase of the workout.
The most effective warmup music has a tempo of less than 110 BPM (beats per minute) and inspiring lyrics, like "I Don't Care" by Ed Sheeran and Justin Bieber, and "Outside" by ZAYN.
Most exercise activities involve a mixture of mid-intensity and high-intensity segments. During the mid-intensity part of the workout, trainers can increase BPMs to 110-125 with "Take You Dancing" by Jason Derulo. For a steady high-intensity phase with BPM consistently above 120, "Chain in My Heart" by Topic and Bebe Rexha or "Tick Tock" by Clean Bandit and Mabel Wild are favorite options.
To cool down, listening to a calming piece with a chill beat of less than 90 BPM can help lower heart rates and encourage deep breathing.
Keepin' it clean
Beats per minute, catchy melodies and inspiring lyrics are only part of the story. With more people working out at home and an increase in children's fitness, many of Feed.fm's fitness partners fall in the PG/PG-13 category, so explicit (profane), suggestive or violent lyrics are deal breakers, and the demand for appropriate songs is stronger than ever.
Click here for the full 2022 Feed.fm report
Predictions for 2023
Which music will make hearts beat faster and abs crunch better in 2023? Savage said he sees rising interest from Feed's clients for Alt-R&B/Neo-Soul music from artists like Blood Orange, SAUKT, Jamila Woods and others. The easy tempo of these songs makes them a growing favorite for warmups and cooldowns. He also predicts that "Unholy," Kim Petras's duet with Sam Smith, will make it to the 2023 top 10 charts.
Of the one billion tracks Feed.fm expects to stream in 2023, sleep and relaxation music are forecast to grow right along with the wellness movement they're part of. Fitness apps can be holistic digital environments providing clients and trainers with a supportive, calming setting that reduces stress and enhances the effectiveness of fitness and wellness programs between workouts.
One of the fastest-growing genres is music with Latin influence.
"There's more Reggaeton in fitness than ever before, propelled partly by the dominance of Bad Bunny," said Feed.fm's curation director Eric Stensvaag.
Songs in Spanish from Rauw Alejandro and Karol G also climbed the Feed.fm charts in 2022, driving a trend that is expected to gain even more traction this year.
Popular workout music has staying power. Some fitness music experts believe this is due to the positive association created in the exercise experience. Whether it's because they boost endorphin production or are just great songs, many of last year's top 10 tracks have been around for at least two years, and the songs climbing the Feed.fm charts now will keep us moving for a long time.
Feature image in this article is courtesy of Feed.fm