SoulCycle Throws Down the Gauntlet & Offers Classes in Exchange for Peloton Bikes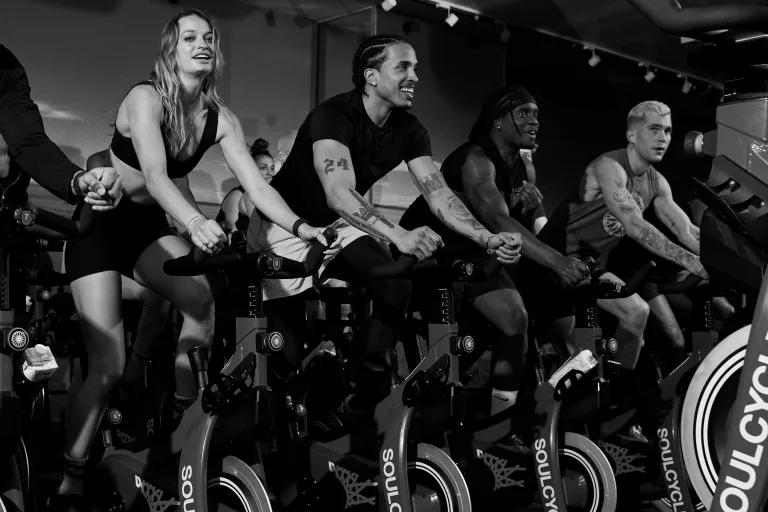 SoulCycle is offering Peloton owners the chance to trade in their bikes for 47 in-studio SoulCycle Classes, but will devoted Peloton fans take up the offer?
Summer is in full swing, and a cycling war is brewing. SoulCycle is betting on in-person studio experiences with a competitive new deal that targets Peloton, calling it a "bold step toward togetherness." SoulCycle's latest promotion allows new clients to trade in their Peloton bikes for the equivalent value of in-studio classes, which amount to 47 classes worth more than $1,400.
The deal comes as fitness consumers have become more comfortable with returning to in–person workouts.
"Riding in a studio is an unrivaled experience, adding a much needed dose of intoxicating energy and an electric atmosphere into our workout routines, and we missed this during the pandemic. This offer is about saying 'we hear you' to those who want those feelings back, and giving them the chance to ride together again," SoulCycle shared on its site.
The limited time offer, referred to as Souls Reunited, is open to the first 100 US-based people who sign up to trade in their Pelotons. Participants must reside within 20 miles of a SoulCycle studio, have not taken an in-studio SoulCycle class since March 16, 2020 or have never taken an in-studio SoulCycle class and own a Peloton Bike.
Souls Reunited will run from July 27 to August 3 and includes pick-up of the traded-in Peloton bikes.
The cutthroat deal, however, may not sway all devoted Pelotoners. "Give up my bike? Like voluntarily? More like you'll have to pry it out of my cold, dead hands. No thanks SoulCycle. (p.s. in case you haven't heard, Peloton has in-studio rides as well and THEY. ARE. AWESOME.)" one Peloton fan wrote on Facebook's Official Peloton Member Page.
Upon hearing of SoulCycle's deal, PTON's rabid consumer base pointed out that the offer may not be as valuable as keeping a Peloton. "So then what, after the free 47 classes are done? If you went every day that's less than 2 months. Sorry, not worth it. Not even for a minute," one poster pointed out.
Many other Peloton fans addressed the convenience of its at-home fitness approach. "Why would anyone want to travel to a scheduled class when they can take a class anytime they want from the comfort of their home? Nope … not happenin'," one poster stated.
However, one poster pointed out that SoulCycle's offer is excellent marketing for Peloton owners who plan to sell their used bike and return to the gym and in-person fitness.
While SoulCycle promotes in-person classes in exchange for Peloton bikes, its offer may have come too late. Peloton recently announced the reopening of its studios in NYC and London on August 19, as eager Peloton fans crashed the booking page in an attempt to reserve a coveted studio spot.
"It's go time, Peloton fam. Live in-studio classes are back and better than ever. We've missed your energy, and we're ready for more of that IRL magic live from London and New York. Classes begin 19 August. Booking starts now…," Peloton shared on Instagram to promote the reopening.
Despite numerous obstacles, Peloton is determined to change course. The connected fitness company recently announced that it will transition to third-party manufacturing to simplify its supply chain and cost structure, and that it is offering cash bonuses to Peloton employees who are willing to stick around for what CEO Barry McCarthy refers to as the fitness company's "comeback story."
Courtney Rehfeldt
Courtney Rehfeldt has worked in the broadcasting media industry since 2007 and has freelanced since 2012. Her work has been featured in Age of Awareness, Times Beacon Record, The New York Times, and she has an upcoming piece in Slate. She studied yoga & meditation under Beryl Bender Birch at The Hard & The Soft Yoga Institute. She enjoys hiking, being outdoors, and is an avid reader. Courtney has a BA in Media & Communications studies.