A Glimpse Inside the Brand-New Peloton New York Studio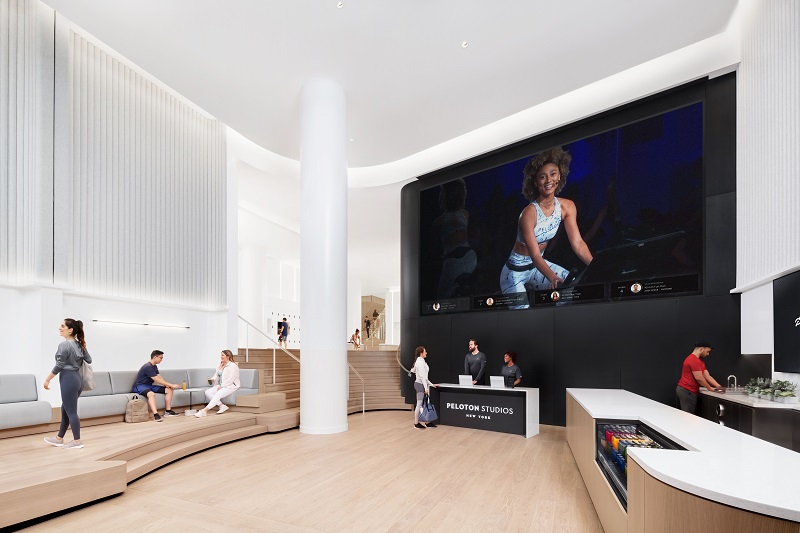 Peloton opened its doors to select members and guests on Friday, June 11th, for an introduction to its new studio location. With curated photo-ops, community spaces, and a front-row seat to a live production, Peloton is hoping that its in-person classes will usher in post-pandemic era for the company.
After experiencing explosive growth during the pandemic followed by more recent corporate shake-ups, Peloton is beginning a new chapter: welcoming members back to live classes for the first time since March 2020. Aiming to compete with other live fitness classes while maintaining its strong presence in the virtual workout space, Peloton is offering a curated member experience, complete with beautiful new facilities and instructor meet-and-greets.
The company's new facility at 370 10th Avenue in New York in the trendy Hudson Yards area has four studios: cycling, yoga, strength, and tread. While the cycling studio's capacity is 39, the others range from 6-16, providing a more intimate class experience. Peloton's new space looks and feels like a high-end workout facility combined with a production studio. Its four control rooms to record and stream content are backed by a production staff that supports the classes. Two member lounges will serve as community-building spaces, with Peloton apparel for sale, technology on display, and grab-and-go refreshments. With brand-new locker rooms boasting sleek showers, amenities, and changing areas, the mission of the Peloton New York studio is to provide a home base for its members. Beginning in June 2022, select members may receive an invitation from Peloton to join a live class to provide feedback on the experience. The studio will open to the larger public in August 2022. To attend a class, Peloton members will be required to show proof of vaccination, or a negative PCR test taken within the last 72 hours to enter.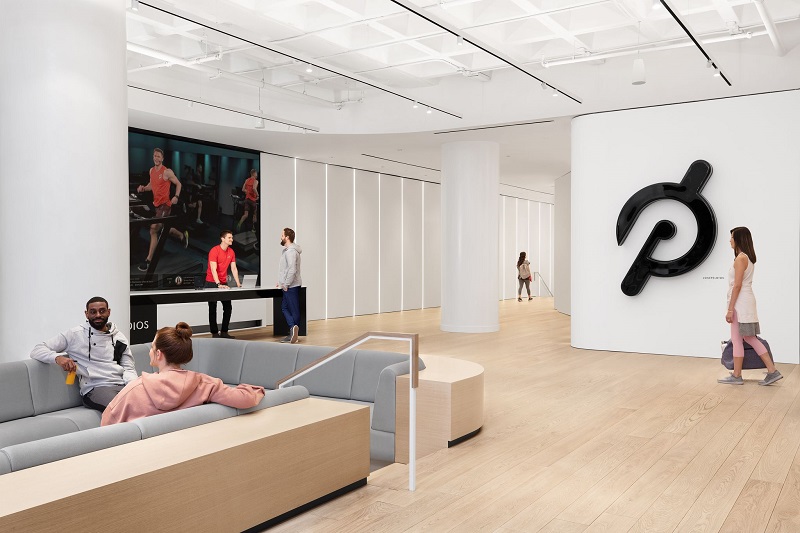 Since the first Peloton Cycling Studio opened in 2014, the in-class experience has changed. The new Studio App shows an "Everyone" view on the Leaderboard for in-class members to compete with at-home members and interact with them using the "High Five" feature. As the Peloton instructors have grown more famous during the pandemic, the studio has also created a more curated experience to interact with them. Post-class, members can take a picture with their class instructor by a Peloton "P" in the studio, receiving digital copies of the image later in the day.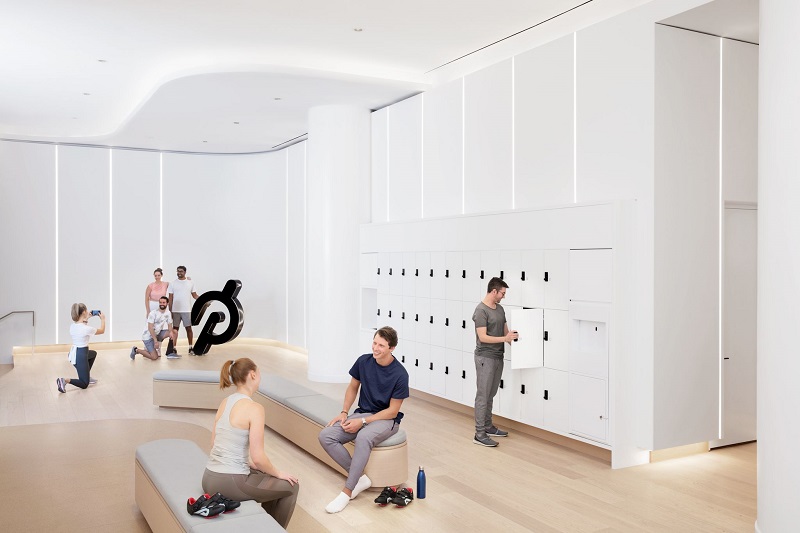 Peloton instructors grew popular, in part, due to their ability to emotionally connect with members through screens. Will an in-person class and photo-op deepen that emotional connection with members? Peloton's investment in its studio clearly represents a desire to bring these connections to life and to create a more balanced virtual and in-person member experience. Instructor Alex Toussaint spoke about the studio re-opening, "Anyone who takes my classes knows my emphasis is always on motivating our community and celebrating your inner athlete. The fact that we're now able to experience Peloton in person is incredible and something I've eagerly been looking forward to. I can't wait to see the Members experience Peloton Studios New York. It's truly the ultimate fitness destination and will serve as a place where Members can connect with their peers to motivate and inspire one another."
Robin Arzón, VP of Fitness Programming and an Instructor at Peloton, also spoke about the significance of the reopening to the first group of in-person attendees, "Something the pandemic did not take from us is our innate capacity and desire to gather and to feel this energy that's palpable. And when someone gets to meet an instructor that has been in their living room for hundreds if not thousands of hours, that is an indescribably special moment."
As the Peloton New York studio opens to the larger public later this summer, the company's operations will inherently shift from its pandemic-era model to one with an in-person experience. How will it impact both the members who visit the Peloton New York studio and those at home? As additional information is released about the in-studio experience, the industry will gain insight into Peloton's vision for the studio, one class at a time.