Oura Sees Brick-and-Mortar Benefits in Partnership With Best Buy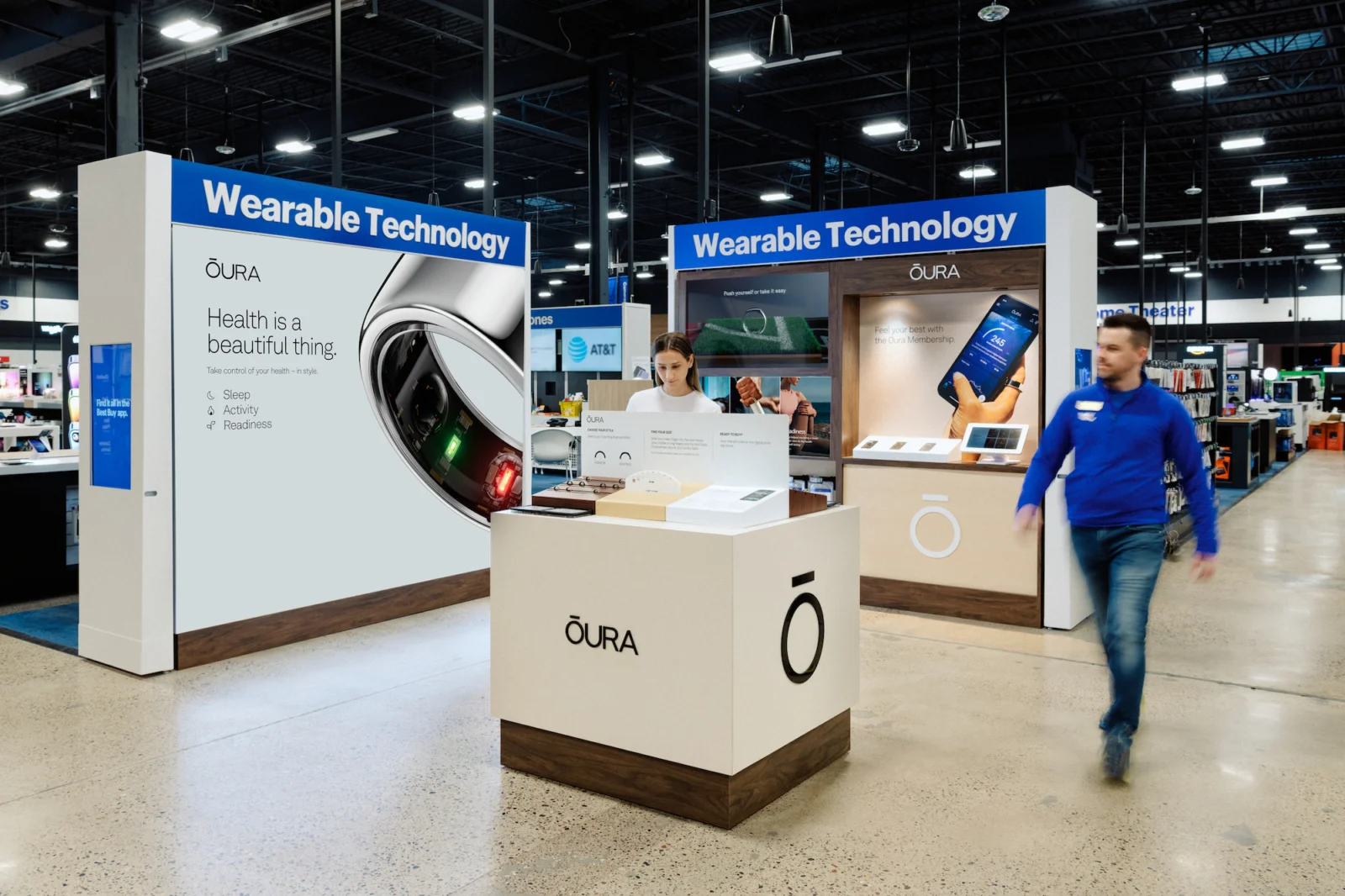 Although Oura rings will be available on BestBuy.com, it's the in-store retail experience that truly showcases the smart ring and its capabilities
Oura, the creator of an innovative smart ring that offers personalized health data, insights and daily guidance, announced a partnership with Best Buy that includes a major in-store component.
It's Oura's first nationwide retail expansion, and its smart rings are now available in over 850 Best Buy stores in the U.S. and on BestBuy.com.
The wearable technology, founded in Finland, has raised over $350 million and is valued at $2.55 billion. Now the brand is pushing into the brick-and-mortar retail sector, which it says is a natural next step and signals a pivotal moment for Oura's business as it continues its brand expansion.
"Introducing more people to the benefits of Oura's technology and providing an impactful in-store and online experience with the help of Best Buy is an exciting step forward for us as a company," said Oura CEO Tom Hale.
Select Best Buy locations will carry top-selling Oura ring colors and styles, including Heritage Black, Horizon Silver, Horizon Stealth and Horizon Gold. All sizes and styles are available on BestBuy.com. 
Visiting a Best Buy in-person versus exploring the Oura smart rings online brings some added benefits, though. Shoppers, 70% of whom live within ten miles of a Best Buy location, can ensure they get the perfect fit after trying on a smart ring in-store. 
The in-store experience will also showcase the Oura Ring and the value of its associated membership, with education-based visual displays that bring the rings to life with videos, information and the ability to see and touch the smart rings up close. 
"There's been incredible innovation in the wearables space, and we know our customers are excited to utilize technology to enhance their health and wellness," said Frank Bedo, a senior vice president at Best Buy. "Oura Ring is a natural fit for us as we continue to bring our customers the latest innovations in health technology."
As for health and wellness, Oura recently launched sleep-tracking features so users can better understand sleep cycles and even discover their individual chronotype, which reveals whether an Oura owner is a morning or night person, or perhaps falls somewhere in the middle.
Oura has also transitioned into the corporate wellness space with Oura for Business, offering employers the ability to dig deeper into understanding and enhancing the health and wellness of their employees.
The brand has participated in various partnerships, including collaborations with Gucci and Therabody.
Courtney Rehfeldt
Courtney Rehfeldt has worked in the broadcasting media industry since 2007 and has freelanced since 2012. Her work has been featured in Age of Awareness, Times Beacon Record, The New York Times, and she has an upcoming piece in Slate. She studied yoga & meditation under Beryl Bender Birch at The Hard & The Soft Yoga Institute. She enjoys hiking, being outdoors, and is an avid reader. Courtney has a BA in Media & Communications studies.