Wearable Tech Goes Full Circle With ŌURA For Business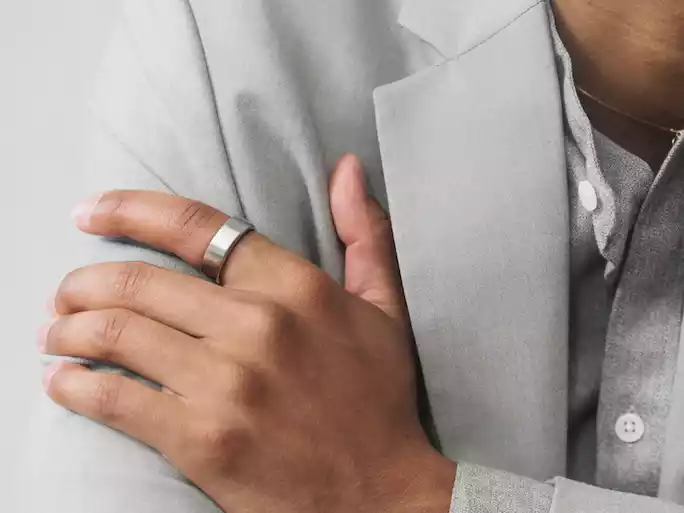 ŌURA says your organization can improve by using its smart ring, which delivers actionable insights for employees & leadership teams
Our stress loads and sleep deprivation is at an all-time high and costly for employers and organizations, says Finland-based Ōura, a wellness company that has launched the Ōura Ring, a smart ring with personalized health data and insights.
In response, the wellness tech brand has developed a corporate wellness employer program: ŌURA For Business. The launch of the new ŌURA branch coincides with the continued popularity of wearable technology, as brands like Apple and Google scramble to become a category leader in what is said to be the top fitness trend of this year.
Through connected technology, ŌURA For Business will enable employers to dig into understanding and improving their employees' health and well-being. With personalized insights, individuals can improve their health, while leaders will be provided custom tools and tailored recommendations to improve health outcomes for members of its organization.
Earlier this year, the company, which has fans such as Jack Dorsey and Prince Harry, celebrated the sale of its millionth Ōura Ring and announced a $2.55 billion valuation.
ŌURA has also been focused on being fashion-forward, partnering with Gucci to introduce a luxe 18k smart gold ring.
The new organizational-centered branch of ŌURA serves more than just businesses, but those in healthcare, higher education, athletics, and the military. ŌURA For Business has provided actionable insights to Thrive Global, US Air Force, US Navy, US Army, NASA, Red Bull Racing, NASCAR, USA Surfing, Noom, OWN IT, University of Vermont, Clemson University, and the UFC.
"ŌURA For Business fundamentally improves how organizations of all kinds can support their people," said Tom Hale, ŌURA CEO. "Helping individuals thrive is how we create success and positive outcomes for society as a whole. We've already seen significant traction with enterprise customers and are excited to continue growing these offerings as part of the next phase in ŌURA's evolution."
Well-rested and active staff will result in a happier and more effective organization, ŌURA says. Programs can be adjusted to meet the needs of a business or organization, while core offerings include the ŌURA Ring and its accompanying app, the ability of administrators to see anonymous health metrics like sleep, readiness, and activity scores, expert guidance to take actionable measures based on metrics and best practices, and events like webinars, seminars, and fireside chats.
"The Ōura Ring is an incredibly useful well-being partner. I've seen the results in everyone who wears it," said Arianna Huffington, Founder & CEO, Thrive Global. "The data and insights I get from ŌURA make it so much easier to get the rest I need and build resilience. In a time of increasing stress and burnout, ŌURA makes better well-being a reality."
ŌURA has been investing in academic and clinical research to investigate early illness detection, improving mental health, sleep patterns, and the impact of pregnancy. A study at the University of Vermont is underway to examine 600 first-year students using the Ōura Ring.
"We're excited to see how the Ōura Ring can offer insight into the well-being of students, and how well these metrics match students' perception of their health," said Laura Bloomfield, Postdoctoral Fellow with the Vermont Complex Systems Center and the Gund Institute for Environment. "Starting college can have a profound impact on student health, and our hope is to find ways to support these individuals."
The connected tech brand has also seen its impact on student athletes when it comes to physical activity and recovery.
"The Ōura Ring has become an integral part of our team's culture," said Jena Ready, Director of Strength and Conditioning for Women's Basketball, Clemson University. "It has enhanced our individual players' recovery and allows us to make more informed decisions based upon the data we receive from Ōura Teams. Not only has our performance as a team grown tremendously, our athletes' individual health, both physical and mental, has improved largely in part due to ŌURA."
Looking ahead, ŌURA says it plans to release Improved Sleep Staging to allow its users to understand how sleep changes overnight.
Courtney Rehfeldt
Courtney Rehfeldt has worked in the broadcasting media industry since 2007 and has freelanced since 2012. Her work has been featured in Age of Awareness, Times Beacon Record, The New York Times, and she has an upcoming piece in Slate. She studied yoga & meditation under Beryl Bender Birch at The Hard & The Soft Yoga Institute. She enjoys hiking, being outdoors, and is an avid reader. Courtney has a BA in Media & Communications studies.